Clayton Kershaw earns first win of season in Dodgers victory over Pirates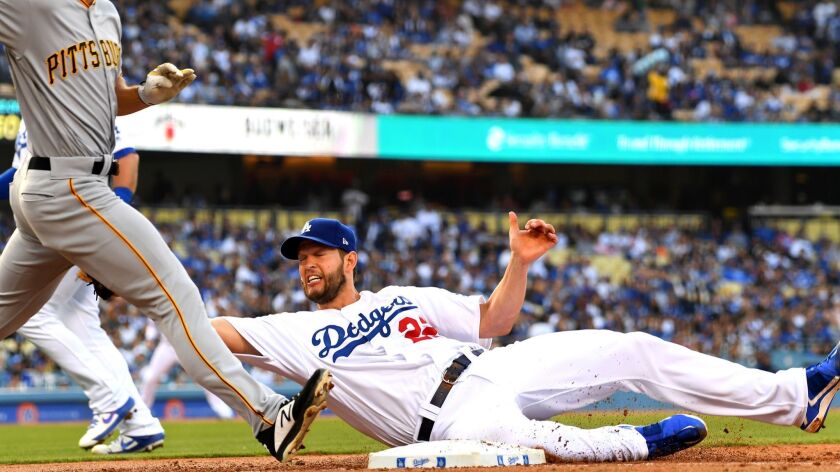 The Dodgers are all about tradition. No home game starts without the cry of "It's Time for Dodger Baseball." After Friday games, fans enjoy fireworks. After Sunday games, kids run the bases. Pedro Baez pitches, and fans boo.
The response was practically Pavlovian for a couple of years there. Baez pitched painfully slowly, and not always well, and the booing got so harsh at one point that manager Dave Roberts blasted the fans' behavior as "ridiculous" and "irresponsible."
So, if you caught the Saturday night highlights after the Dodgers' 3-1 victory over the Pittsburgh Pirates, you might have done a double-take. Yes, that was Baez tapping his heart, as the home fans jumped to their feet and rewarded him with a loud ovation.
"No moment is too big for Pedro," Roberts said.
This one was about as big as it gets, at least in terms of degree of difficulty.
Clayton Kershaw earned his first victory of the season, and Kenley Jansen worked a perfect inning for his ninth save. The Dodgers scored all their runs in the seventh inning, on a score-tying sacrifice fly from Chris Taylor and a two-run triple from Joc Pederson.
The Dodgers won their third consecutive game, maintaining a one-game lead over the San Diego Padres in the National League West and joining the Seattle Mariners as the only teams in the major leagues with 18 victories.
But the unsung hero, at least from his line in the box score, was Baez. Do not be fooled by that seemingly basic "1 0 0 0 0 1" line.
The Dodgers handed a 3-1 lead to Caleb Ferguson for the eighth inning, and Ferguson struggled even to throw a strike.
Walk. Single. Walk.
Tying run in scoring position. Even a sacrifice fly or force play would narrow the Dodgers lead to one run.
The Dodgers rushed in Baez.
"Bases loaded, no out is a pretty impossible situation," Kershaw said.
Pop fly. Pop fly. Strikeout.
No runs.
Kershaw gave up one run, in a performance usual in one way, promising and unusual in another.
The statistics typified his usual excellence: seven innings, four hits, no walks, eight strikeouts. For all the talk about his diminished velocity, his earned-run average after three starts this season is 2.25.
But the diminished velocity is real, and so too is Kershaw's reinvention. The curve that used to be his trademark strikeout pitch has given way to his newly trusted slider.
Of his eight strikeouts Saturday, one came on the fastball, two on the curve and five on the slider.
The Dodgers' hearts skipped more than a few beats, when Kershaw nearly slid into an injury. Kershaw snagged a feed from first baseman Max Muncy, sprinted toward first base, and slid toward the base to tag the runner, upending the runner in the process.
Neither player had to be replaced, although the base itself had to be. No human suffered an injury.
"I've never been accused of being graceful before," Kershaw said.
Roberts credited Baez's development in part to his newfound confidence in his curve and slider, rather than living and dying with a fastball even on days he could not command it. But Jansen and Kershaw also noted how Baez pretty much shrugged off all those boos for all those years.
Sign up for our daily sports newsletter »
"The great thing about Petey is, you can't tell," Kershaw said. "I love that about him."
Said Baez, through an interpreter: "They're fans. They're going to have an opinion. That's why you have to block them out, whether it's going well or whether it's not going so well.
"You understand that they're fans, and they're going to think what they want."
Perhaps Saturday's performance swayed the fans, or perhaps not. When Baez entered the game, a fan tweeted: "If Pedro Baez gets out of this, I'll buy his jersey lol."
After the game, the Dodgers tweeted back: "Receipt or it didn't happen."
Follow Bill Shaikin on Twitter @BillShaikin
---
Get our Dodgers Dugout newsletter for insights, news and much more.
You may occasionally receive promotional content from the Los Angeles Times.