When Dodgers send SOS, Jimmy Rollins responds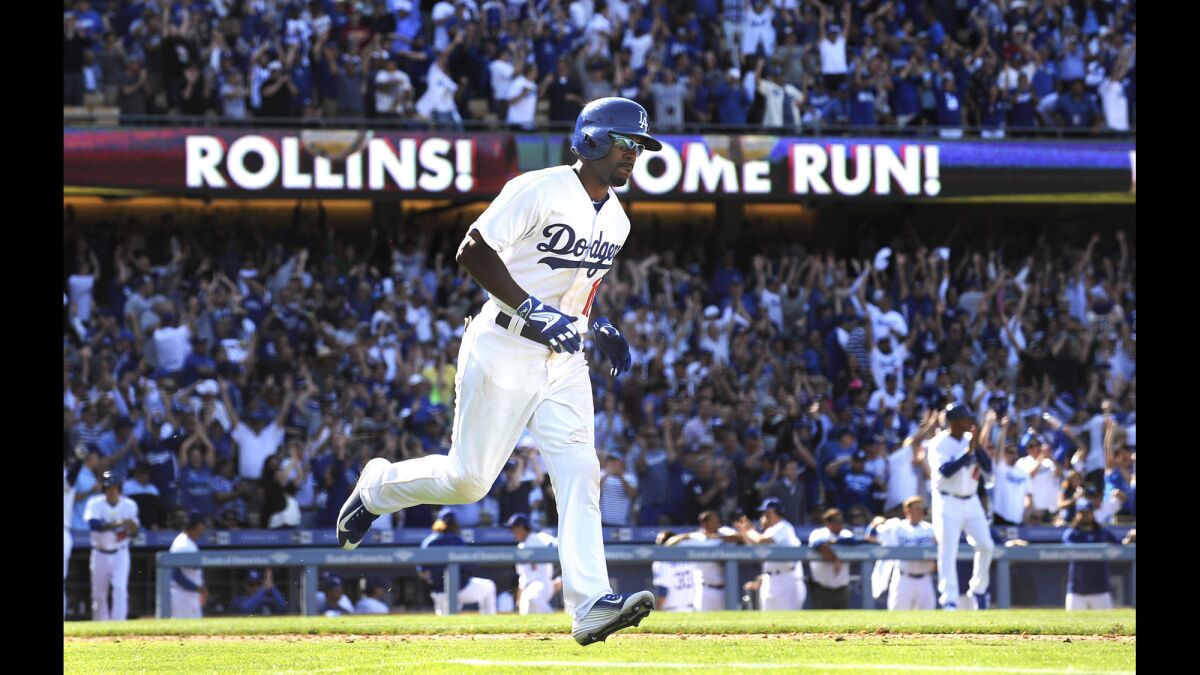 The pregame flyover was so late, some fans might have thought it was a couple of Southwest Airlines jets racing to Burbank.
There was no traditional opening-day bunting hanging on the main sections of Dodger Stadium because the Dodgers didn't want to drape cloth over their electronic advertisements.
Clayton Kershaw was scuffling. Matt Kemp was raking. The 70% of Los Angeles households that couldn't watch the game on television were stewing.
The shadows were creeping, the crowd was murmuring, and the Dodgers' 2015 opener was teetering on the verge of a nightmare Monday with one out and the score tied in the eighth inning against the San Diego Padres.
Eight pitches later, they were rockin' and Rollins.
"You plan for those situations from the time you were a kid," Jimmy Rollins said. "This just happened to come true."
It was truly resourceful, then truly resounding, this hanging pitch that the Dodgers' new 36-year-old shortstop drove into the right-field-corner seats for a three-run home run that gave the Dodgers a 6-3 victory.
In bringing 53,000 fans to their feet while turning a cool spring day into a rollicking October afternoon, Rollins introduced himself to Chavez Ravine by collecting not one, but two important statistics.
Rollins has one home run, and one save.
The home run earned him the season's first curtain call, roaring fans refusing to sit until Rollins stuck his head out of the dugout and waved. The save earned him the relieved gratitude of an entire organization that desperately needed to survive this day.
Must Watch: How did you get the day off for Dodgers Opening Day?
This was the first chance for Los Angeles — well, at least some of Los Angeles — to witness the Dodgers' massive off-season makeover by new baseball boss Andrew Friedman. And at first, it was a bit of a mess.
After the flyover flub, revered Dodgers Fernando Valenzuela and Don Newcombe were joined on the mound for a first-pitch ceremony by former Dodgers reliever Eric Gagne, who jogged in from the bullpen to strains of "Welcome to the Jungle." Some fans thought it was cool, but others wondered why the Dodgers would honor someone who acknowledged using steroids.
Then the game started, and fans gave a deserved standing ovation to Kemp, the star who was part of Friedman's most controversial trade. Kemp responded by driving in three runs with a couple of hits in the first five innings. Meanwhile, for Boston, Hanley Ramirez was hitting two home runs — a solo shot and a grand slam — and, for Miami, Dee Gordon was driving in a run.
Kershaw gave up three runs in six innings. Yasiel Puig couldn't get the ball out of the infield. Juan Uribe didn't charge a grounder that led to a run.
Yeah, messy. Then, at the start of the eighth inning, rookie Joc Pederson drew a four-pitch walk from Shawn Kelley, and Andre Ethier sprinted to first safely after an error by Kelley. Up stepped Rollins.
And, at the end of a tough at-bat that included an 0-and-2 count and two lunging foul balls, it was all beautiful. The shot soared toward the Padres bullpen and curled gently into the corner seats as Rollins clapped and calmly jogged around the bases like he had done this before.
Which he had. He has homered four times in season openers, including once in the 2008 opener that marked the start of the Philadelphia Phillies' World Series-winning year. Rollins has also hit in 11 consecutive season openers, the longest active streak.
"It's not the first home run I've hit; not the first one to win a game either," Rollins said with a grin. "Hopefully, it's something we can get used to."
Dodgers fans remember one other Rollins hit, the two-run double in the ninth inning that essentially ruined their postseason in the 2009 playoffs. Don Mattingly had flashbacks while watching Rollins battle.
"It was one of those at-bats," Mattingly said. "As he's up there, I'm thinking of the double in the corner against [former Dodgers closer Jonathan] Broxton in Philly. It was good to see him on our side today."
It was also one of those at-bats that gives teammates "chills," or so said new second baseman Howie Kendrick, who added to Friedman's Excellent Adventure with a double, a triple and an run driven in.
"He got that one pitch in the honey hole, and he didn't miss," Kendrick said.
It was an at-bat that brought Rollins away from his locker to speak to the media horde, making him possibly the first Dodger to conduct his postgame interview while standing on a table.
"Yes, I know I'm short Adrian, I know," he shouted across the room to a staring Adrian Gonzalez.
Oh, but Rollins was huge Monday, big enough even earn forgiveness for a most unusual postgame celebration. After another Friedman acquisition named Chris Hatcher recorded the save, Rollins and Kendrick met above second base and realized they had no idea how they were going to stylishly shake hands in the manner of today's victorious ballplayers. So they sort of slapped each other's palms in various gyrations before shrugging and heading to the infield.
"We didn't rehearse it earlier, it's one of those things we have to work out on the first day," Kendrick said. "But I'm telling you, we got it figured out now, we'll be good to go for our next win."
About the only thing Rollins' home run couldn't overcome is that most Dodgers fans could not see it, as the team's self-imposed television blackout continues into a second full season, with few answers offered during a pregame interview with Dodgers Chairman Mark Walter.
"We are working hard behind the scenes, we really are," Walter said. "Seriously, we care a ton that the fans can't all watch it."
Asked whether he feels he should apologize to Dodgers fans, Walter said, "It's sad. I want us to be on TV. We feel bad for the fans and we're trying to do everything we can."
Asked about a timetable, Walter said he believes that SportsNet LA will have widspread availability after the approval of mergers between Comcast and Time Warner Cable and AT&T and DirecTV. Optimists hope those approvals will be given sometime this summer.
"I think so, yes," Walter said. "We can get some stuff done before that, but … I think the mergers have more to do with it than anything else."
It's a shame that Guggenheim couldn't have merged common sense with community responsibility to end this debacle two years ago before it started.
The Dodgers' off-season makeover resulted in an opening-day win Monday, but because so few people saw it, their new ownership legacy is still a loss.
Get our Dodgers Dugout newsletter for insights, news and much more.
You may occasionally receive promotional content from the Los Angeles Times.