Column: Yasiel Puig's time with Los Angeles Dodgers always seemed destined to end badly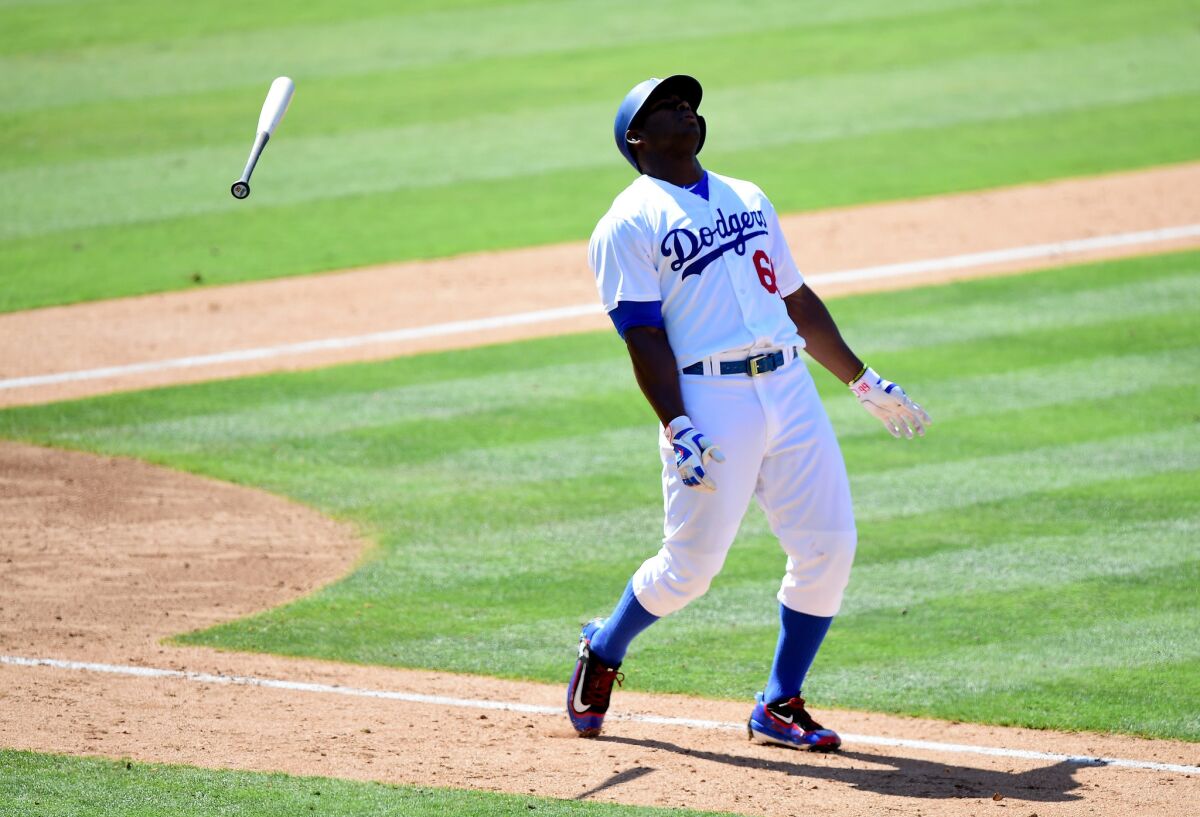 So it has finally come to this.
Failing to unload Yasiel Puig on another team before Monday's non-waiver trade deadline, the Dodgers traveled to Colorado without their temperamental outfielder.
The former face of the franchise is about to become a minor leaguer, his probable move to triple-A Oklahoma City expected to become official Tuesday.
Something like this was inevitable. The story of Yasiel Puig always looked as if it were destined for a tragic ending.
Puig certainly deserves blame for what happened, the 25-year-old declining as a player while continuing to disrespect the people around him.
But the Dodgers also are responsible for Puig's descent into mediocrity.
The organization never figured out how to handle him, never finding the right balance between Don Mattingly's no-nonsense approach and Dave Roberts' love-him-to-death form of diplomacy.
The Dodgers made the mistake of crowning Puig their king when he came out of nowhere to salvage their 2013 season. It didn't take long for Puig to figure out that he could more or less do as he pleased so long as he continued to seduce ownership with his ability to move merchandise and tease the baseball operations department by making breathtaking plays on occasion.
Puig was always a step ahead of management, which didn't know what to make of him.
The Dodgers scolded him for his immaturity but also understood he was adapting to an alien culture after surviving a frightening ordeal to escape his native Cuba.
He was intelligent and manipulative enough to say what his supposed superiors wanted to hear — remember when he told me he wanted to be the Kobe Bryant or LeBron James of baseball? — only for his concentration to lapse once he was certain they were appeased.
The lack of discipline slowly started to affect his once-unmatched athleticism, transforming him from an All-Star to the .260 hitter he was this season.
When the Dodgers traded for Josh Reddick to replace Puig in right field, they were basically throwing up their hands in frustration. They didn't know what else to do.
They still don't.
That was clear Monday, when General Manager Farhan Zaidi addressed reporters in a conference call to talk about the team's deadline acquisitions.
While Zaidi was speaking, Fox Sports posted a story online about how Puig departed Dodger Stadium in a huff after being told he would be traded or demoted.
"I'm not going to comment on that," Zaidi said. "We have an off day today. Anything further, we'll address and comment on tomorrow."
Zaidi has a doctorate in behavioral economics from the University of California. He is smarter than most of the numbers crunchers in the game who use their affinity for analytics to masquerade as intellectuals.
However, Zaidi knows little to nothing about crisis management. His silence worsened an already combustible situation, as he passed on an opportunity to correct a significant part of the public narrative. Others later clarified that Puig was never at the stadium, that he was informed of the team's thinking over the phone and that his supposed outburst never occurred.
The Dodgers are now prepared to send Puig down, likely to Oklahoma City, wishfully thinking he can rebuild his nonexistent trade value there so they can be rid of him once and for all.
But, really, there's no reason to think they will have any more luck modifying his behavior in the minor leagues than they did in Los Angeles.
Watching the events unfold from a distance, Tim Bravo sighed.
"I'm greatly disappointed in the situation," Bravo said by phone from his home in Las Cruces, N.M.
Bravo might have been Puig's only chance.
When Puig was first called up to the major leagues, Bravo was his around-the-clock companion. Coincidentally or not, Puig was at his best when Bravo was by his side. "He needs discipline, he needs boundaries," said Bravo, a former English-language instructor for Dodgers minor leaguers.
Bravo returned to his work as a special education teacher late in the 2013 season. The Dodgers didn't make a real effort to retain him.
He went to spring training this year at Puig's request. By all accounts, Puig was a model citizen, as the physically-imposing Bravo made sure he maintained a healthy diet, went to sleep at a reasonable hour and reported to the team's training facility on time.
When camp ended, the now-retired Bravo went home to a part-time job in retail and Puig reverted to his old behavior, people familiar with the situation said.
Hindsight being 20/20, someone should have made the necessary arrangements for Bravo to follow Puig to Los Angeles, whether it was the Dodgers, Puig's agent or Puig himself. Bravo said that while the Dodgers complimented him on how he managed Puig, they never offered him a position with the team.
"I think I could have made a big difference," Bravo said.
Now, it might to be too late.
Follow Dylan Hernandez on Twitter @dylanohernandez
ALSO
Bill Shaikin: Dodgers try to play catch-up to Giants on trade front
Rangers stand out on busy trade deadline day
2016 Rio Summer Olympics: Keep track of all the Rio Olympics news
Get our Dodgers Dugout newsletter for insights, news and much more.
You may occasionally receive promotional content from the Los Angeles Times.