Column: Yasiel Puig becomes the Dodgers' invisible man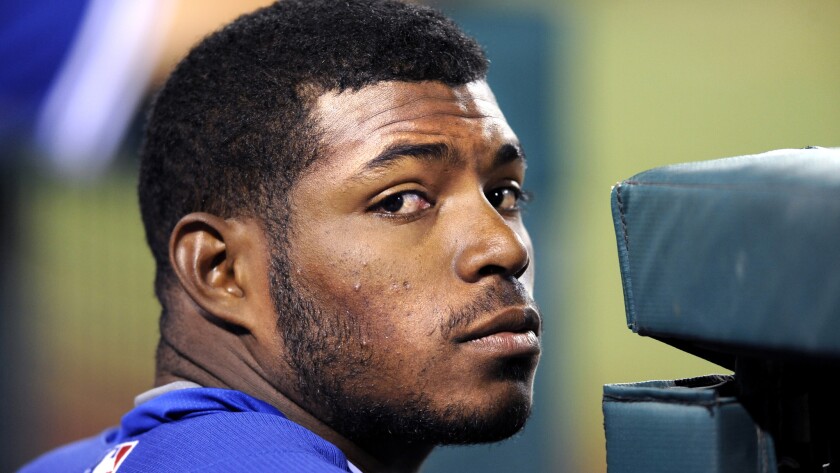 He is everywhere. He is nowhere.
His familiar name is still screamed on radio commercials, his powerful visage still floats across the Dodger Stadium video board, and, just the other night, his jersey was on the back of the giddy fan picked to play the Hat Shuffle.
Every part of Yasiel Puig is still selling the Dodgers, it seems, except for the part of Yasiel Puig that actually plays baseball.
Subscribe to our free Dodgers newsletter here
He is not uniform. He is not in the dugout. He has been out of sight for more than a month while rehabilitating a strained left hamstring. He could be gone for several more weeks. It is a striking absence representing the profound and compelling loss of the Dodgers' loudest and most exciting player, with one small twist.
The Dodgers have been just as exciting without him. The Dodgers have played just as loudly without him. The Dodgers have been a more complete team without him. The Dodger have actually been — shhhh — better without him.
Dodgers ownership considers him a franchise cornerstone, but though the team was 6-5 during games in which he played, it has gone 22-13 since he disappeared.
Dodgers ownership still loves him as the centerpiece of their marketing campaign, yet with his patch of right field grass being occupied mostly by Andre Ethier, the team still leads baseball in attendance.
The Dodgers might not seem as fun without Puig, but they have morphed into a well-prepared, professional-hitting, steady-clubhouse team since he left. They were shut out for three days in San Francisco, then quietly won four of their next five. Their MVP pitcher has not been himself, yet only three major league teams have won more games. They are missing three of last year's top four home run hitters, yet they lead the National League in homers.
Cool things are happening at Chavez Ravine, and all without the team's coolest player, and now the question isn't about what how everyone survives when Puig is gone, but, goodness, what happens when he comes back?
Has he been humbled by watching the team's success in its first stretch without him since he first stormed the Dodger landscape two summers ago? Will he return with renewed efforts to improve work habits that continue to frustrate the Dodgers' old-school baseball folks? Or will he react with even more of same sort of swagger that alienated so many in the first place?
One thing is for certain. The numbers are no longer on his side. He's only 24, and he can still do things with a bat and arm that very few can replicate anywhere on this planet, but opposing pitchers have clearly brought him back to earth.
When he went on the disabled list, he had appeared in only 11 games, so the sample size was too small to determine much. But during the last calendar year, from May 29, 2014 until the present, in 111 games, Puig has seven homers and 34 RBIs. Throw in his seven consecutive strikeouts and final-game benching in last year's National League division series and there could be a battle brewing.
When Puig returns, if he doesn't produce while being a distraction, the Dodgers' baseball people probably will grumble while the ownership will continue to plead for patience.
Caught in the middle could be the new guy, Andrew Friedman, whose striking roster overhaul has created the sort of professional clubhouse environment that could either embrace Puig or drive him out. It is still the sort of place where players can be themselves, and a guy like Puig can have as much fun as he can drum up. But it has also become the sort of place where any antic that negatively affects the final score will not be tolerated. The new Dodgers are guys assembled with reliance not only on analytics, but also an old-fashioned hardball mentality, and it shows in how they've been winning games with varied roles and revolving lineups.
Friedman openly loves Puig's tools, his potential and simply the idea that opposing pitchers are still scared to death of him. But Friedman is also not afraid to trade anyone who is not thriving — witness the quick dumping of clubhouse favorite and Puig buddy Juan Uribe.
At this point, it would crazy to advocate dealing Puig, even though he could bring back some serious playoff-run pitching. It's way too early to consider giving up on a talent like his. In case you haven't noticed, Friedman is all about adding more depth, not depleting it, and he knows that even an average Puig could be essential to a title chase.
But when Puig returns, he probably will figure out that he's not as untouchable as in previous years, and the most important question of the early season might be, how will he react?
When asked about the effect of Puig's absence this week, Manager Don Mattingly actually spelled it out for reporters.
"The fact that we're playing well I think speaks well of our team," Mattingly said. "I know it's probably corny, but T-E-A-M is a big thing. We've got a bunch of guys who are capable of playing."
Mattingly then said that if anybody should understand the reality of the situation, it's Puig.
"I hate to say it coldheartedly, but it's kind of next man up," Mattingly said. "One guy gets hurt, it's an opportunity for somebody else, and if they tear the door down, that's kind of what happened with Yasiel. He was allowed to be here because guys got hurt. And he took off. [Now] he got hurt, guys are taking off. So it's kind of the way the game keeps going."
It was actually more of Puig's youthfulness that led to his long layoff. When he was initially injured, he was so concerned about his reputation for refusing to play with nagging pain that he insisted on playing with pain, so much that the Dodgers even played him in two minor league rehab games before realizing he was still hurt.
"I think he was trying to play through, and, on one hand, I don't really fault him," Friedman said. "I'd rather him be 100% honest, but he's a really good competitor. I much prefer this mentality than one where you put your feet up and say I'm out for six weeks no matter what, and then I'll come back. If anything, he was trying too hard."
As with everything, the hope here is that Puig continues to learn.
"We had a lot of conversation with him about how important it was to trust our medical staff, and how we could have avoided a month's setback for just a week's setback," Friedman said. '"If this is the biggest problem we have, this is a good problem. It's just a learning process. He hasn't been through this before. I expect the next time this happens, it will be handled by everyone better than it has this time."
And thus the drama of Yasiel Puig continues: Everywhere, nowhere, who knows where?
Twitter: @billplaschke
---
Get our Dodgers Dugout newsletter for insights, news and much more.
You may occasionally receive promotional content from the Los Angeles Times.