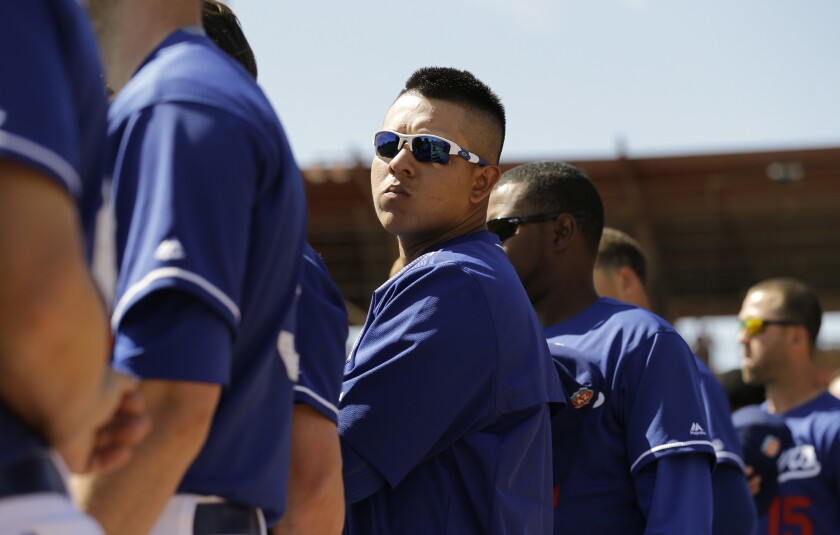 Reporting from San Diego —
Julio Urias is, by at least one basic metric, the best pitcher in the triple-A Pacific Coast League. He entered Saturday leading the league with a 1.10 earned-run average. At 19, he is eight years younger than the average pitcher at his level, and he has not allowed a run in a month.
Yet Urias still has not received a promotion to the major leagues, even as the Dodgers experience lapses in both the starting rotation and the bullpen. Manager Dave Roberts earlier this month floated the possibility of promoting Urias. Discussing the situation on Saturday, Roberts said he had not asked the front office to promote the left-hander. To Roberts, there is no real need for him to stump for Urias.
"Everyone knows what he's doing," Roberts said. "Everyone knows what he can do. Our guys are pretty in tune with our farm system. It's kind of belaboring something that obviously guys are aware of. They know what he brings, and what kind of an asset he is."
Urias extended his scoreless-inning streak to 27 Friday night.
"To his credit, he continues to excel and dominate triple A," Roberts said.
Short hops
Adrian Gonzalez returned to the lineup after spending four days on the bench due to soreness in his lower back. . . . Hyun-Jin Ryu will move his rehabilitation to triple-A Oklahoma City for his next start, the third in his assignment. . . .
Scott Van Slyke (lower back irritation) will begin a rehab assignment with class-A Rancho Cucamonga on Sunday. Roberts said he expects Van Slyke to need seven to 10 games before he can return to the majors. . . .
Greg Maddux, a special assistant to president of baseball operations Andrew Friedman, visited the team on Friday and Saturday. He stood in on some bullpen sessions with pitching coach Rick Honeycutt. Maddux was in town because one of his children is graduating from college here on Sunday. "Him and Honey are definitely having conversations," Roberts said.
Follow Andy McCullough on Twitter: @McCulloughTimes
---