Clayton Kershaw, who can opt out after the season, says his focus is on 'trying to get people out'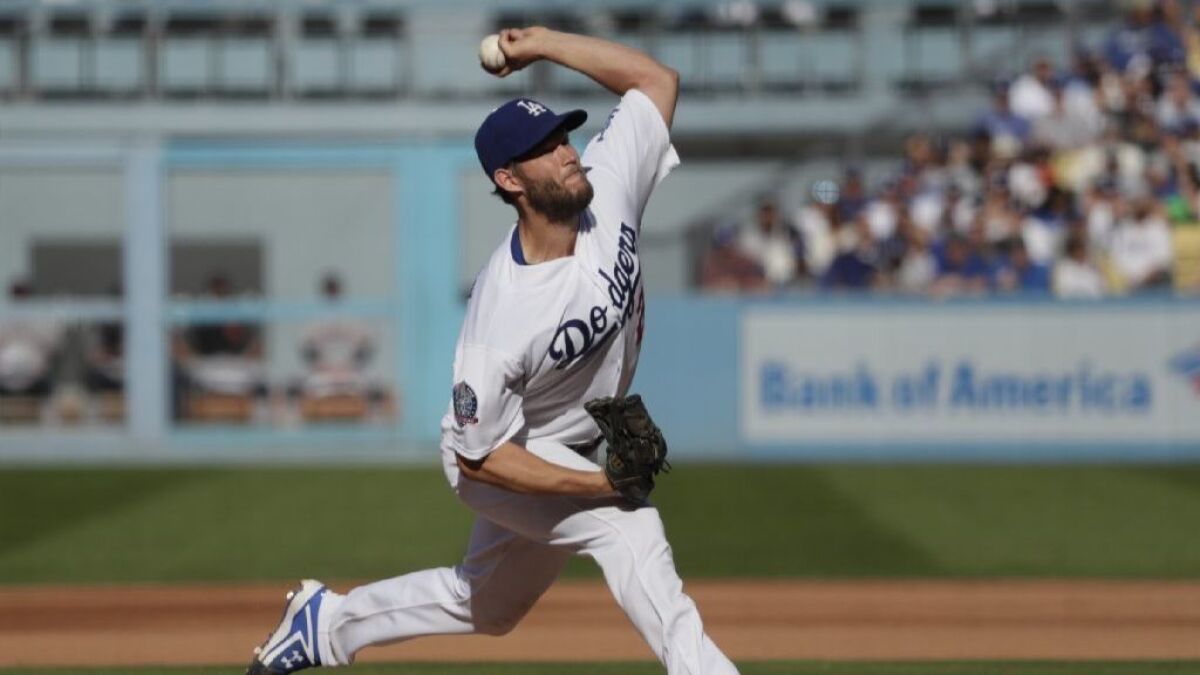 The Clayton Kershaw Road Show is about to start.
The Dodgers play their first road game of the season Monday. Wherever the team goes, Kershaw could face questions from reporters asking if he might like to play in (insert city here) next season. Will he entertain them?
"I will not entertain people," Kershaw said.
Let's phrase that a little more artfully. Will he entertain the questions?
"I will say, 'My focus right now is on trying to get people out for my next start,'" Kershaw said.
"That will be what is said. There will be a time to think about all that stuff, but that will be after the season. I've been to everywhere now. I know what it's like. I don't need to worry about that now. I can sift through all that stuff, if I have to, in the offseason."
Kershaw, 30, the three-time National League Cy Young award winner, can opt out of the final two years and $65 million of his contract with the Dodgers. Although some players will not discuss a new contract once the season starts, Kershaw said he would be willing to consider any offer the Dodgers might care to make during the season.
"I'm blessed to be in the spot I'm in," he said.
In the absence of a new deal before then, the what-will-Kershaw-do frenzy figures to peak Aug. 28-29, when the Dodgers play at Texas. Kershaw grew up and still lives in the Dallas area, and his hometown Rangers could make him the main attraction for their new ballpark, scheduled to open in 2020.
He said he would let his agent, Casey Close, worry about contract talks. He said he would worry about getting hitters out.
"If I do that enough times this year," he said, "I'll probably have an option."
Farmville
Kyle Farmer might not have made the Dodgers' roster had Justin Turner not been injured. Although the Dodgers said Logan Forsythe would be the primary third baseman with Turner on the disabled list, Farmer has started two of the first four games at third base.
Farmer was a shortstop at the University of Georgia, but the Dodgers drafted him and told him he was a catcher. He never had played the position; the Dodgers sent him to rookie ball with a face mask and well wishes.
"First time I ever caught, I put the shin guards on backwards," he said.
"I woke up the next morning kind of regretting it. My body was so sore. It had never gone through that toll before. But I enjoy it now."
Farmer's versatility could keep him in the majors beyond Turner's return. He can catch and play any infield position. He said he would try the outfield if the Dodgers asked, but he added a warning.
"It might be kind of ugly," he said.
Thumbs up for A-Rod
Dodgers manager Dave Roberts said he has been impressed with his meetings with Alex Rodriguez, a rookie analyst on the ESPN team that broadcast two games in the season-opening series against the San Francisco Giants.
"The thing that I really admire is a guy that's done so well financially," Roberts said, "to want to still be a part of this great game, and to constantly learn, and be great at it. That's really inspiring."
Totally gold
Olympic snowboarding gold medalist Chloe Kim threw out the ceremonial first pitch.
"I am so stoked to be here," she told the crowd.
Minor deal
In a minor league trade, the Dodgers acquired "speedy utility player" Breyvic Valera, 26, from the St. Louis Cardinals for outfielder Johan Mieses.
Valera, who had been designated for assignment by the Cardinals, was the most valuable player of Venezuela's winter league. He'll report to triple-A Oklahoma City.
Follow Bill Shaikin on Twitter @BillShaikin
---
Get our Dodgers Dugout newsletter for insights, news and much more.
You may occasionally receive promotional content from the Los Angeles Times.