Crib sheets are an old baseball tradition. Just ask Orel Hershiser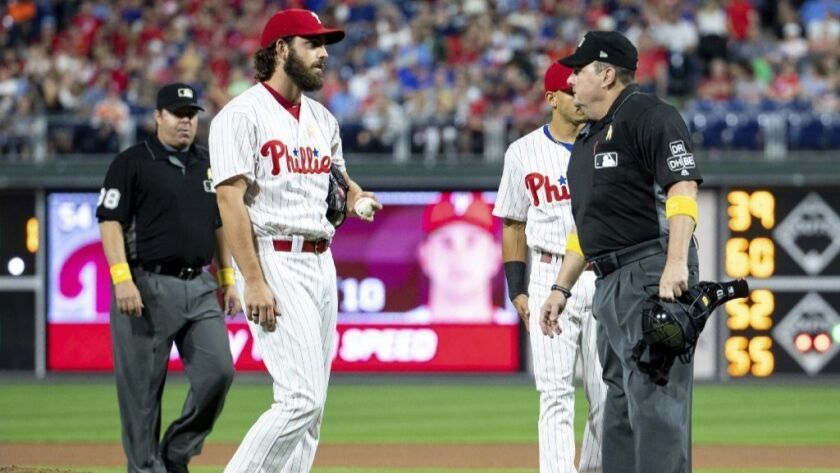 In a year that had been so improbable, the impossible had happened. The hobbled Kirk Gibson had hit the walkoff home run that won Game 1 of the 1988 World Series, and the Dodgers' Game 2 pitcher got so caught up in the delirium that he skipped out of Dodger Stadium without something important.
"Gibby's home run was so exciting, I forgot to take the game tape home," Orel Hershiser said. "So I couldn't do the scouting and memorize it through the evening."
Hershiser showed up early the next day, watched the video and took notes. He despaired of memorizing his notes so quickly, and he was determined not to make a mistake in the World Series. So he scribbled a scouting report on an index card, tucked in into his pocket, and alerted the umpires.
"I remember saying to them, when I reach into my pocket, this is what I'm getting," Hershiser said. "And I showed them the card. It wasn't an emery board, or anything else that people have been caught with."
Hershiser spoke Sunday, one night after umpire Joe West cited a Philadelphia Phillies pitcher for doing exactly what Hershiser had done 30 years ago. West said he had to enforce the rule banning pitchers from having a foreign substance on the mound and said the league would have to decide whether an index card represented a foreign substance.
Dodgers pitcher Ross Stripling said he never had used an index card on the mound.
"I guess I had assumed that you couldn't," he said, "or assumed that I would look like an idiot if I pulled it out on the mound and stared at it for 30 seconds."
The concern, Stripling said, could be that such a card could contain or conceal an actual foreign substance that could be used to alter the ball. He said the Dodgers make any scouting report available to pitchers in the dugout.
"I'll just look at it before I walk out, and trust my college education to be able to remember something for 15 minutes," he said.
The Dodgers' outfielders commonly use such a card to move into the proper position for each batter, Hershiser said. And, with the league so concerned about speeding up the game, a pitcher glancing at an index card would seem preferable to a mound visit from a catcher or coach.
Phillies manager Gabe Kapler told reporters Sunday that the league had approved the use of such cards.
Hershiser even suggested a new kind of pitcher's glove, one with a pocket for a small card.
"You could be looking in there at the ball," he said, "and you could be reading the scouting report."
Short hops
The arrival of Ryan Madson in trade has not swayed the Dodgers from their reluctance to anoint an eighth-inning bridge to closer Kenley Jansen. Dodgers manager Dave Roberts said the team would mix and match Madson, Scott Alexander, Caleb Ferguson and Kenta Maeda in the late innings based on the opposing hitters, not in the interest of developing a predictable relay team to Jansen. "They're all sort of matchup-based," Roberts said .… However, with those late-inning choices, the Dodgers have kept Stripling on the disabled list for an additional 10 days until he can build up to pitch multiple innings, or even start if needed. Stripling now is expected to be activated next weekend .… The Dodgers called up catcher Rocky Gale from triple-A Oklahoma City. Roberts said Gale would be used as a third catcher, and Kyle Farmer, who had that role last September, would be used more as a right-handed pinch-hitter. Farmer last caught at Oklahoma City on Aug. 14. He has been used at shortstop, third base, designated hitter, pinch-hitter and pinch-runner since then .… Roberts and Diamondbacks manager Torey Lovullo shared a few pregame moments with Gary Adams, who coached both men at UCLA. Roberts presented Adams with Dodgers caps that he said Adams could wear when Lovullo was not around.
Follow Bill Shaikin on Twitter @BillShaikin
---
Get our Dodgers Dugout newsletter for insights, news and much more.
You may occasionally receive promotional content from the Los Angeles Times.