Scott Kazmir continues Dodgers' pitching hot streak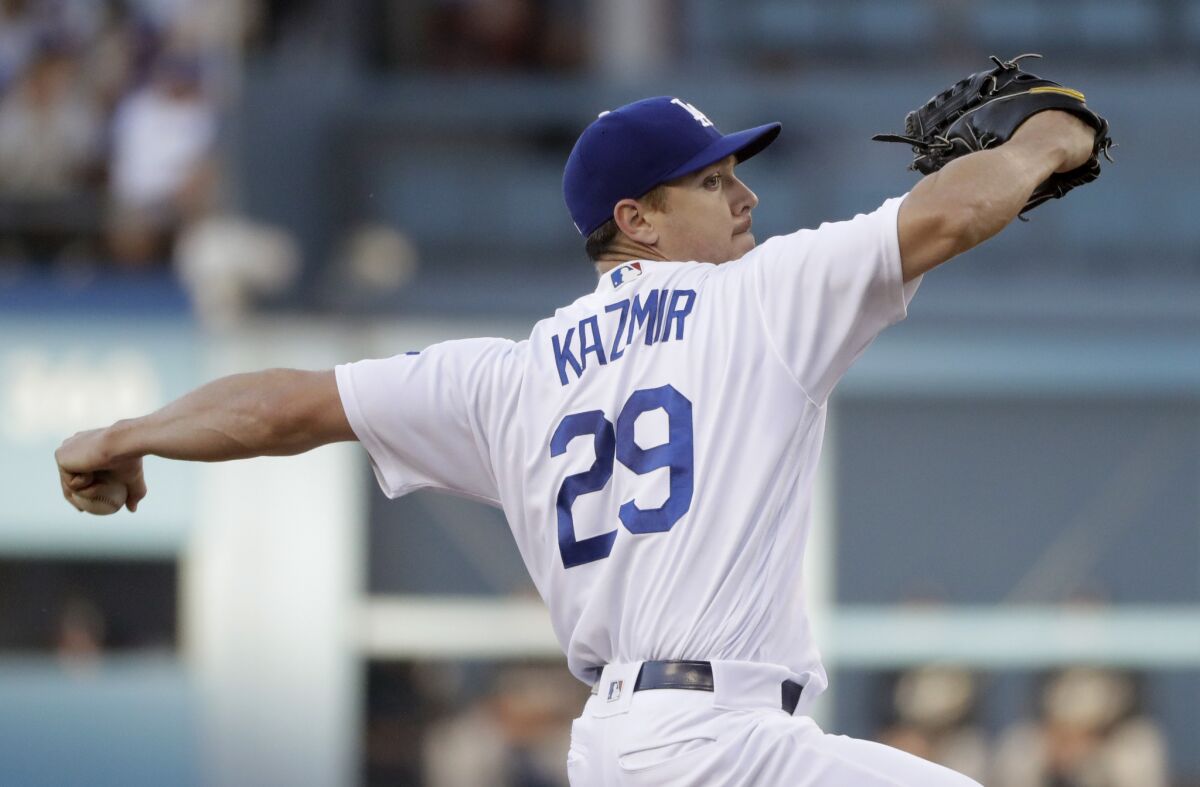 Maybe it's a coincidence, an example of the randomness of small sample sizes in baseball, or maybe there's some truth to the adage that when a prominent player is lost to injury, others must "step up" to fill the void.
Whatever the case with the Dodgers, this is fact: Since Clayton Kershaw was diagnosed with a herniated disk in his lower back, an injury that is expected to sideline the ace for at least a month, the rotation has been every bit as dominant as Kershaw usually is.
Kenta Maeda gave up one run in six innings Thursday in Milwaukee, Bud Norris threw six scoreless innings Friday and Scott Kazmir added to the gem collection with six scoreless innings Saturday night, allowing three hits, striking out 10 and walking none in a 6-1 victory over the Colorado Rockies in Dodger Stadium.
Combined with San Francisco's 6-5 loss to Arizona, the Dodgers moved to within five games of the Giants in the National League West.
"It's that competitiveness — you want to go out there and pick up the slack," said Kazmir, who improved to 7-3 with a 4.37 earned-run average. "You want to give it everything you've got every start, but at the same time, when a guy like Kersh goes down, you want to concentrate that much more."
The first inning has been a source of irritation for Kazmir, who yielded a 9.00 ERA and .342 average in the opening inning of his first 16 starts. His ERA from the second inning on: 3.72.
Typical of his sluggish starts was a four-run first inning last Monday in Pittsburgh, a deficit the Dodgers overcame in a 5-4 win.
Kazmir did not carry a shovel to the mound on Saturday. No hole was dug during a first inning in which he hit Charlie Blackmon with a pitch, struck out DJ LeMahieu and Nolan Arenado, and got Carlos Gonzalez to ground out.
Kazmir got better from there. All 10 of his strikeouts came on well-placed fastballs clocked between 92 mph and 95 mph. He whiffed Arenado, who entered with a .292 average, 21 homers and 65 runs batted in, three times.
The Dodgers bunched singles by Corey Seager, Justin Turner, Adrian Gonzalez and Yasiel Puig for two runs in the first, Seager extending his hitting streak to 15 games.
That Seager sparked a rally was hardly a surprise. The shorstop is batting .410 (25 for 61) with two homers and eight doubles during his streak and .301 with a team-leading 17 homers and 40 RBIs on the season. He's been on such a tear that the Dodgers think this might be the norm for him rather than the exception.
"I was talking to some of the coaches about Corey, and it doesn't seem like he's necessarily on any type of hitting streak or playing better than he was earlier," Manager Dave Roberts said. "He squares the ball up and finds a way to hit the outfield grass and sometimes hits it into the stands.
"It's not that he's hot, it's just what Corey Seager is. Seeing the baseball out of the pitcher's hand, identifying strikes vs. balls and squaring the baseball up … this is what he does."
The Dodgers made it 4-0 in the third when Turner doubled to left, Gonzalez walked, and Trayce Thompson hit a two-out, two-run double to left-center field.
Howie Kendrick sparked another two-run rally in the seventh with a double. Seager walked, Turner singled to load the bases, Gonzalez hit a sacrifce fly, and Seager scored on a wild pitch.
Since Roberts gave the struggling Gonzalez a "mental break" by not starting him twice in Pittsburgh last week, Gonzalez is eight for 15 with six RBIs.
"He's really starting to swing the bat well," Roberts said. "He feels fine physically and mentally. He's always been a streaky guy, but my confidence in him to drive the run in has never wavered."
mike.digiovanna@latimes.com
Twitter: @MikeDiGiovanna
ALSO
---
Get our Dodgers Dugout newsletter for insights, news and much more.
You may occasionally receive promotional content from the Los Angeles Times.