Dodgers' starting rotation is about to get overcrowded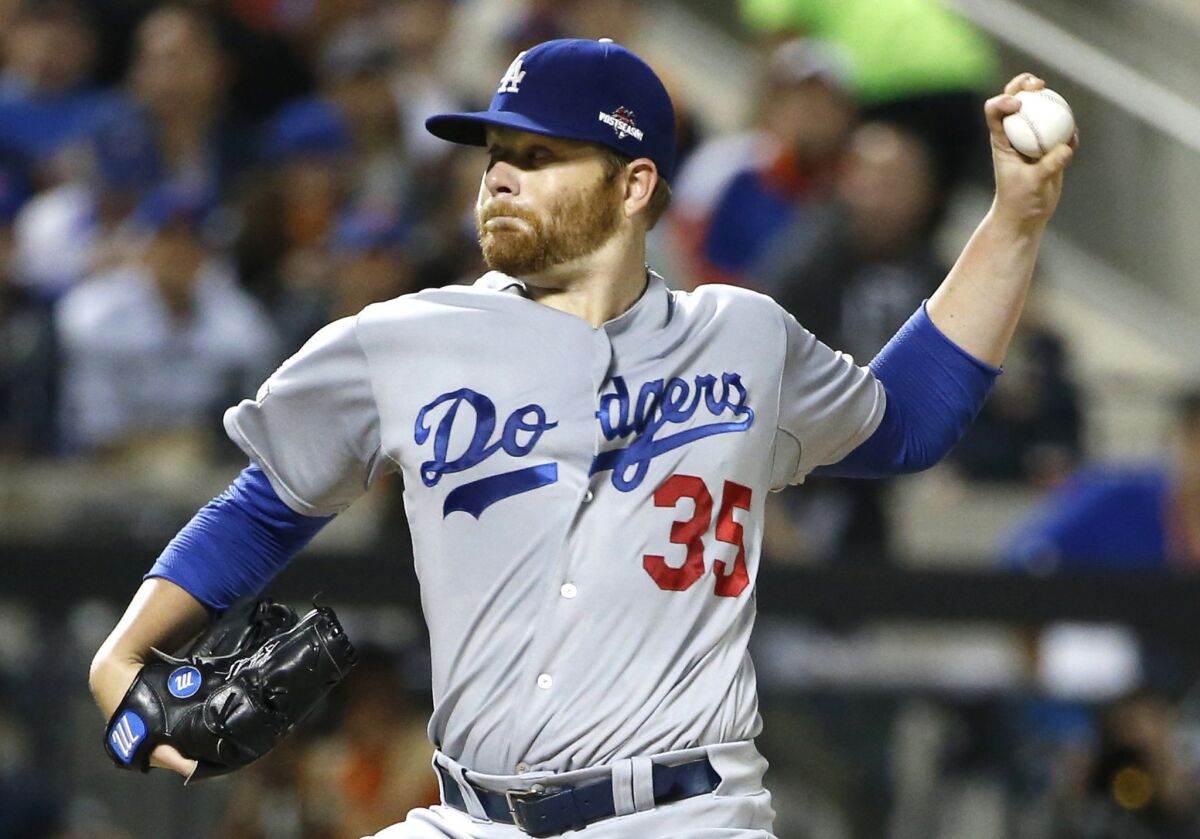 The Dodgers plan to activate Brett Anderson, Rich Hill and Bud Norris within the coming week, meaning a team that has struggled to fill out a rotation for much of the season might suddenly find itself with too many starting pitchers.
Anderson, out all season after back surgery, is scheduled to make his season debut Sunday. Hill, on the disabled list because of blisters on the middle finger of his pitching hand, is slated for a rehabilitation start Monday for triple-A Oklahoma City and is expected to start for the Dodgers Aug. 20 in Cincinnati.
Norris, on the disabled list because of a back strain, is scheduled to make a minor league rehabilitation start Saturday for Class A Rancho Cucamonga and then rejoin the Dodgers. Manager Dave Roberts said the plan is for Norris to resume his role at starter, then acknowledged that — barring another injury — that might require a six-man rotation.
"I don't know if that's going to happen," Roberts said. "We like Bud as a starter. He's had some experience out of the pen. Giving us that versatility helps."
The Dodgers have an off day Monday, the last one before a critical three-game series Aug. 23-25 against the first-place San Francisco Giants. They could take advantage of the extra starter to juggle their rotation so their best starters face the Giants.
The Dodgers hope to use Hill and Anderson behind Kenta Maeda, Scott Kazmir and Brandon McCarthy in the starting rotation. Roberts said Maeda and Kazmir would start in Philadelphia on Tuesday and Wednesday, respectively, but would not announce the team's pitching plans beyond then.
The Dodgers, desperate for a starter after Clayton Kershaw went on the disabled list, acquired Norris from the Atlanta Braves on June 30 and inserted him into the rotation the next day. Norris had made 32 of his previous 42 major league appearances as a reliever.
Hill, the top pitcher acquired at the trade deadline, has not pitched since July 17 and has not recorded an out since July 7. He initially was reluctant to make a rehabilitation start but has agreed to do so.
"For any pitcher to be out that long against major league competition, it only makes sense," Roberts said. "With where we're at, we need him to pitch for us, but we also need him to be good."
Hill said he is unaware of any fan backlash against his inability to pitch since the Dodgers acquired him from the Oakland Athletics two weeks ago.
"I haven't heard anything," Hill said. "I don't read anything or watch anything."
He said he did not feel any guilt or frustration over an injury that lingered beyond what he and the Dodgers anticipated.
"It's out of my control," Hill said. "I can't do anything about it. I've done everything I can to get on this and get ready. We're here now."
Roberts said Ross Stripling, who started Friday, would join fellow rookie Julio Urias as a long reliever. Roberts also said he expected left-handed reliever Adam Liberatore (elbow inflammation) would make one minor league rehabilitation appearance Sunday and then rejoin the Dodgers.
In addition, Roberts said he expected right-handed reliever Louis Coleman (shoulder fatigue) to rejoin the bullpen Sept. 1 and left-hander Alex Wood (elbow surgery) to return as a reliever in mid-September.
Twitter: @BillShaikin
Get our Dodgers Dugout newsletter for insights, news and much more.
You may occasionally receive promotional content from the Los Angeles Times.