Scott Kazmir brings new tools to help fill big void in Dodgers' rotation
PHOENIX — Scott Kazmir's epiphany came on the mound at the cozy 5,200-seat home of the independent league York (Pa.) Revolution, late in the summer of 2012.
In the shadow of the "Arch Nemesis," the name given to the imposing left-field wall that is six inches taller than Fenway Park's Green Monster, Kazmir found an old friend, his fastball.
As his velocity readings on the stadium radar gun rose, the left-hander's chest swelled with confidence. He felt some of that old swagger.
"I threw a couple pitches at 88-89 mph in the first inning and started feeling my legs — everything started working together," said Kazmir, who was pitching for the Sugar Land (Texas) Skeeters.
"Toward the end of the outing, in the fifth or sixth inning, I finished off with two 94s and a 96. That's when it started to click. That's when I knew we could get this right."
That Kazmir is telling this story at Camelback Ranch, the spring-training home of the Dodgers, would have seemed impossible five years ago. His fastball had betrayed him and he was cast out of the game at 27, an age at which many pitchers hit their prime.
A string of minor injuries had sapped the velocity and command of the 2007 American League strikeout champion. Kazmir was released by the Angels in June 2011 after going 9-15 with a 5.94 earned-run average, 93 strikeouts and 79 walks in 150 innings in 2010.
But with the help of Texas pitching guru Ron Wolforth, Kazmir rebuilt himself, almost from the cleats up, fueling a riches-to-rags-to-riches story he hopes to continue. The Dodgers, who signed him to a three-year, $48-million contract in December, are relying heavily on him to ease the rotation void created by Zack Greinke's departure to Arizona.
"Somewhere along the way, the pieces got put together," Dodgers pitching coach Rick Honeycutt said. "This game is funny. It will humble you. Sometimes stepping away from it for a little time … it forces you to reinvent yourself a little bit."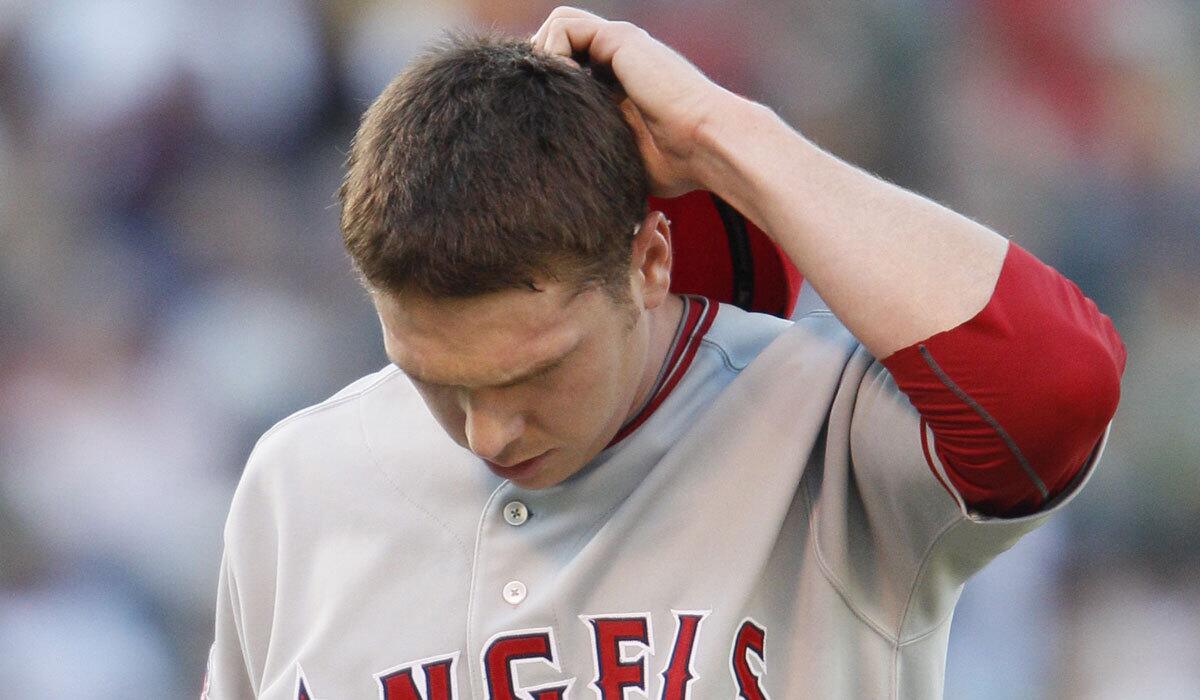 It's easier in hindsight for Kazmir, 32, a former first-round pick and an AL All-Star in 2006 and 2008, to pinpoint the reasons for his decline. First, he changed his delivery to compensate for a triceps strain. That led to a groin strain that he pitched through by shortening his stride.
Kazmir was effective after being traded from Tampa Bay to the Angels in August 2009, going 2-2 with a 1.73 ERA in six starts. But a hamstring strain and sore shoulder in the spring of 2010 set the tone for a failed season in which his velocity dropped from 91 mph to 87 mph and his control worsened.
By the spring of 2011, Kazmir was a mess. He made one regular-season start for the Angels, giving up five runs and five hits including a homer, walking two, hitting two batters and balking once in 1 2/3 innings at Kansas City.
Sent to triple-A Salt Lake, he had a 17.02 ERA with 20 walks, six hit batters and five wild pitches in 15 1/3 innings. On June 15, he was released.
Kazmir was more relieved than disappointed.
"There were minor injuries I tried to play through and compensate for, and when I finally got healthy, I didn't know how to use my legs anymore," he said. "That's how it happens. It just snowballs. It's not like you can take a timeout. You have four days to get it right, and you have to go out there and perform."
Kazmir returned to his Cypress, Texas, home and considered retirement. Instead, he called Wolforth, who invited the pitcher to his Texas Baseball Ranch, a 20-acre compound amid the pine trees of the far-away Houston suburb of Montgomery.
Wolforth put Kazmir through a series of core-strengthening workouts and drills to loosen his hips and increase his leg strength.
It took a few months, but Kazmir began to regain the feel of the delivery he had from 2005 to 2008, when he went 45-34 with a 3.51 ERA, averaged 9.7 strikeouts per nine innings and was considered one of the best young left-handers in the game.
"They have a great program to develop your delivery to where you're using your entire body," Kazmir said. "They use a lot of drills to really get that feeling of being correct. It got me back on track."
Kazmir felt good enough to join the Skeeters but was not on a fast track to the big leagues. It took months to increase his fastball velocity from 80 mph to about 90 mph, and he wasn't dominant even against low-level minor leaguers, going 3-6 with a 5.34 ERA in 14 starts in 2012.
"Of course you have some doubts when you're sitting at your house watching big league games," Kazmir said. "You wonder if you're ever going to make that turn, but once you get that little bit of progress, that little bit of success, it makes you want more."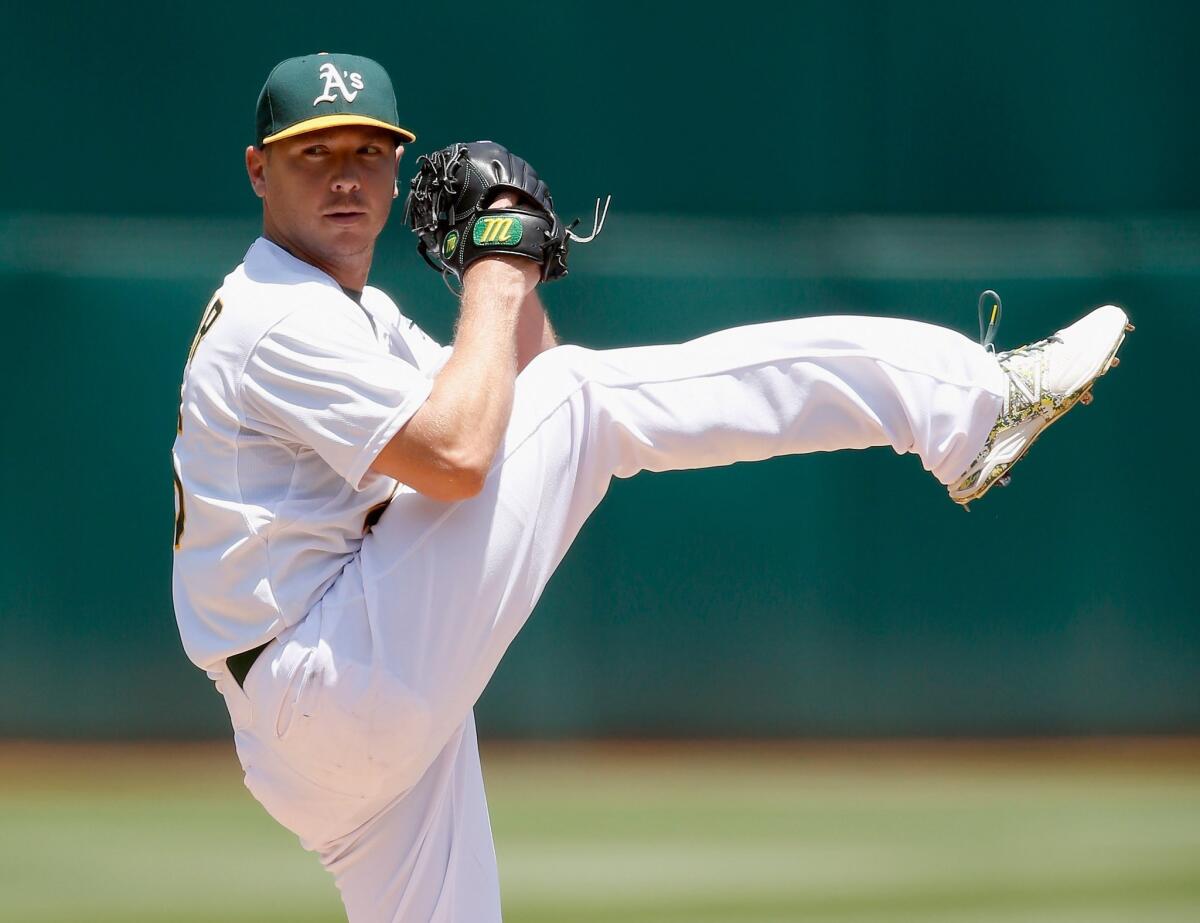 The Cleveland Indians signed him to a minor league deal before 2013, and Kazmir won the fifth rotation spot, finishing with a record of 10-9 and a 4.04 ERA in 29 starts, striking out 162 and walking 47 in 158 innings.
That earned Kazmir a two-year, $22-million deal with the Oakland Athletics that raised eyebrows.
"Everyone was like, 'Oh man, how'd he get a two-year deal?'" said Dodgers infielder Howie Kendrick, an Angels teammate of Kazmir's. "But he seems to have found his groove. He's back to where he was before."
And then some. Kazmir was a fastball-slider pitcher early in his career, but he has added a more effective changeup and a cut fastball, pitches that helped him go 15-9 with a 3.55 ERA and make the All-Star game in 2014.
"The changeup probably saved his career," Honeycutt said. "The more confidence he got in it, the more he was able to separate the fastball."
Kazmir went 5-5 with a 2.38 ERA in 18 starts for Oakland last season before being traded to his hometown Houston Astros, who were making a playoff push. Kazmir pitched to a 1.04 ERA in his first four starts for Houston but tailed off in late August and September, going 1-4 with a 5.89 ERA in his final nine starts.
"I felt fine physically but had a stretch where I wasn't throwing quality pitches consistently," Kazmir said. "I lost my slider for a couple of games in September, and it seemed like every mistake was getting punished."
Kazmir has been roughed up for five runs and six hits in 1 2/3 innings of his first two exhibition starts with the Dodgers, but he is happy with how the ball is coming out of his hand and feels he is "on the right path."
After his spectacular flameout in 2010 and 2011, Kazmir is not about to let a slow spring start derail him.
"You can't take anything for granted in this game," Kazmir said. "I get to come to the field every day and play the game I love. It's something I worked hard for, to get back to this point. So I'm enjoying every single day."
mike.digiovanna@latimes.com
Twitter:@MikeDiGiovanna
Get our Dodgers Dugout newsletter for insights, news and much more.
You may occasionally receive promotional content from the Los Angeles Times.