Sports Media: Charley Steiner on Dodgers can be call of the wild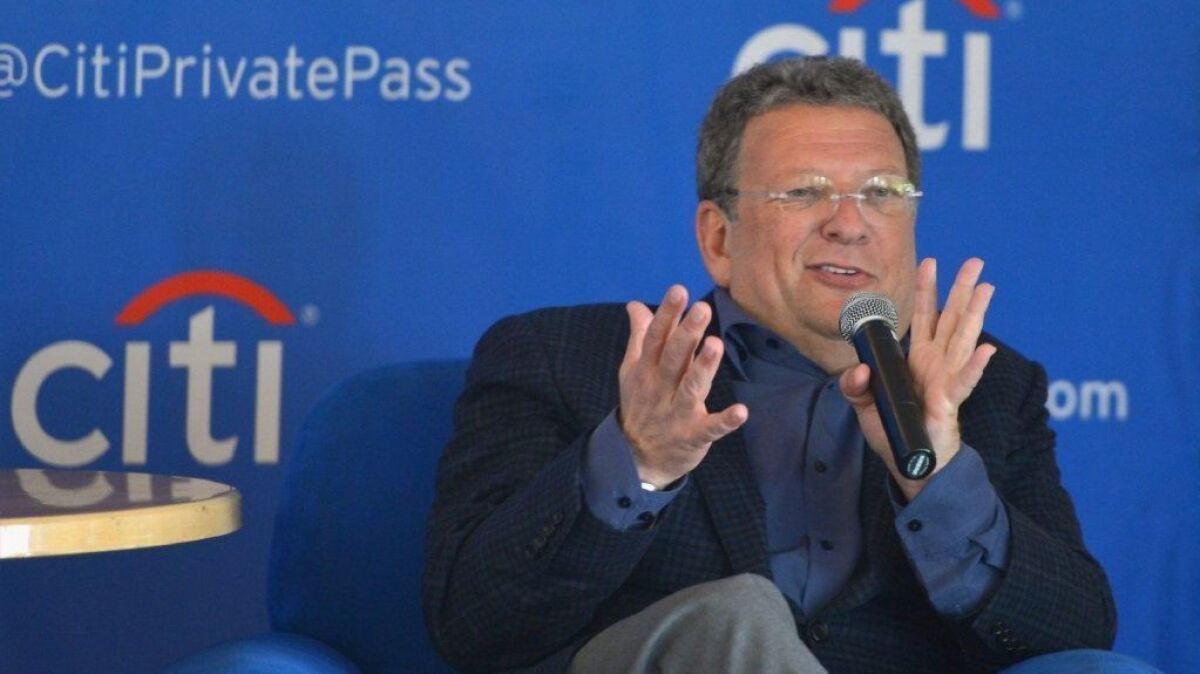 Charley Steiner's infectious laugh had us going there for a moment.
National League Championship Series, Game 5, bottom of the eighth inning at Dodger Stadium. Yasiel Puig goes head-first into third base on a steal, pops up, spins in a circle and takes his helmet off to bow to the crowd.
Steiner's slow roll from a giggle to guffaw blossomed into a sweet communal moment for those in need of relief, snarled in L.A. traffic on a late Wednesday afternoon and listening to the Dodgers radio broadcast.
Funny thing. It almost made us forget how, just an inning earlier, Steiner didn't know which Milwaukee Brewers pitcher was on the mound.
After the Dodgers went ahead 3-1 in the seventh inning to chase Joakim Soria, the Brewers brought in left-hander Xavier Cedeno. The Puerto Rico native wears No. 33. Steiner identified him as Zach Davies, a right-hander from Chandler, Ariz., wearing No. 27.
Two more batters went by — Brian Dozier's ground out drove in Cody Bellinger and Manny Machado was intentionally walked. Steiner still kept referencing Davies, even as partner Rick Monday casually mentioned Cedeno's presence.
When Max Muncy came up, Steiner dropped in Cedeno's name. But anyone tuned in had to wonder whether they missed something.
This is what you get with Steiner.
From jovial to trivial. An occasional gruff comment to make it sound as if he's upset he'll miss dinner plans. Underscored by contagiously imprecise descriptions.
There's the dread of spring training, and the grind of the regular season. In the postseason, maybe elevated jitters. So as we land at another World Series, we wonder what will compel Dodgers followers, many shut out from the SportsNet L.A. regular-season distribution debacle, from having any loyalty to the narrative connection of the team's KLAC-AM (570) feed. There's ESPN Radio's national coverage available on KSPN-AM (710).
If you try to synchronize Fox's TV coverage, it arrives some 15 to 20 seconds after the radio call. But mind the gap. From the time you hear what Steiner describes to what then happens on the screen, the discrepancy can be head scratching.
Like something we heard Steiner say this season: "And Maeda has both hands on top of his head, as if to [long pause] press his head in frustration."
Yup. Know the feeling.
So what should a listener expect from a broadcast? Accuracy, entertainment and an engaging experience. Not just because we've been spoiled by decades of a Vin Scully call, which used to overlap the first three innings of each game on radio and TV, allowing Steiner to take over the last six.
Steiner can be full of appropriate amazement when someone such as Muncy hits a home run. Until he realizes that it was not Muncy, but that home run you just heard was actually hit by Joc Pederson (see: July 3 vs. Pittsburgh. The video and audio has gone viral. Along with several other end-of-game fumbles).
We entrust Steiner to give us a chance to visualize when a ball is hit in the air. His long pauses don't seem to be for dramatic effect. Sooner or later, Monday confirms a catch, a home run or the ball bouncing off the wall.
Is there any other pitch aside from a "fastball" or a "breaking ball?" Is giving the score, outs and inning too much to ask within the first 10 minutes of turning on the radio? Is there a reason to do a minimalist TV-type call on radio, but then flip to extended verbiage on TV during the occasions he fills in for Joe Davis?
For some outsider perspective, we asked David J. Halberstam, a former executive of Westwood One Sports, a play-by-play man for the Miami Heat and a 40-year industry veteran who is one of the voters for the Baseball Hall of Fame's Ford C. Frick broadcasting award.
Halberstam prefaces that Steiner was never classically trained to do radio baseball, only coming upon it later in his broadcasting career, after he attained celebrity as an ESPN "SportsCenter" anchor in the 1980s and 1990s — like the time he famously broke up laughing at the mistakes made by Carl Lewis during a poor rendition of the national anthem.
ESPN Radio gave him MLB games in the late 1990s, which somehow led to three seasons calling games for the New York Yankees before coming to L.A. in 2004 during Frank McCourt's early ownership of terror, curiously to replace Ross Porter.
Halberstam admires Steiner for his "great big, warm voice that fills the room. A nice pace on baseball. No screaming or hollering, or rapidness that makes it tough to follow."
"Unfortunately," he adds, "that's where his strengths end."
Steiner getting caught in midsentence, Halberstam said, is "like an actor who forgets his lines or someone who just can't get his thoughts together clearly before speaking. I don't remember him being so tongue-tied in the studio."
Halberstam also notices that Steiner "rarely if ever spins a yarn, a human-interest angle or two. On radio, baseball is a great storytelling medium. At lulls, Charley does no more than spew a stat or two, rarely sharing anything insightful or memorable."
Halberstam added to his critique with a tweet Saturday night after the Dodgers clinched the NL pennant in Milwaukee: "Poor Charley Steiner. I replayed this to be sure. Punctuating the Dodgers win … he said, 'They came into Milwaukee down 3-2 and won last night and again tonight to win the NLCS.' … Never corrected himself."
When approached recently to discuss all this, Steiner politely declined in an email, adding he was "disappointed" by what he considered to be "cheap shots" at him here and on social media.
Steiner, 69, who grew up in Brooklyn listening to Scully, received a recent contract extension. A nice reward for this member of the National Radio Hall of Fame and having the Bradley University School of Sports Communication named after him.
What are the Dodgers to do now? We might suggest some relief assistance, a local talent who can handle the middle three innings as Jerry Doggett used to do for Scully. Selfishly, we'd endorse more of a Monday-Kevin Kennedy tandem, which never fails to educate listeners about how the game plays out, move to move.
But as for this week, our anxiety level elevates with the Dodgers again knocking on the door of what could be their first title in 30 years. We romantically cling to the idea that the local radio call of this potentially historic moment, to be heard live and then archived for posterity's sake, come without embarrassing flaws.
No one needs to be stifling a laugh over that prospect.
---
Get our Dodgers Dugout newsletter for insights, news and much more.
You may occasionally receive promotional content from the Los Angeles Times.