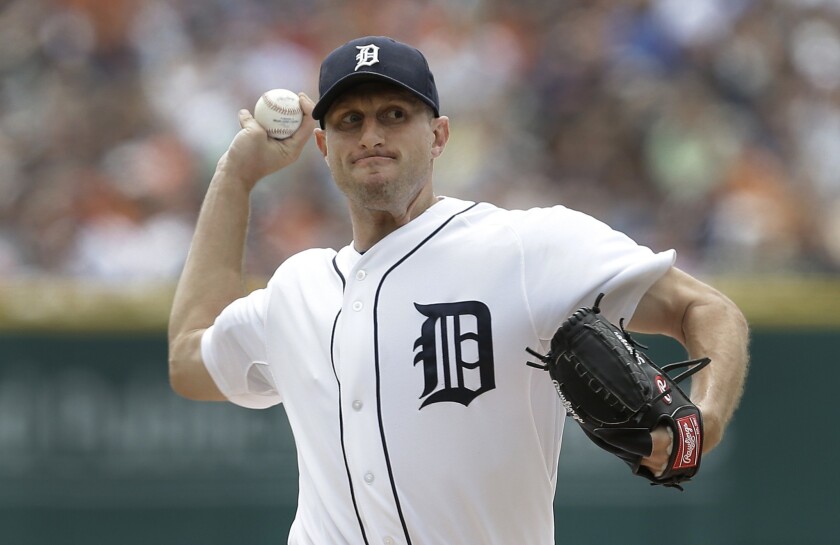 KEY MOMENT: With one out in the first inning, Yasiel Puig tripled. Hanley Ramirez then grounded to shortstop, and Puig was trapped off third base. He did not run home; the contact play was not on. He did not get into a rundown so Ramirez could get to second. He did not slide back into third base. He stood up as he went back to the bag — out of reaction, as he was one big step off the base — and he was tagged out. The Tigers scored two runs in the bottom of the first inning, and they led the rest of the day.
AT THE PLATE: Miguel Rojas hit his first major league home run, off Detroit starter and defending American League Cy Young winner Max Scherzer. Rojas did it with two of his "idols" watching — fellow Venezuelans Miguel Cabrera and Omar Vizquel, the latter a Tigers coach. "To do it on the same field with Miguel Cabrera and Omar Vizquel is really exciting for me, and emotional." Matt Kemp went hitless in three at-bats, with two strikeouts, against Scherzer. Kemp's career record against Scherzer: 0 for 21.
ON THE MOUND: Zack Greinke (11-5), trying to become the first 12-game winner in the National League, gave up two runs in the first inning. He gave up three runs in seven innings in all, striking out eight and walking none. In his past four starts, Greinke has struck out 30 and walked two.
ON THE LEADER BOARD: If Clayton Kershaw pitches 6 2/3 innings Thursday, he will qualify among league leaders. Kershaw, the defending National League Cy Young winner, is trying to become the first pitcher to lead the major leagues in earned-run average for four consecutive seasons. He has a 1.85 ERA, trailing only Adam Wainwright of the St. Louis Cardinals (1.79). Pitchers need one inning per team game to qualify among league leaders; Kershaw missed 32 games while on the disabled list.
UP NEXT: The Dodgers' Kershaw (10-2, 1.85) faces the San Diego Padres' Odrisamer Despaigne (2-0, 0.92) on Thursday at 7 p.m. at Dodger Stadium. TV: SportsNet LA. Radio: 570, 1020.
---