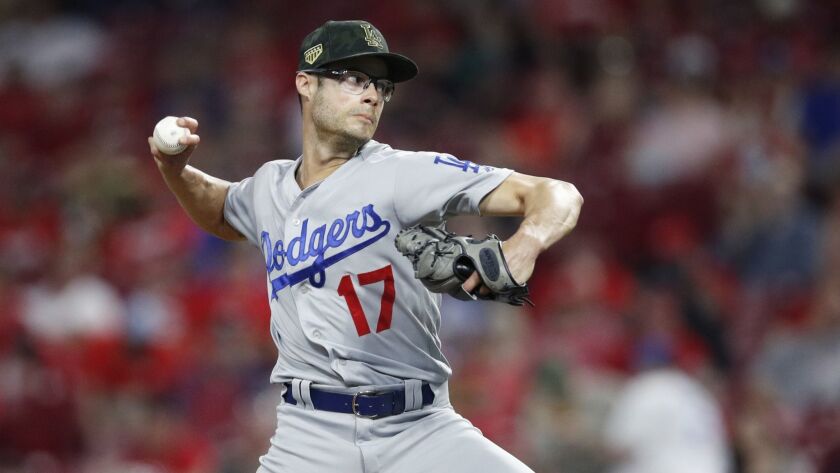 Reporting from SAN FRANCISCO —
It's easy to fall in love with your fastball when you can throw one 98-99 mph, like Joe Kelly. But the reliever realized after a brutal two-month start with the Dodgers that he and his heater had become a little too close. Kelly needed to see other pitches. So did opposing hitters.
The right-hander hasn't ditched a fastball that has averaged 97.5 mph according to Fangraphs, but he has thrown it significantly less in his last three appearances, a trio of scoreless innings in which he gave up no hits, struck out six and walked two to lower his ERA from 8.83 to 7.52.
Of his 50 pitches in the three games, 21 were curves, 16 were fastballs and 13 were changeups. On the season, according to Fangraphs, Kelly's pitch mix has been 54.0% fastballs, 24.4% curves and 21.6% changeups.
Kelly's curve was especially sharp on Saturday, when he struck out three — though one batter reached on a wild pitch after swinging at a breaking ball in the dirt — in the eighth inning of a 7-2 win over the Giants.
"The past few games, it's been good," Kelly said of his curve. "It's one of those things I'm trying to emphasize a little more. The beginning of the year, I was 75% fastball. I'm trying to get those numbers closer to 50-50 as much as I can because my curve grades out good and I throw it for strikes. I'm trying to keep a balance."
Kelly, who was signed to a three-year, $25-million deal to be Kenley Jansen's setup man but quickly lost the job to Pedro Baez, called the decision to use more offspeed pitches "a group effort" between him and the team's pitching coaches. The better his offspeed pitches, the more effective his fastball will be.
"Guys are aggressive against me, so if they're predetermined to swing if you throw a fastball, you're just doing them a favor," Kelly said. "If I can mix pitches better, if I can keep them guessing as best as I can, that's when I'm successful.
"In 2-and-1 counts, I have to be smart. Don't just throw fastballs to guys who are ready to hit that. Try to mix it up, throw a curve for a strike, and when I get ahead, throw one in the dirt. I'm trying to get a good mix going and build off that."
Sign up for our daily sports newsletter »
Three clean innings won't wipe away the mess that Kelly made of his first two months, when he went 1-2 with an 8.83 ERA and three blown saves in 18 games, and opponents hit .351 with a .989 on-base-plus-slugging percentage and four homers against him. But it's a start.
"Things are beginning to turn with the way I'm attacking guys," Kelly said. "I'm not just throwing fastballs in there. I'm being smarter. I'm not feeling great yet. The command of the fastball is not there. But I feel like I'm right around the corner."
Short hops
Dodgers starters have posted a quality start in 22 of their last 26 games since May 10 and are 18-2 with a 1.73 ERA and 173 strikeouts in the span. … Second baseman Enrique Hernandez had one single in three at-bats against Madison Bumgarner on Sunday to "lower" his career average against the Giants ace from .511 to .479 (23 for 48). … The Dodgers are 9-0-2 in their last 11 series. … Left fielder Joc Pederson injured his lower back on an eighth-inning slide into the plate while trying to score on a wild pitch on Saturday and did not play Sunday. Manager Dave Roberts said Peterson was feeling "considerably better" and was available to play if needed.
---