Julio Urias of Dodgers is healthy and confident while trying to earn a spot in the rotation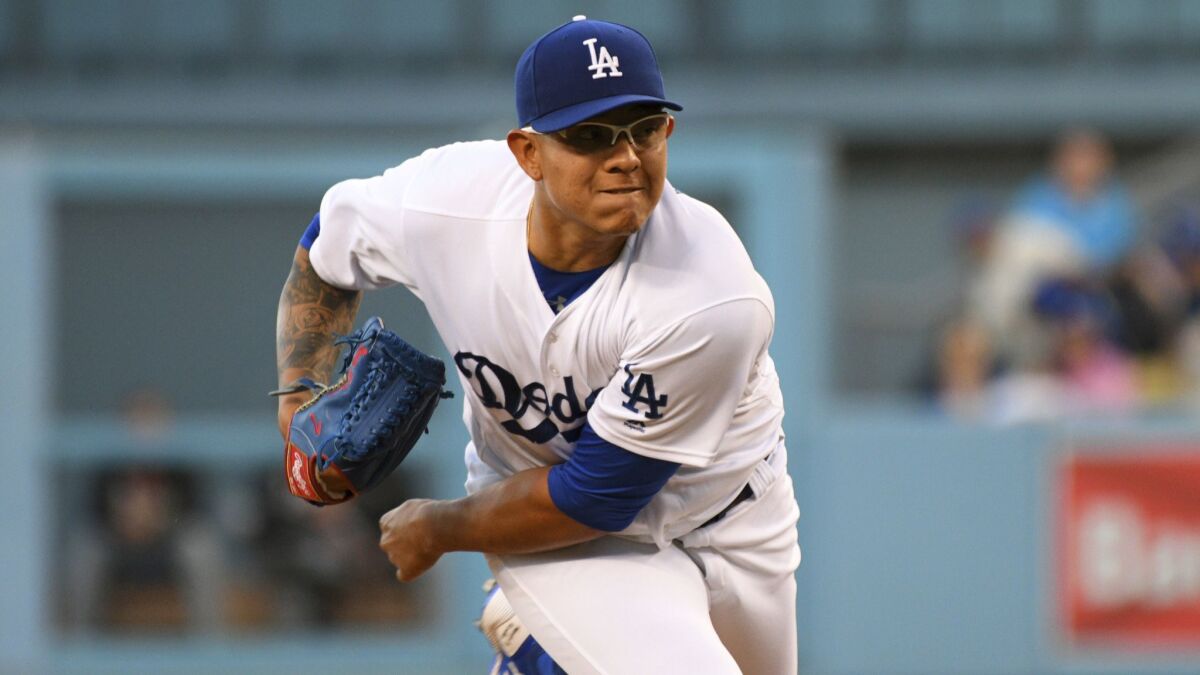 Reporting from Mesa, Ariz. —
For a few minutes Wednesday afternoon, Julio Urias, the oldest 22-year-old in baseball, cruised against the Oakland Athletics at Hohokam Stadium. His fastball zipped between 94 and 97 mph. His changeup baffled. It was only 14 pitches in a spring-training game in late February — specks on a baseball season's canvas — but he looked good. That is not insignificant for the Dodgers.
Nearly three years after making his debut at age 19 and two years since major surgery on his throwing shoulder, Urias entered spring training healthy and confident coming off an unexpected postseason trial. The left-hander says he is ready for any role the Dodgers throw his way, whether starter or reliever. The last two seasons, years in which he logged a total of 27 1/3 innings at the major league level, have taught him hard lessons.
"More than anything, mentally," Urias said in Spanish. "A lot of times, when you're on this team, obviously a team so big, you try to do the job as best you can so you don't get sent down to triple A. That's always passed my mind. Now I'm focused on feeling good each start I get and do the best that I can. Whatever happens, happens. You don't control that."
The Dodgers will practice caution with their former teenage phenom. Manager Dave Roberts said Urias will start games on a regular starter's schedule for a couple weeks before the club decides whether to continue stretching him out. He'll be on an undetermined innings limit during the regular season. Ideally, he will be available to help the Dodgers late in the season, as he did in 2018, when he reached the majors in September and made seven playoff appearances. But Roberts did not rule out the possibility of Urias starting the season in the team's starting rotation.
"I think it's unfair to put limits on him and as far as potential to open the season," Roberts said. "So, right now, he's doing everything he possibly can to just keep him focused on getting better each time out there, each day. But, yeah, certainly the door's open for him. The opportunity will present itself if it's supposed to."
On Wednesday, Urias elicited groundouts from the first two batters he faced before striking out Matt Chapman swinging with his 14th offering, a fastball up in the zone and an exclamation point to an encouraging performance.
"Loved the at-bat against Chapman right there," Roberts said. "He's just sharp. He's focused. Like I said before, he looks great. He's determined. So today was a really good outing."
Clayton Kershaw to throw Thursday
Clayton Kershaw remains scheduled to play catch Thursday to test his left shoulder again. Kershaw last threw Monday after taking four days off because of shoulder inflammation and his shoulder did not react well.
Kershaw, however, has not undergone any tests, including an MRI exam, on the shoulder and is still not slated to get one.
"Right now, with him, we think we have a handle on the symptoms, and we don't feel like we need one," Roberts said. "If our medical staff felt like it was needed, we would do it."
Kenley Jansen to pitch next week
Roberts said closer Kenley Jansen is scheduled to make his Cactus League debut next week. Jansen, 30, is slated to throw another batting-practice session Thursday.
Andrew Toles still is not in camp
Outfielder Andrew Toles remains the only player who hasn't reported to spring training for the Dodgers and when he joins the club is still unknown.
"We're still letting Andrew take care of his personal issues," Roberts said. "We're supporting whatever he needs to take care of, and hopefully we'll get him back in camp."
Toles, 26, was expected to compete for a job in the Dodgers' outfield this spring. He appeared in 17 games for the Dodgers last season. He batted .306 with an .807 on-base-plus-slugging percentage In 71 games with triple-A Oklahoma City.
Sign up for our daily sports newsletter »
Twitter: @jorgecastillo
Get our Dodgers Dugout newsletter for insights, news and much more.
You may occasionally receive promotional content from the Los Angeles Times.