Column: Kirk Gibson finally can feel what we felt about his famous home run
He snarled. He winced. He pumped his fist. He burrowed into the arms of waiting Dodgers teammates like he was slugging his way across a boxing ring.
Thirty years ago, Kirk Gibson didn't celebrate his historic World Series home run as much as he fought through it, limping around the bases with the sort of resilience and defiance that defined his clubhouse leadership.
You always wondered, would the tough guy ever allow himself to truly enjoy that moment? Would the focused competitor ever understand its historical significance?
Would he ever feel what we felt?
In what should be recorded as the first Dodgers victory of the 2018 season, Gibson will return to Chavez Ravine next week to say, at long last, yes.
"Sometimes I get shy about it because it has been played over and over again, but at the same time, it gives me goosebumps,'' Gibson said, as only Gibby can say it. "[Bleep], that was a great moment.''
How perfect that those goose bumps will be shared by thousands when Gibson takes the Dodger Stadium mound to throw out the first pitch for the March 29 season opener against the San Francisco Giants.
"We all got humbled by that home run,'' Gibson acknowledged Monday during a conference call with reporters. "It was unbelievable — the great call, the fans' reaction, teammates' reaction, the city of Los Angeles, the people in right-field putting on their brakes, seeing the brake lights, their reaction.''
Welcome home, indeed, to a guy who finally is being given a Dodger Stadium celebration worthy of that fly ball he hit out the yard on that magical night in October 1988. After his opening day pitch, he will honored again the next night with his bobblehead doll being given to the first 40,000 fans at Friday's game.
"If I do get it there in the air, it won't be pretty, let's put it that way,'' Gibson said of his first pitch. "You've got to do it. You get out there in honor of what's going on. … because it brings back things that have been printed in my mind about what it was like when I had the opportunity to play for them. It's a real cool thing."
Gibson, 60, will be coming home not only at a time with Los Angeles needs him — with every postseason failure, his legend grows — but also at time when he needs Los Angeles.
He is in the middle of another long, slow walk to home plate, and can use the same sort of cheers that once fueled his greatest hit. The man who barely could walk when he took his mighty cut is now in a battle with Parkinson's Disease.
"I'm going to fight Parkinson's like I fought walking up for that at-bat,'' Gibson said. "I'm going to believe that I can beat it, I'm going to believe that I can help others believe they're going to beat it, and I'm going to believe that I can bring this community together to try to figure this all out, and together, we can beat it."
A man who was once reluctant to acknowledge even the slightest of injuries is now openly discussing his disease to help others, and the Dodgers are all in.
The team's proceeds from opening day's 50-50 raffle — which usually go to Dodgers charities — will be donated to the Kirk Gibson Foundation, which raises money to fight Parkinson's Disease and can be accessed at kirkgibsonfoundation.org. The Dodgers also are painting a seat blue in the right-field pavilion near where the home-run ball landed and will sell it on a nightly basis as part of a two-seat package in the all-you-can-eat section that will cost $300 total, with $200 going to Gibson's foundation.
Every time he's come to Dodger Stadium since his home run, Gibson looked toward that area of seats and remembered.
"I personally call that Seat 88,'' he said. "I'm not sure if that's what they're going to call it, but that's what I'm begging them to call it. I'd say, 'Hey look, there's seat 88.'''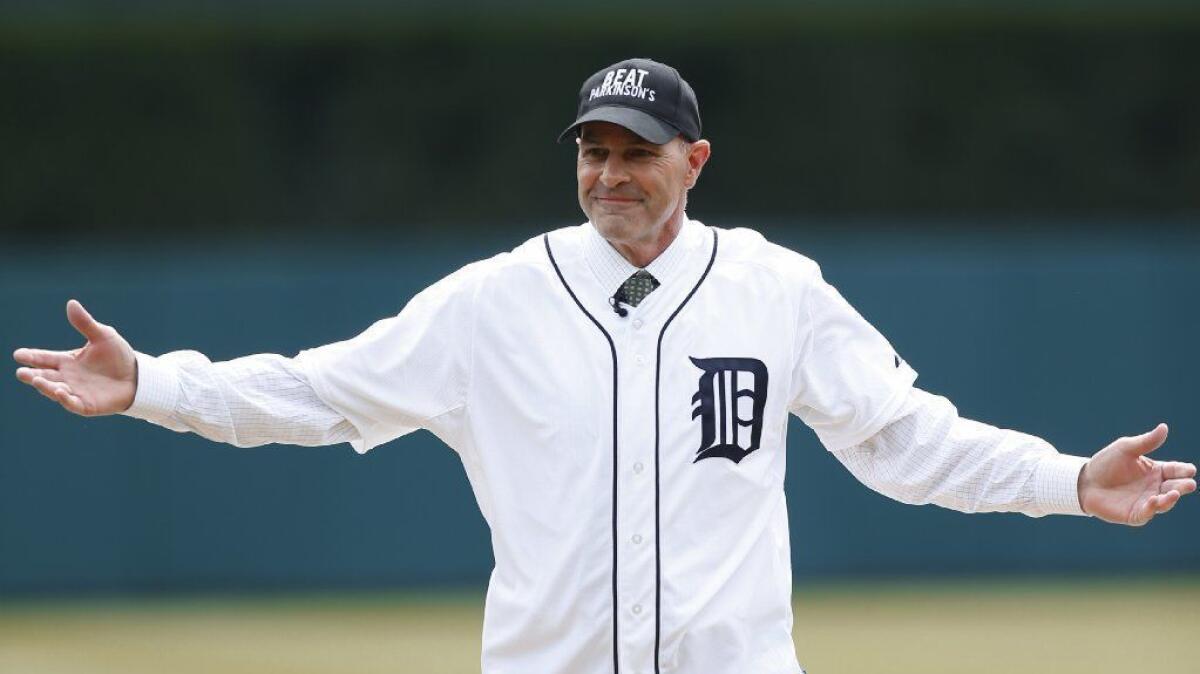 This appropriate reunion is long overdue. Since he left the Dodgers as a free agent following the 1990 season, most of his official visits to Dodger Stadium were as a member of an opposing team, most notably the eight years he spent as a coach and manager for the Arizona Diamondbacks. Gibson eventually retired and returned to Detroit to work on the Tigers' broadcast team, and it always seemed like his stronger connections were there, near his hometown, with a team he led to a World Series championship in 1984.
But Gibson has another home, and the Dodgers thought the 30-year anniversary was a good opportunity to remind people that he also will always be a Dodger.
"Kirk Gibson will always be part of this organization; he's connected,'' said Lon Rosen, the Dodgers' executive vice president and chief marketing officer. "You keep seeing that great play. It's never out of people's mind when they talk about the Dodgers. In time, we forget about great moments, but this will put new focus on it for sure.''
Gibson didn't come back during last season's World Series because he didn't want to be a distraction. He realizes now that, quite the opposite, his appearance is an enhancement.
"Over time, I think you realize the impact that [the home run] has had on the game, where your place in history lies with the fans, the city," Gibson said.
If he didn't realize it before, he realized it during last year's playoffs when Justin Turner hit a game-winning homer against the Chicago Cubs on the 29th anniversary of Gibson's blast, then talked about watching Gibson's home run as a 3-year-old playing on the floor of his grandmother's Lakewood home. Gibson responded by sending Turner a congratulatory text, resurrecting the bond between the former Dodger and the organization.
"When he hit that home run, I was like, wouldn't it be cool if he hit another one to win the World Series?'' Gibson said. "That would be topping me, and that would be really cool. It didn't happen, but we can always dream for this year.''
Gibson was never much for dreaming, but that's changed now.
"I know most of the guys like Clayton [Kershaw] and everybody are tired of watching the home run, they're tired of watching the celebration,'' Gibson said. "Last year, when the Dodgers were in it, I was thinking they're going to finally do it … maybe this is the year, and hopefully I'm the guy who throws the first pitch to this championship season, and maybe I'll get a ring."
For now, it is enough that he is getting the ball.
Get more of Bill Plaschke's work and follow him on Twitter @BillPlaschke
Get our Dodgers Dugout newsletter for insights, news and much more.
You may occasionally receive promotional content from the Los Angeles Times.