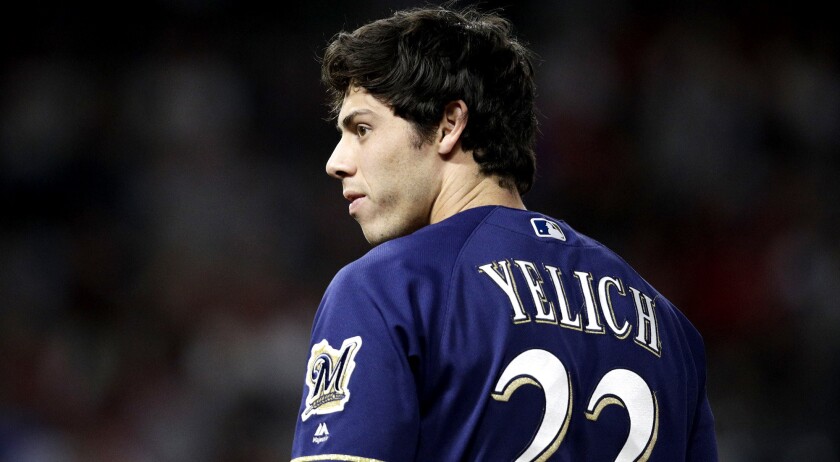 On the eve of the 2018 All-Star Game, as Milwaukee Brewers outfielder Christian Yelich prepared to represent the National League for the first time, his manager wondered if he might be better served getting some days off.
The Brewers had acquired Yelich the previous winter after five seasons in big league purgatory with the Miami Marlins. His start with Milwaukee was slow. Yelich strained an oblique muscle in April and collected only five extra-base hits that month. He batted .250 in June and tweaked his back. As he fought through at-bats, he grumbled about his performance to manager Craig Counsell.
"He was confidently saying, 'I'm not locked in, I'm not locked in,' before the All-Star game," Counsell said. "I think those of us who heard that were questioning it: 'You're going to the All-Star game, you know? You're doing pretty good here.' But he was adamant about that. And he was right."
For Yelich, the 27-year-old outfielder from Westlake High of Westlake Village, the line of demarcation is clear. In Miami and in his first half with Milwaukee, he was a good player. Ever since, he has become an elite player. Yelich batted .367 with a 1.219 on-base plus slugging percentage in the second half and was selected as the National League most valuable player. His performance has not slackened in 2019. In his first 14 games, Yelich hit .377 with five homers and a 1.213 OPS.
The elevated production has lasted long enough that Yelich no longer believes it is a streak. He believes this is who he is. He grew annoyed over the winter when he heard questions about how his performance would regress this season. He chafes at the concept of artificial limitations for players.
"I feel like after your first three to four years in the big leagues, they're like, 'All right, this is what you are as a player,' " Yelich said earlier this week at Angel Stadium. "Like if you break in at 21, or whatever, you're not allowed to get better. You can only get worse, basically. I just think that's a terrible way to look at it.
Sign up for our daily sports newsletter »
"Like, if you have a good year, 'Wow, you got lucky. You can't possibly do that again.' It's something that pisses me off. I use that as motivation."
Baseball provides space for struggling players to reinvent themselves. Justin Turner found stardom in Los Angeles after being cast aside by the New York Mets, Baltimore Orioles and Cincinnati Reds. Boston Red Sox slugger J.D. Martinez ignited the launch-angle revolution after the Houston Astros cut him. St. Louis Cardinals reliever Andrew Miller failed as a starter for half a decade before flourishing in the bullpen.
The Dodgers specialize in this sort of upholstery, squeezing star-level production out of previously unknown players such as Max Muncy and Chris Taylor. A more rewarding, albeit more challenging, endeavor is occurring in Houston, where the Astros have reshaped stars into superstars.
The test case for the Astros is former Cy Young Award-winner Justin Verlander, who had begun to fade with the Detroit Tigers before Houston acquired him in late summer 2017. The Astros advised Verlander to alter the grip on his slider and ditch his two-seam fastball. Verlander responded with a vintage season in 2018 and finished second in the Cy Young voting.
The fifth-place finisher was Gerrit Cole, whom the Astros had nabbed from the Pittsburgh Pirates the previous winter. As the former No. 1 overall pick in the 2011 draft, Cole had been a solid pitcher in Pittsburgh. He posted a 4.26 earned-run average in 2017. He took Houston's advice for 2018, throwing more four-seam fastballs, increasing the velocity on his curveball and spinning fewer sliders en route to a 15-win season with a 2.88 ERA.
Houston bought low on Cole. The Brewers pounced on Yelich as the Marlins torn down their outfield last winter. Giancarlo Stanton went to the Yankees. Marcell Ozuna departed for St. Louis. Milwaukee gave up four prospects, including outfielder Lewis Brinson, who was ranked the No. 18 prospect in the sport by Baseball America last year.
Yelich joined a Brewers team that had won 86 games in 2017 and spent $80 million on All-Star center fielder Lorenzo Cain. The addition of Cain and Yelich figured to sharpen Milwaukee's outfield defense while improving the on-base percentage of the lineup.
En route to 96 wins and a National League Central title, Cain came as advertised. He played superb defense, posted a .395 on-base percentage and hit 10 homers. Yelich figured to be on a similar path. In the first five years of his career, he had hit 59 homers. He cracked 11 in the first half of 2018, while delivering an .823 OPS that was well within the expected parameters of his career. Yelich was still unsatisfied.
"He's such a genuine person," Brewers infielder Mike Moustakas said. "Works extremely hard at baseball, and is never satisfied with being OK. He wants to go out and be great."
As the second half of 2018 unfolded, Yelich made a series of subtle adjustments that triggered an offensive outburst. Earlier in his career, Yelich hit grounders at a prodigious rate. From 2013 to 2017, his groundball rate was 59.1%, higher than any other big leaguer except Nori Aoki.
In 2018, Yelich's groundball rate decreased to 51.8%, a dip that produced significant consequences. Yelich slightly altered the launch angle on his swing in the second half, according to FanGraphs. The quality of his contact improved. He became more aggressive on the first pitch.
"I keep the same approach," Yelich said. "I feel like if I execute what I want to execute, I'll be fine."
The result was a monster. As the Brewers dueled with the Chicago Cubs for supremacy in the NL Central Division, Yelich carried his club. He provided a .508 on-base percentage in September, plus 10 homers and a 1.313 OPS. He received 29 of 30 first-place MVP votes.
Yelich heard the chatter over the winter about his inevitable regression. He chose to treat that word like an epithet. His attitude heartened Counsell, who wondered how Yelich might respond to the heightened expectations.
"There's a different player than the first half of the season last year," Counsell said. "He's taken a step forward." He added, "He's still making us shake our heads and leave our mouths open at what he's accomplishing."
Yelich rolled into 2019 as if the previous season had not ended. He homered in each of the first four games. During the next 10, he cooled off by hitting .341. He scored three runs against the Dodgers on Friday.
"You just want to get the most out of yourself as a player, for your career," Yelich said. "You constantly want to improve. You shouldn't set a ceiling on yourself."
Twitter: @McCulloughTimes
---