It's official: Japanese star Shohei Ohtani is open to MLB negotiations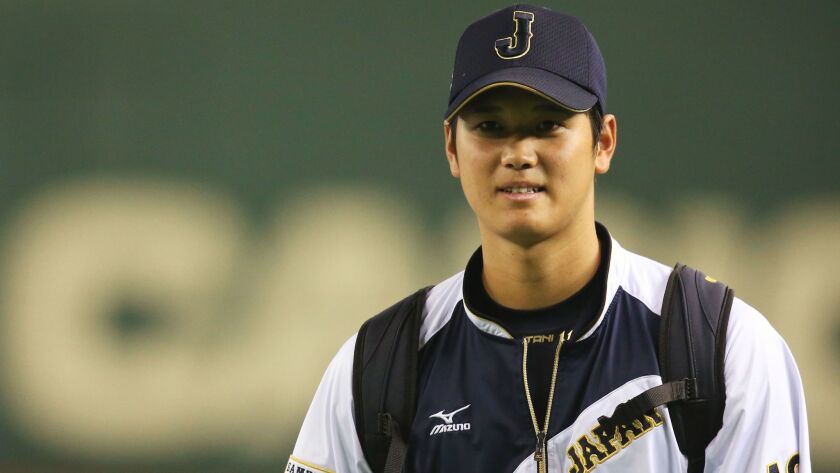 The three-week recruiting frenzy to sign Shohei Ohtani, the enigmatic 23-year-old star from Japan, kicked off Friday afternoon when the 30 owners of Major League Baseball ratified a posting agreement with Nippon Professional Baseball and allowed the Hokkaido Nippon-Ham Fighters to make Ohtani available.
Ohtani now has 21 days to finalize a contract, taking another step in a process that has fascinated the baseball industry.
Hyped as worthy of comparison to Babe Ruth, given his ability to hit 500-foot home runs and unleash a 100-mph fastball, Ohtani is the most intriguing, least predictable player on the market this winter. The Dodgers have not hid their affection for him, having sent a scouting contingent to Japan this past summer that included president of baseball operations Andrew Friedman, but the competition for Ohtani will be fierce.
And money alone is unlikely to decide his destination.
In order to negotiate with Ohtani, each team must pay a $20-million fee to the Nippon-Ham Fighters. Ohtani will sign a standard big-league rookie contract, with the first three years at the league minimum before becoming eligible for arbitration, and can only receive a bonus capped by baseball's international signing restrictions for players 25 or younger.
The suitors can empty their international bonus pools, but Texas can offer the maximum at $3.535 million, with the Yankees next at $3.5 million. The Dodgers can only offer $300,000. On Thursday, the Angels completed a trade that netted them an additional $1.21 million in bonus pool surplus to offer Ohtani.
"The money was acquired with an eye toward acquiring him," Angels general manager Billy Eppler said.
Except money does not appear to be what excites Ohtani. Had he stayed two more seasons in Japan, he could have signed a contract without financial restrictions. His early arrival presents a puzzle for interested teams. How to entice a player who appears uninterested in waiting for a nine-figure payday?
On Nov. 24, Ohtani's agent, Nez Balelo of CAA, sent a questionnaire to all 30 teams in hopes of narrowing the field. The letter, which was obtained by The Times' Bill Shaikin, requested the answers be written in English and Japanese. It called for teams to address seven areas outside of the financial realm, including questions about developmental strategy, medical philosophy, facilities, cultural assimilation and integrating Ohtani into an organizational structure.
The last aspect may be the most challenging for whomever signs Ohtani. Limited by an ankle injury in 2017, Ohtani still hit .332 with eight homers, 16 doubles and a .942 on-base plus slugging percentage. He struck out 29 batters in 25 1/3 innings across five starts. His future may look brighter as a pitcher, but Ohtani appears committed to playing the outfield as well.
Would he prefer the National League, where he could appear as a pinch-hitter? Or the American League, where he could rest his body as a designated hitter? Can he recover in between starts and still be effective as a hitter? Is he willing to relieve?
The questions are innumerable, and unanswered. During these next three weeks, some clues may emerge. By Dec. 22, Ohtani must decide where to begin his historic journey.
DODGERS PROMOTE GOMES TO FARM DIRECTOR
The Dodgers have promoted Brandon Gomes to director of player development, filling the vacancy created by Gabe Kapler's departure to manage the Phillies. Gomes, a 33-year-old former reliever for Friedman in Tampa Bay, joined the Dodgers in 2016 as a pitching coordinator.
The Dodgers also hired another member of the Rays' staff, longtime trainer Ron Porterfield, to be the organization's director of player health. A veteran of 21 seasons with the Rays, Porterfield will help coordinate the Dodgers' medical department while based out of the spring-training facility at Camelback Ranch.
To round out their coaching staff, the Dodgers hired Brant Brown as assistant hitting coach and Luis Ortiz as minor-league hitting coordinator. The duo effectively replace Tim Hyers, who departed the organization to be Boston's hitting coach, and Shawn Wooten, who was let go after the season.
The Los Angeles Dodgers in the 2017 World Series
On Now
Video: Kenley Jansen, Cody Bellinger, Rich Hill talk about losing Game 7
1:59
On Now
Video: Analysis: Dodgers lose Game 7 and the World Series
11:43
On Now
Video: Yu Darvish talks about using his slider for Game 7
1:34
On Now
Video: Kenley Jansen and others talk about winning Game 6
1:58
On Now
Video: Analyzing the Dodgers Game 6 win
7:26
On Now
Video: Clayton Kershaw on starting Game 5 of the World Series
1:57
On Now
Video: Dave Roberts Talks Rich Hill and Kenley Jansen pitching in Game 6
1:57
On Now
Video: Dave Roberts talks preparing for Game 7
1:26
On Now
Video: Here it is, Game 7, and Bill Plaschke knows who wins
2:22
On Now
Video: Rich Hill talks about Game 6 of the World Series
1:48
Twitter: @McCulloughTimes
---
Get our Dodgers Dugout newsletter for insights, news and much more.
You may occasionally receive promotional content from the Los Angeles Times.