Manny Machado signing gives San Diego Padres a serious countenance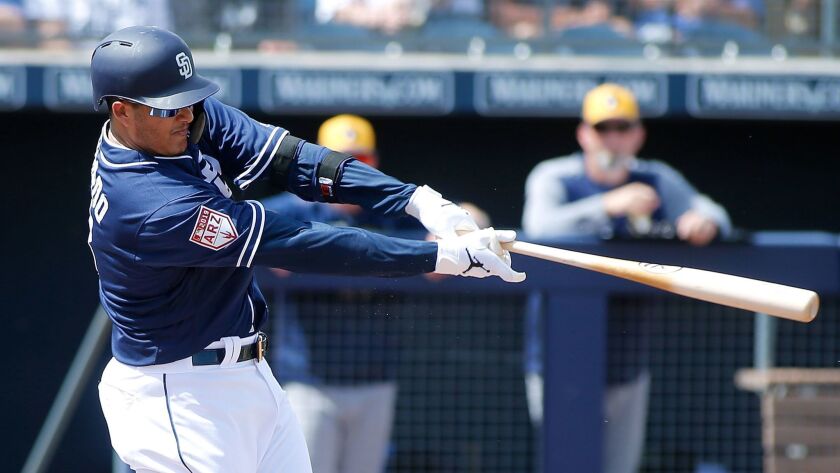 Reporting from Peoria, Ariz. —
A sense of urgency is a difficult thing to find at the spring training complex of a baseball team. On a Monday morning in March, the clubhouse of the San Diego Padres featured three clocks plastered on the wall; all three showed different times. A group of prospects clad in shorts and T-shirts shot jumpers at a basketball hoop outside.
The clubhouse resembled the recent past of the Padres, a collection of relative unknowns toiling in a perpetual rebuild, a franchise that hasn't won a division title since Bruce Bochy was the manager. The hazy continuum was disrupted around 8:30 a.m., when Manny Machado strolled into the clubhouse.
The signing of Machado cost $300 million across 10 years, which briefly served as the largest free-agent contract in baseball history. For the players in the clubhouse, it also demonstrated the latest phase of the team's path toward contention. After spending $144 million on first baseman Eric Hosmer the previous offseason, the Padres more than doubled down on Machado.
"It's not just cozy San Diego, if that makes sense, in the big leagues, where you have time to figure it out," Hosmer said. "When you go out and spend $300 million on a player, it's like 'I've got to get . . . done right now.' If not, they're going to find guys to replace you. I think that's the thought process of every player. So you can see guys locking in."
For six seasons, the Dodgers have ruled the National League West. The San Francisco Giants side-stepped them in 2014, collecting a third World Series championship in five years after reaching the playoffs as a wild-card entrant, but have faded in recent years. The Arizona Diamondbacks pulled a plug on their chances at contention last offseason when they traded first baseman Paul Goldschmidt and allowed outfielder A.J. Pollock to defect to Los Angeles. The Colorado Rockies have played in the the last two seasons, but their next division title will be their first.
That leaves the Padres. Under general manager A.J. Preller, who has had four full seasons at the helm, the team has never finished higher than fourth in the division. He attempted to microwave the club into contention in 2015, only to unload assets like outfielder Justin Upton and closer Craig Kimbrel when the attempt fizzled.
Given a chance to start over, Preller aimed for a long-term fix. He began stockpiling minor league assets, building a farm system Baseball America ranked as the best in baseball before this season. Nine Padres prospects graced the publication's top-100 list, with prized shortstop Fernando Tatis Jr. ranked No. 2.
The presence of Tatis, along with fellow infield prospect Luis Urias, allows the Padres to play Machado at third base, where he excelled during his time with the Baltimore Orioles.
Sign up for our daily sports newsletter »
The $300-million offer made it easier for Machado to move off shortstop, where he played with the Dodgers in the second half of 2018. Machado pronounced himself impressed with the plans laid out by Preller and owner Ron Fowler.
"The whole shebang was just so, so perfect," Machado said at his introductory news conference in February. "Made it a little easier, because they're confident in bringing me on board, helping me be a part of this team, help the younger guys. One of the best farm systems in the game. The best."
Machado, 26, will be asked to provide guidance for Tatis, who is expected to debut in 2019, and Urias, who could shift to second base when Tatis arrives. Francisco Mejia, another highly touted prospect, should split time behind the plate with Austin Hedges. The pitching staff remains a work in progress, although the youthful trio of Joey Lucchesi, Eric Lauer and Chris Paddack offers promise.
Hosmer can point to his past for guidance. He came up through the Kansas City Royals organization, in the midst of a playoff drought that lasted nearly three decades. In 2013, the team acquired James Shields and Wade Davis from Tampa Bay. The Royals won 86 games that season. They made the World Series the next year. A year later, they won their franchise's first championship since 1985.
San Diego has never won a World Series. The path to a title still looks lengthy and arduous — they are unlikely to unseat the Dodgers in 2019, or perhaps even 2020. But the future looks brighter. And all it cost was $300 million.
"We're at that point in time where we feel like we're a good team," Hosmer said. "We feel like we can compete. I think last year, I don't think it was realistic to say that. We believed that we were going to win, and try to win, but I just don't think every guy in that clubhouse, to a man, believed in it. I think this year, that belief is real."
Twitter: @McCulloughTimes
---
Get our Dodgers Dugout newsletter for insights, news and much more.
You may occasionally receive promotional content from the Los Angeles Times.