Column: Dodgers manager Dave Roberts doesn't shy away from rethinking his decisions in the World Series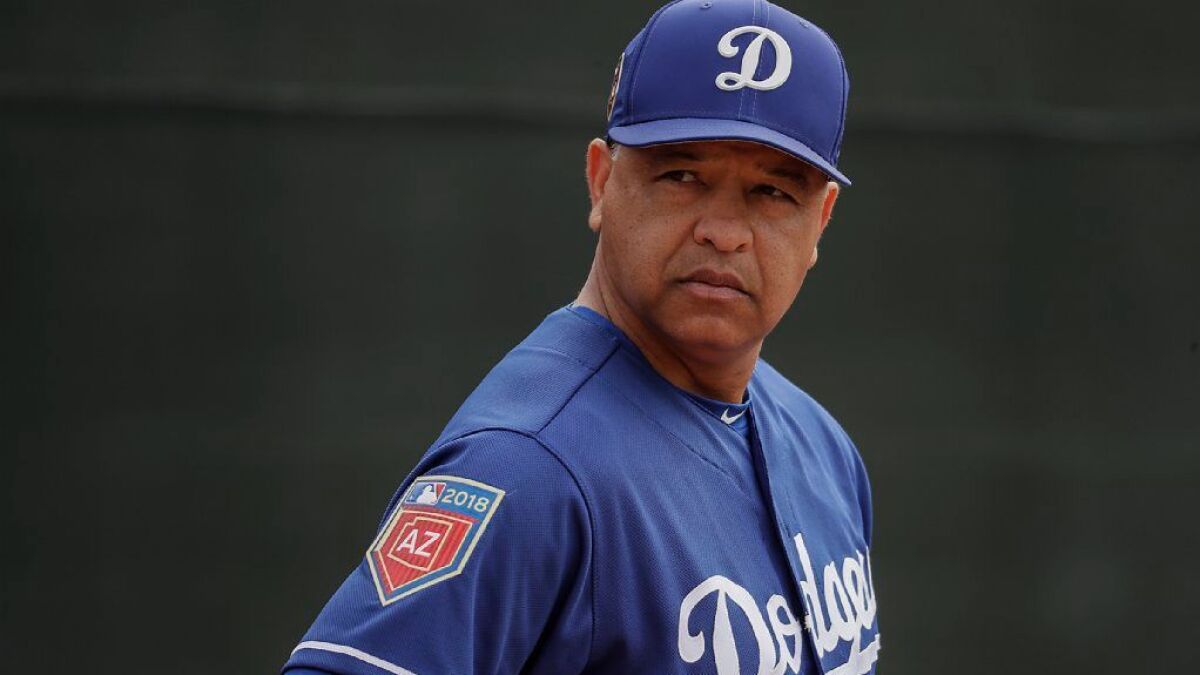 Reporting from phoenix —
Before the first game of last season's World Series, Dodgers manager Dave Roberts walked alone to center field at Dodger Stadium and carefully pulled a small vial out of his pocket.
Across the deep green grass, he scattered some of his father's ashes.
Seven months after Waymon Roberts died at 68, his son began the biggest moment of his career praying to him while ensuring they would share part of Chavez Ravine forever.
"Words were spoken, I was thinking about him, drawing strength from him," Roberts recalled.
Turns out, he needed that strength more than he could imagine. The Dodgers lost that series to the Houston Astros in seven games with a conclusion that lasted about seven minutes.
When it ended, a Dodgers starting pitcher had spectacularly failed and the Dodgers offense had meekly disappeared, yet it was Roberts who took much of the heat for the 5-1 defeat.
Why did he start Yu Darvish instead of Clayton Kershaw or Alex Wood? Then, once Darvish struggled, why did he wait so long to take him out?
Many tortured Dodger fans have spent the winter poring over their accounting of World Series villains. For some, Roberts is near the top of their list, and he knows it.
"It's tough; you play the game over and over in your head," he said. "I did that for weeks."
We won 104 games last year, we fell short, we're going to make sure that doesn't happen again this year, we expect to have a championship.
— Dodgers manager Dave Roberts
But as spring training begins this week at Camelback Ranch, the bounce is again in his step, the excitement has returned to his voice, the same pennant-winning group is inhabiting his clubhouse, and he's ready to fight back.
"I felt we were the best team last year," Roberts said. "I feel we are the best team this year."
He still has that swagger that inspired last year's team to the most wins in Los Angeles franchise history. He's still that guy who would sit in the dugout before a game challenging the baseball world to beat them.
"We won 104 games last year, we fell short. We're going to make sure that doesn't happen again this year, we expect to have a championship," Roberts said.
He still has the sort of unwavering confidence that helped empower surprise stars like Chris Taylor while reviving former prodigies like Yasiel Puig. He still believes, even more than ever.
"A lot of great things happened last year, but we didn't finish it," he said. "I expect us to put our head down again, do the same thing again, and come late October, be in the mix, and finish it."
If he appears more excited than ever this spring, perhaps it's because he's grown weary of the pain of last season's devastation.
Seemingly everywhere he went this winter, he was greeted with cries of, "One more game." He lost some sleep. He tried to figure out what went wrong. Just one more game.
"After Game 7, in our clubhouse, there was a feeling of, this didn't make any sense," he said. "The guys we had, how we banded together, there was no way we were losing that game. And for it to turn out like that, we were distraught."
Agreeing to replay that game one more time Thursday, Roberts explained his two controversial decisions. Part of that strength he gets from his father is his willingness to hold himself accountable, something which rubs off on his team. Not that any of this is easy.
"What happened, it digs in at you a little bit," he said. "You think about how close we were."
First second guess: Why did he start Darvish? The pitcher had struggled in his previous World Series start, and Kershaw and Wood were in the bullpen.
Answer: Darvish was clearly the best option, because Kershaw had just pitched and Wood was in uncharted territory.
"People are entitled to their opinions, but we're talking about pitching Clayton on two days' rest? And Alex had never been on short rest?" Roberts said. "If you start either one and it doesn't go well, you're exposing yourself to that criticism."
Furthermore, Darvish had pitched well in two playoff starts before the World Series and was pitching on schedule.
"You trade for him at the deadline, he's on regular rest, and then you don't start him because he's had one bad game?" Roberts said. "That's tough."
Second second guess: Why did he keep Darvish in the game after he had allowed three runs to his first nine batters and was facing the powerful George Springer with Marwin Gonzalez standing on third?
Answer: Roberts in hindsight would like this one back, but at the time he saw a pitcher who was just one out from settling down.
"Knowing the results now, yes, I would have taken him out, but that's a tough game to play," Roberts said. "At the time, I'm looking at two straight groundouts … only two balls had been hit hard … there was an error … there was a walk … I still felt he could get them out."
Darvish stunned his Dodgers teammates by giving up on his curveball and growing tentative, and that led to Springer's two-run homer, which deflated the game.
"If that home run is a flyout, we're down 3-0 and we win the game," Roberts said. "That's something [Darvish] has to live with and wear, and that's tough for a player, but he did the best he could."
Roberts was also questioned for pulling Rich Hill early in Game 2, removing him after four innings when he had allowed one run and three hits while striking out seven. The bullpen eventually blew the game that the Dodgers lost in 11 innings.
But people forget Hill had not gone more than five innings in either of his previous postseason starts, both wins. And in his next starts, Hill went only 4 2/3 innings in Game 6 and the Dodgers also won.
"What we did with Rich was the same thing we had been doing with him all along," Roberts said. And, by the way, Kenley Jansen was on the mound in that game with a one-run lead in the ninth.
"We love our guys. We lost a game. Our body of work before that was so impressive, a couple of things go different ways, we're champs," Roberts said. "I don't think the hangover thing is going to be an issue for us."
It certainly doesn't seem that way for Roberts, as he bustles about camp full of his usual energy, greeting minor leaguers like they were all-stars, joking and laughing with the confidence of a guy who's pretty secure, which he should be.
In his two years as a manager, he's won two division titles, set a franchise record for wins, won a manager of the year award and will probably get a new contract sometime this year; he has just one year left with a club option.
"Me and this organization, we're synced up pretty good," he said. "This is my dream job. I love the people, there's no better place to be."
Except maybe in center field before Game 1 of the World Series, spending time with his father. He'll be back there again soon. He's sure of it.
"Thirty years is long enough," he said.
Get more of Bill Plaschke's work and follow him on Twitter @BillPlaschke
---
Get our Dodgers Dugout newsletter for insights, news and much more.
You may occasionally receive promotional content from the Los Angeles Times.