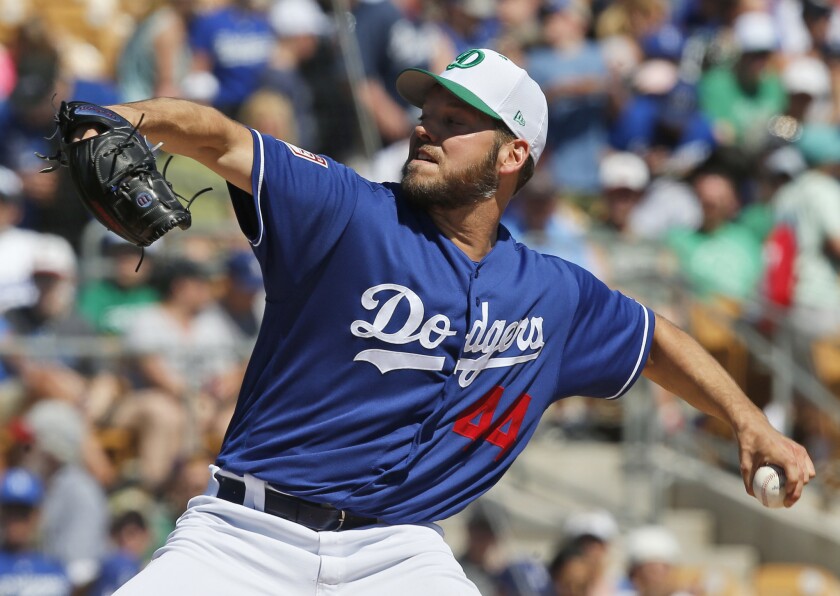 Rich Hill doesn't know how his sprained left knee will react when he throws off a mound yet. He will find out only when he tests it. He'll cross that checkpoint Saturday in Denver, where he is scheduled to throw his first bullpen session since March 19 — two days after he sprained his medial collateral ligament.
"I'm much more optimistic than when it first happened," Hill said. "I think any time you have an injury that is new, something I've never experienced before, it's kind of uncharted waters, so didn't know where this would take us. I'm pleased with how it's healing, but the big test is to get off a mound and see how it responds."
Hill suffered the injury near the end of his Cactus League outing March 17 and the pain resurfaced after he logged a bullpen session. Hill had been the choice to start on opening day after Clayton Kershaw and Walker Buehler were ruled out, but Hill was placed on the 10-day disabled list and Hyun-Jin Ryu made the start.
Hill said he had to make mechanical adjustments in last month's bullpen session to alleviate pain in the knee but believes he won't have to make any changes Saturday. He's been wearing a knee brace but said he doesn't know if he'll use it on the mound.
Beyond Saturday, the plan remains unclear. Hill said he'd rather not make a minor-league rehab start. Manager Dave Roberts said that hasn't been determined but assumes Hill will make at least one.
"It is a unique injury because if it was an elbow, my shoulder, back issues, I would go, 'OK, I know exactly what this is. If I take a day off from throwing, I'll be fine,'" Hill said. "This is a little frustrating, but doctors and training staff all think that this is something that, out of all the spectrum of injuries, this has a huge success rate of healing itself and [me] coming back. It's just the time factor."
With Kershaw also on the injured list with left shoulder inflammation, the Dodgers began the season with Julio Urias and Ross Stripling in the starting rotation. Urias is slated to start Saturday against the Colorado Rockies after tossing five scoreless innings against the San Francisco Giants on Monday, but will move to the bullpen when either Kershaw or Hill returns.
Kershaw could join the Dodgers next week. He is scheduled to make a rehab start with Triple-A Oklahoma City on Thursday. Roberts said Kershaw will throw four innings or 60 pitches and throw another inning in the bullpen afterward.
Sign up for our Dodgers newsletter »
Dodgers add reliever
The Dodgers signed right-hander Zach McAllister to a minor league deal Tuesday. The veteran, who appeared in five games for the Dodgers' Triple-A affiliate late last season, was released by the Texas Rangers at the end of spring training.
McAllister, 31, posted a 6.20 earned-run average in 44 outings with the Cleveland Indians and Detroit Tigers last season. He was a linchpin in the Indians' bullpen the previous three seasons, compiling a 2.99 ERA in 164 appearances.
The move comes after the Dodgers' bullpen allowed 17 earned runs through their first five games — tied with the Arizona Diamondbacks for the most in baseball entering Tuesday.
Twitter: @jorgecastillo
---