Will Smith was hanging out with his triple-A teammates in the clubhouse of Oklahoma City's Chickasaw Bricktown Ballpark Saturday night when Alex Verdugo hit an 11th-inning walk-off home run for the Dodgers.
"We were actually watching the game when Dugie hit it," said Smith, one of the Dodgers' top catching prospects. "It was pretty cool."
Less than 24 hours later, Smith starred in a rerun of not only Saturday night's game against Colorado but Friday night's game, which the Dodgers won on a Matt Beaty walk-off homer in the ninth.
Smith, who was called up to the Dodgers late Saturday and caught a 6 a.m. flight from Oklahoma City to Los Angeles on Sunday, drove a pinch-hit three-run homer to right-center field in the ninth inning to lift the Dodgers to a stunning 6-3 victory over the Rockies before 50,023 in Dodger Stadium.
No team in major league-history had won consecutive games on walk-off homers by rookies before this weekend. Beaty, Verdugo and Smith, who also hit a walk-off homer on June 1 against Philadelphia in his first stint with the Dodgers, made it three in a row to complete a three-game sweep of the Rockies.
"That was sick," said Chris Taylor, whose pinch-hit three-run homer in the seventh turned a 2-0 deficit into a 3-2 lead. "I think we're all still in shock. Three nights in a row, walk-off homers by three rookies. It's special to be able to do that.
"I think it takes some serious nerve to calm yourself in those situations, and [Smith] has done it twice. It's pretty impressive. It's too bad we don't have another home game. We were saying it's [rookie outfielder Kyle] Garlick's turn."
It marked the first time since May 31-June 2, 2010, that the Dodgers won three straight games in walk-off fashion, those coming against Arizona. Beaty, 26, Verdugo, 23, and Smith, 24, were in high school then. Today, they're adding new meaning to baseball's "Let the Kids Play" marketing slogan.
"On a championship ballclub, for them to make an impact with us as young players who are very green, I haven't seen anything like it," Dodgers manager Dave Roberts said. "It speaks to the coaches, the veteran players and player development having these guys ready. It's a collective effort."
Beaty also had his fingerprints all over Sunday's win, sparking a three-run seventh-inning rally with an infield single and leading off the ninth with another infield single off reliever Scott Oberg.
Enrique Hernandez popped out. Beaty took second on a wild pitch and Taylor struck out. Russell Martin was intentionally walked, and Roberts sent Smith, who had six homers, three doubles, three triples and nine RBIs in 11 triple-A games since his demotion, to the plate.
With a 1-and-0 count, Smith drove an 84-mph slider that was slightly inside to right center. Roberts did not think it was a homer off the bat, but the ball kept carrying and cleared the wall, the shot measuring 386 feet.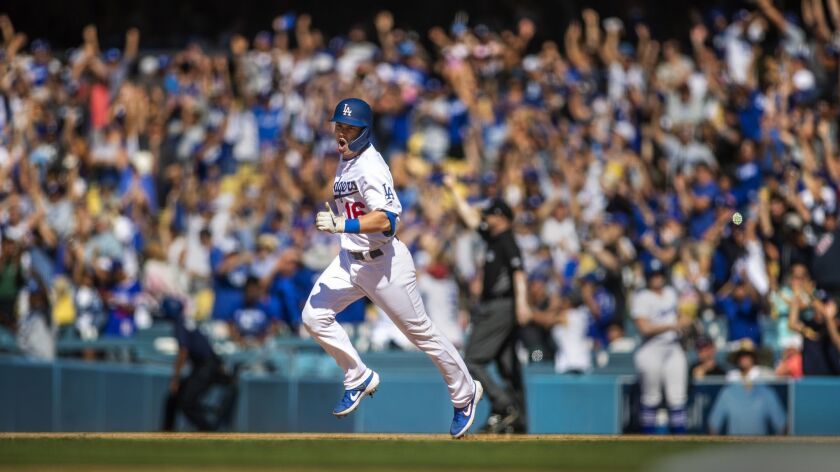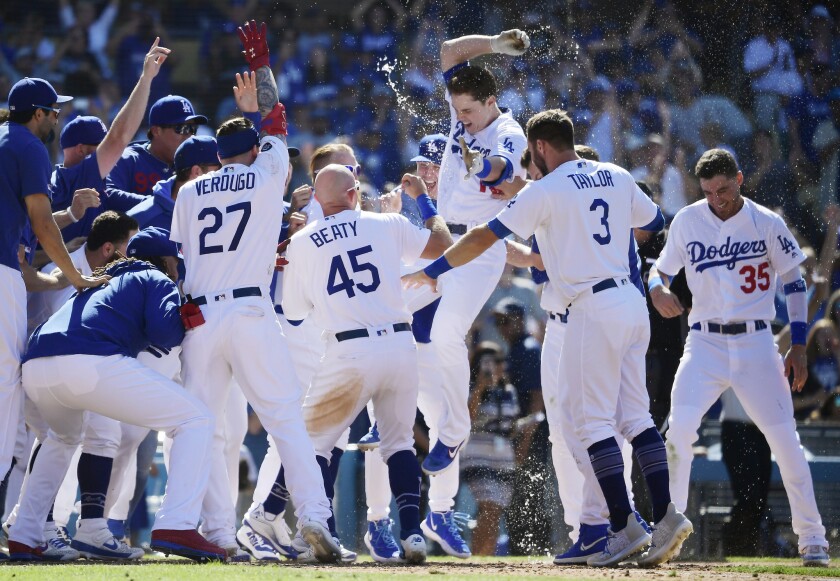 Smith rounded the bases and flung his helmet high into the air before diving into a mass of humanity surrounding home plate.
"First, I thought [center fielder Garrett Hampson] he was gonna catch it," Roberts said. "Then, I thought it was going to get some outfield grass. I just thought [the pitch] got in on him. But in day games here, the ball does carry, and Will is very strong man. I definitely knew he had pull power. To carry to right-center field with a ball in on you, that's a different level of strength."
The Dodgers extended their win streak to six and closed an 11-game homestand with a 9-2 record. They pushed their lead over Colorado in the National League West to 13 games.
The Dodgers managed only three hits in six innings off starter Antonio Senzatela and were trailing 2-0 when Beaty hit a one-out single in the seventh.
Sign up for our daily sports newsletter »
Hernandez doubled to right-center, and Taylor, who is batting .382 (13 for 34) with three homers, three doubles and 11 RBIs in 11 games since shortstop Corey Seager went on the injured list, crushed the first pitch he saw from reliever Chad Bettis for a pinch-hit three-run homer to left and a 3-2 lead.
Kenta Maeda, who allowed two runs and seven hits in seven innings, striking out six and walking two, was in line for a win before reliever Pedro Baez gave up a run in the eighth when Daniel Murphy singled and scored on Tony Wolters' two-out double to right to make it 3-3.
Hernandez's one-hop relay throw to the plate arrived well before Murphy but nicked off the glove of Martin. Kenley Jansen's scoreless ninth set the stage for Smith's heroics.
"Yeah," Smith said of three rookies delivering three straight walk-off homers, "we were saying that's a record that's probably never going to be broken."
---