A glimpse into Boston's World Series title celebration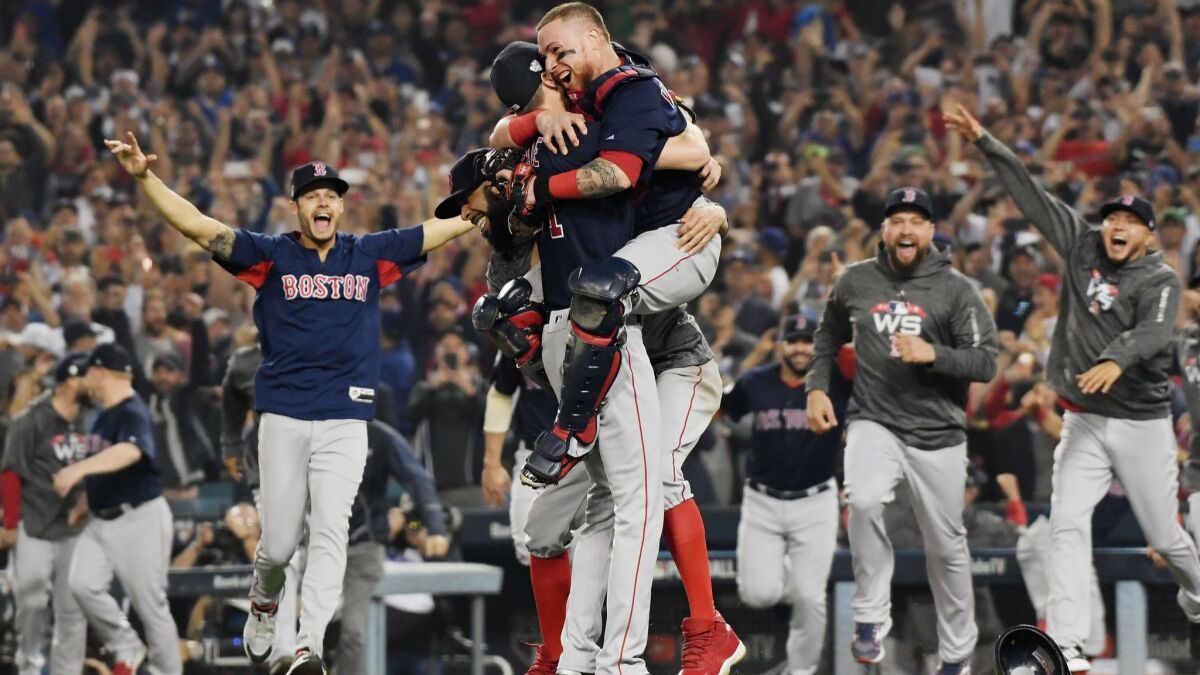 It was worth it. Months of preparation, late-inning rallies, performances by exhausted teammates — it all came down to an eruption of shouts as Chris Sale struck out Manny Machado.
The Boston Red Sox were World Series champions.
Champagne dripped from the ceiling and onto the World Series trophy in the clubhouse. Players yelled and embraced. The smell of alcohol and cigar smoke so strong it stuck to your tongue.
"This has been the funnest era of our life," said Steve Pearce, the World Series MVP who hit three home runs in the final two games — two on Sunday as the Red Sox defeated the Dodgers 5-1 in Game 5.
They dumped whole bottles of champagne onto each other, and someone poured a beer into Andrew Benintendi's mouth. Mitch Moreland, who gave the Red Sox a three-run blast on their way to winning Game 4, smoked a cigar and wiped his face with a soaked towel that tasted of beer.
They were talented, yes. The Red Sox asserted themselves in the 108-win regular season as the best team in baseball, with powerful batters throughout the lineup, exceptional starters and a bullpen that proved in the postseason it was built to be tested.
But any less effort and the Red Sox wouldn't be here. They were picked to lose to the Yankees, then to the Astros, but instead went undefeated on the road to reach the World Series.
"All the little things that nobody every sees," J.D. Martinez said. "Nobody ever sees the hard work."
Too many Herculean efforts to list — Pearce, Nathan Eovaldi, Eduardo Nunez and David Price among the names that will forever be cemented into Red Sox legend for their World Series performances.
"I look up, I was like, 'Who won MVP?'" Martinez said on the field, later adding: "We could've gave it to so many people ... just coming through in the clutch. I mean, jeez. It's so wild."
Since manager Alex Cora asked them during a spring training meeting if they wanted to be world champions, the Red Sox played behind their first-year manager with this goal in mind.
Cora's composure set the tone through every win and loss. When the Red Sox struggled, Cora leaned over the dugout railing, no visible tension, and chewed on sunflower seeds. Even as he addressed the team after losing to the Dodgers in an 18-inning Game 3, his message was positive, praising their grit.
"It was an emotional loss," Xander Bogaerts said, "but it still felt like we won the game."
The Red Sox stood on the edge of the dugout, hands hanging over the railing, eyes on Sale. Their final moments before reaching what they had dreamed of their entire career — only Brandon Workman and Bogaerts had played in a World Series and won.
"We just fight," Sale said. "There's a lot of fight, a lot of hard work, a lot of preparation and honestly some luck."
More than 2,500 miles away from Boston, the Red Sox sprinted toward their ace on the mound. Christian Vazquez reached Sale first and leapt into his arms as the huddle grew. Nunez jumped on Price and hung on his back.
The spectacle thrilled his close friend Joe Kelly, who embraced Price immediately after the win.
"A lot of 'love you's,'" Kelly said. "A lot of, 'You've been waiting your whole life for this. You deserve this.'"
This was always the goal, no personal glory. Players relished each other's success more than their own, pushed through injuries for the sake of the team. Martinez has never experienced anything like it.
"People cared more about the guy next to them than themselves," Martinez said. "You don't see that often. Not around here, not in this game."
Said Eovaldi: "It's hard to come by with just nine people, never mind all 25. To be able to come in and contribute. Everybody felt like they had a role."
They treasured each moment, blasting music on speakers in the clubhouse, dancing with goggles on to shield their eyes from the champagne rain.
They drifted away from reporters in the sticky clubhouse to a room further back, one exhausted, overjoyed team clad in World Series champion T-shirts. They continued celebrating into the night, with pulsing bass music and laughter.
The climax of the season that will never be forgotten. They each made sure of that.
---
Get our Dodgers Dugout newsletter for insights, news and much more.
You may occasionally receive promotional content from the Los Angeles Times.