Is it time for Dodgers to be concerned about slumping Matt Kemp?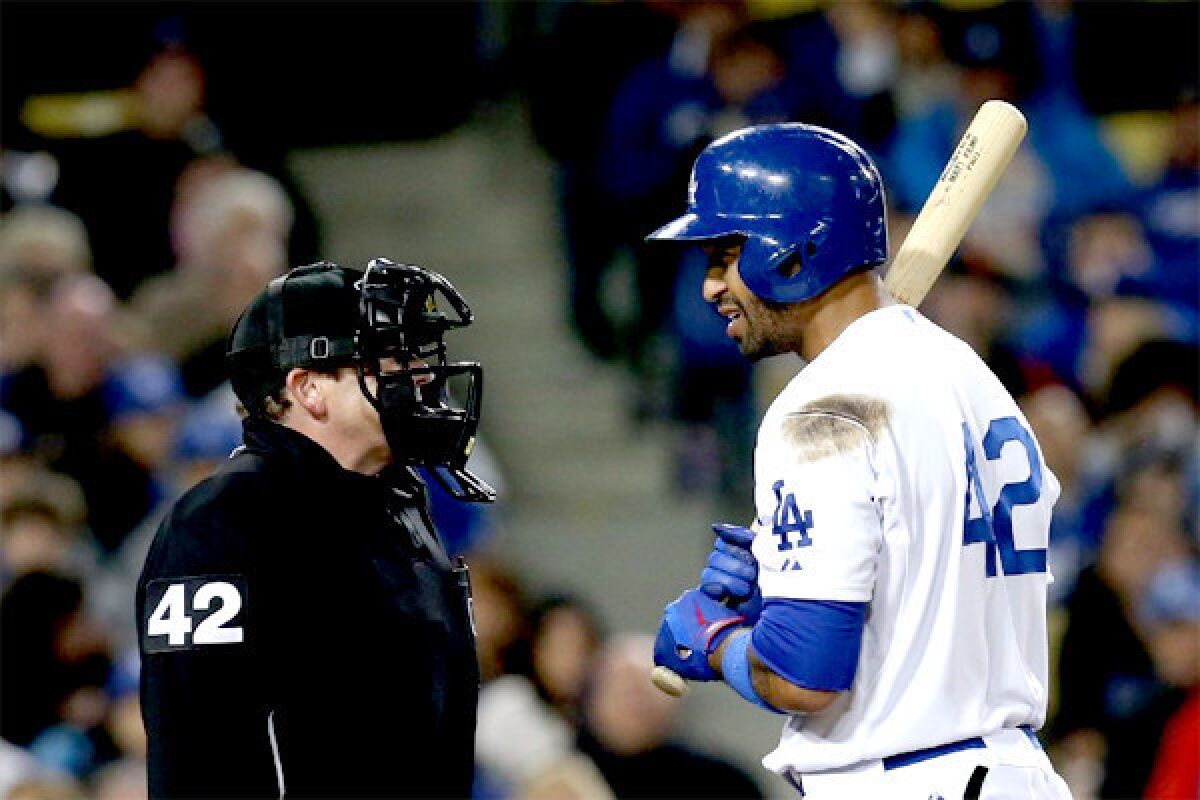 As Don Mattingly has repeatedly said, it's one thing to worry about someone with a limited track record like Luis Cruz, and quite another to worry about a Matt Kemp.
So the company line has continually been: not overly worried about a struggling Kemp. Even before Tuesday's game, Mattingly said, "Matt's a confident guy. He's been through enough of these, he knows you have to keep putting games behind you."
Then Kemp went out and was hitless in three at-bats, leaving him with a season average that fell to .196 and still without his first home run.
Then Mattingly said. "Matt's pressing pretty good. Tonight he seemed really frustrated."
Which is perfectly understandable. Last April, Kemp started like he was ready to have a season for the ages, hitting .417 in April with 12 home runs and 25 RBIs.
Now he's struggling, and -- it's no coincidence -- so is his team. He may now be surrounded with better hitters in Adrian Gonzalez and Carl Crawford, but he is still the key hitter on the team, still bats third and is still looked to for a dynamic lineup presence.
But now through his first 54 at-bats, it's not happening. That's a long way from a full season, but it's far enough away from some 15 at-bat stretch to be playing with his psyche.
After Tuesday's 9-2 loss to the Padres, Kemp left the clubhouse before the media entered, but within a period of a few hours, Mattingly was suddenly considering giving him a day off to collect himself.
"There's a thought of it," Mattingly said.
Kemp is just 1 for 19 with runners in scoring position. A prideful player, that has to be bothering him.
He's not the only Dodger scuffling to drive in runs -- Andre Ethier is 1 for 15, and Cruz 0 for 15 with runners in scoring position -- but his is the most glaring case.
Everyone says his shoulder is fine after off-season surgery, but clearly something is wrong -- to the point where it may be time to start worrying.
ALSO:
How long do the Dodgers give Luis Cruz to get it going?

Dodgers drop third straight, 9-2, as Chris Capuano injures calf
Dodgers' Hanley Ramirez: I'll be back 'way sooner' than mid-May
---
Get our Dodgers Dugout newsletter for insights, news and much more.
You may occasionally receive promotional content from the Los Angeles Times.