Justin Sellers blames motorcycle arrest on misunderstanding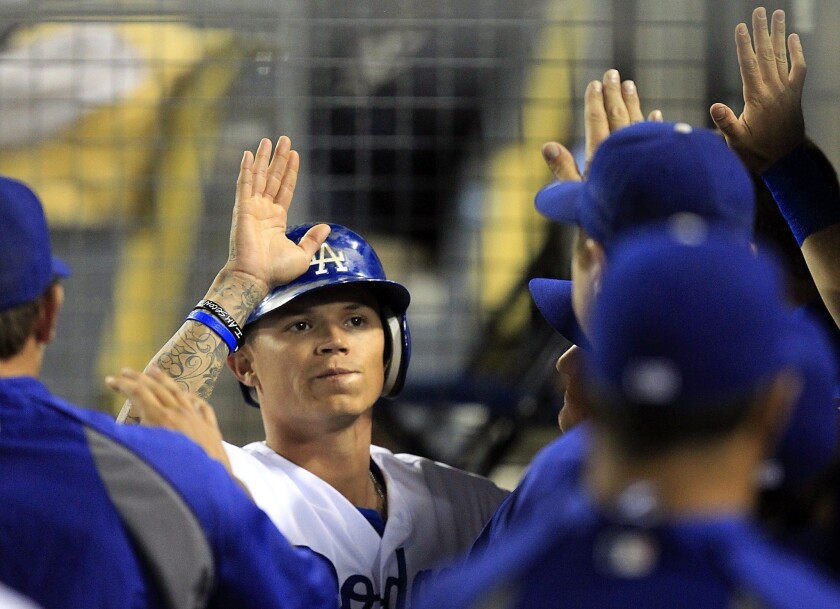 PHOENIX — Infielder Justin Sellers disputed a West Sacramento police account of his arrest for alleged violations while he was riding a motorcycle last month, saying it was the result of a misunderstanding.
Sellers, 27, is facing misdemeanor charges of reckless driving and evading arrest, but said he was working to get them dismissed.
"They did me wrong," he said.
Sellers said he takes batting practice in the off-season with the son of a West Sacramento police officer, who offered to take him on a ride-along.
"I probably did five or six calls with them," he said.
Sellers' friend warned him that other officers, including Giants fans, would give him a hard time -- and they did.
"I specifically remember officers on the intercom were messing with me, saying, 'Yeah, we won the World Series,' and so forth," Sellers said.
Two days later, Sellers said he was leisurely riding his motorcycle home, when a police car started following him. He said he thought a prank was being played on him.
"I kept hoping it was my buddy or some of the guys I met, so I just continued home," he said.
If the police officer ordered him to pull over on his loudspeaker, as the report claims, Sellers said he didn't hear it. His motorcycle was loud and he was wearing a helmet, he said.
Sellers said he was trailed for about 100 yards onto the motorcycle track in front of his home. He went into his house and called his friend, who told him he didn't know of any prank being played on him and suggested he talk to the officer.
"So I went downstairs," Sellers said. "The officer told me to put my hands behind my back. I was scared, of course."
Sellers spent about five hours in jail.
Sellers said he wondered why he was arrested. According to him, he was doing nothing wrong when he was pulled over.
Reflecting on the ride-along, he said, "I felt something wasn't right. Some of the questions I received when I was with them Thursday maybe show a little -- I don't know how to say it -- a little jealousy toward me. One of them actually was a minor league pitcher for the Padres who didn't make it to the major leagues."
Sellers said he saw his arresting officer on one of the stops of his ride-along.
Sellers said he contacted the Dodgers when he got out of jail.
"I want to make it very clear I didn't mean to bring this negative attention onto the Dodgers and myself at all," he said.
Sellers, who is considered a long shot to make the Dodgers' opening-day roster, feared his standing in the franchise could be jeopardized.
Sellers said he has a court date set for next month, but his understanding is that he won't have to leave camp to attend.
Sellers' story was far different than the one told by police.
Lt. Tod Stockman told The Times last month that police received multiple complaints about a motorcycle rider driving recklessly in their neighborhood. Whenever police pursued the rider, whom they now believe was Sellers, he evaded them by riding into a wooded area, Stockman said.
On the day of the arrest, Stockman said that police responded to a complaint about a reckless motorcycle rider by setting up a perimeter around the area. They trapped Sellers and arrested him, according to Stockman.
That version of the story upset Sellers.
"They made it seem like I was on a wild chase and I wasn't on a wild chase," Sellers said. "Not one time did I accelerate and speed away. I simply veered onto the dirt and continued to my house hoping it would be the person who took me at the ride-along."
He also disputed that he was the reckless rider about whom neighbors had previously complained. There are many other motorcycle riders who frequent the area because of the track, he said.
Sellers denies he ever rides recklessly in his neighborhood.
"I think I'm safe," he said. "I know my limits. I wouldn't do anything to jeopardize my career. I have a 3-year-old daughter. I would never put anybody's life in danger, including mine."
Sellers wants to put the incident behind him.
"It's time for me to focus on baseball now," he said.
ALSO:
New Dodger Carl Crawford was bummed in Boston
Mike Piazza says Vin Scully turned Dodgers fans against him
Do Dodgers need a mad scientist for good clubhouse chemistry?
---
Get our Dodgers Dugout newsletter for insights, news and much more.
You may occasionally receive promotional content from the Los Angeles Times.