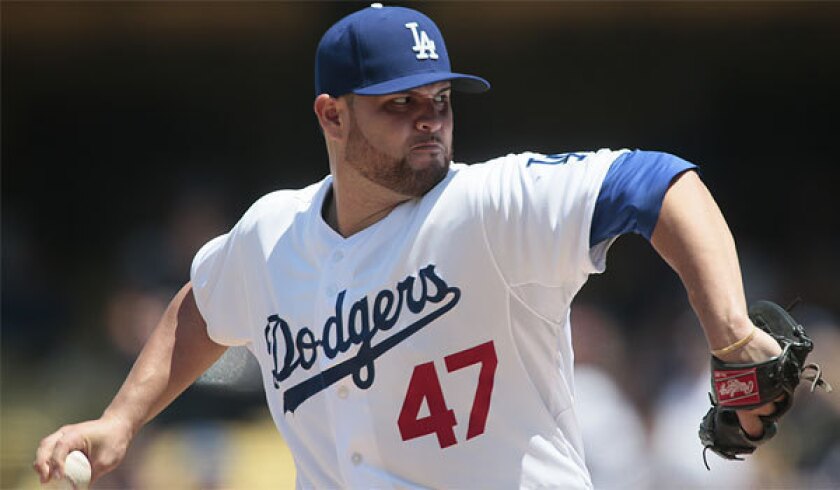 Ricky Nolasco, the Dodgers' newest pitcher, started the team's last game before the All-Star break. And he's scheduled to start the team's first game after the All-Star break Friday, when he's expected to match up with Washington's Stephen Strasburg.
That's far from the toughest pitching matchup he's faced though. One spring early in his career Nolasco started against his brother Dave. And while the emotion of that game lives on, the results have been largely lost to time.
"I think we won," guessed Dave Nolasco, who is 3½ years older than his brother.
Both Nolascos were taken in the 2001 draft, Ricky by the Cubs in the fourth round out of Rialto High and Dave by the Brewers in the 23rd round out of Riverside Community College. And while it may be unusual for two brothers to be selected in the same draft, it's not unheard of. In fact it's happened twice in the last three years with D.J. Peterson and Dustin Peterson being taken among the first 50 picks last June and C.J. Cron and Kevin Cron going in the first three rounds of the 2011 draft.
The Nolascos' paths parted soon after their Cactus League matchup, with Ricky going from Chicago to the Marlins in a trade for Juan Pierre in 2005, then making his big league debut a year later. By the time he left Miami to come home, having been acquired in exchange for minor league pitchers Angel Sanchez and Steve Ames and big leaguer Josh Wall, Nolasco had set franchise records for wins (81), strikeouts (1,001), innings (1,225 2/3) and starts (197).
By then his brother was cheering from the stands, having retired in 2005 after going 14-18 with a 5.68 ERA in four minor league seasons that saw him climb as high as Double A. But he'll jokingly take some credit for pushing his sibling to get better.
"There wasn't a day when we were younger that we didn't play baseball," he says. "Just playing catch or me and him pitching to each other and playing pick-up games with all the kids in the neighborhood."
And breaking windows with errant throws.
"You can ask my dad about that," Ricky says.
Dave says there have been three times when he's been nervous before one of his brother's games: before his major league debut, before his first game with the Dodgers last week in Arizona and then before Sunday's Dodger debut in Los Angeles. And on all three occasions he's tried to reach back to his own pitching career to offer counsel, reminding Ricky that talent alone is not going to get him through.
"I understand what it's like going through minor league baseball. It's not easy," he said. It's more than talent."
And now that Ricky is back in Southern California it's about more than money, too -- which is why Nolasco's family has already decided with whom Ricky is going to sign when he becomes a free agent this winter.
"Ricky wants to stay home," Dave says. "He wants to sign long term."
To get that done, the Dodgers will probably have to offer the 30-year-old right-hander a raise from the $11.5 milllion he'll make this year. But after more than 100 friends and family members sweated through Nolasco's first Dodger home game last Sunday the team could probably close the deal with just one perk: use of an air-conditioned suite on the days he pitches.
"It's a great situation for me. Coming into a team that's playing great," Ricky says. "There's tons of talent in this room. With the family and all that, it's great for everybody. I'm just trying to use that to my advantage the best I can."
---