Mookie Betts' absence acutely felt in Dodgers' series loss to Guardians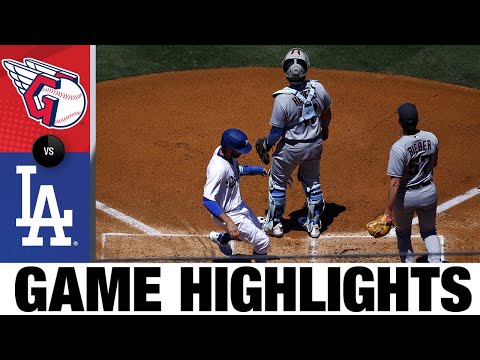 The Dodgers played their third consecutive game without right fielder Mookie Betts on Sunday.
This time, his absence couldn't have been more obvious.
Betts' replacement, Eddy Alvarez, struggled under a screaming sun and a glaring lack of experience as his team fell to Cleveland 5-3.
"I do hold myself accountable for a lot of the runs scored today," Alvarez said. "I hold myself to a high standard."
Later, he added, "This one was definitely on me."
Bullpen failures and shaky defense doom Dodgers in 5-3 loss
The Dodgers were unable to hold leads of 2-1 and 3-2 and lost to Cleveland 5-3 Sunday when the Guardians' rallied for two runs off Craig Kimbrel in the ninth.
Andrew Heaney pitched five effective innings in his return after missing two months because of shoulder soreness.
Freddie Freeman homered and Trea Turner extended his hitting streak to 12 games.
But some failures by the bullpen coupled with shaky defense in right field by Eddy Alvarez proved too much to overcome as the Dodgers fell to 40-25.
They now depart for a nine-game, three-city trip that begins Tuesday in Cincinnati and continues with stops in Atlanta and Colorado.
Cleveland rallies to take 5-3 lead as Eddy Alvarez's tough day continues
An adventurous day in right field for the Dodgers' Eddy Alvarez continued in a top-of-the-ninth rally that ended with Cleveland leading 5-3.
Alvarez, starting in place of the injured Mookie Betts, was unable to flag down a Josh Naylor drive that landed just inside the foul line and went for a one-out double off Craig Kimbrel.
Following an intentional walk to load the bases, Andres Gimenez singled to drive home Oscar Gonzalez, breaking a 3-3 tie.
Ernie Clement then made it a two-run Guardians' advantage with a sacrifice fly.
Alvarez dropped a fly ball to lead off the second inning, helping Cleveland to an unearned run. He also broke the wrong way on a single later in the second.
Entering Sunday, Alvarez had played only seven innings — all this season — in the outfield at the big-league level. In his 36 career games before this year, he was exclusively an infielder for Miami.
Cleveland ties up game in the eighth inning
Cleveland pinch-hitter Richie Palacios lined a two-out, run-scoring double just inside the right-field line to make it 3-3 in the top of the eighth.
The hit came off Daniel Hudson, who replaced Alex Vesia a batter earlier and struck out the first man he faced.
Hudson then walked Myles Straw before ending the inning by getting Amed Rosario to bounce into a fielder's choice.
Palacios drove in Steven Kwan, who led off the inning with a single and advanced to second on a sacrifice.
Dodgers re-take lead on costly Cleveland error
The Dodgers retook the lead at 3-2 with speed and a little help from a leaky Cleveland defense in the seventh inning.
Eddy Alvarez singled with one out, ending the afternoon for Guardians' starter Shane Bieber, who was replaced by Eli Morgan.
After Alvarez stole second and Gavin Lux struck out, Trea Turner hit a chopper toward the middle of the infield.
Second baseman Andres Gimenez made the play but erred in judgment when he attempted to throw out the too-quick Turner. Worse, Gimenez also erred in practice, his throw sailing wide of first base and permitting Alvarez to score.
The infield single extended Turner's hitting streak to 12 games.
⚾ End of the seventh: Dodgers 3, Guardians 2
Cleveland ties game on Oscar Gonzalez home run
Rookie Oscar Gonzalez hit his first career home run to lead off the sixth inning, pulling Cleveland even 2-2.
After Josh Naylor followed with a walk, Dodgers manager Dave Roberts pulled starter Andrew Heaney in favor of Brusdar Graterol.
Heaney, making his first appearance since April 17, gave up one earned run on five hits in his five-plus innings. He struck out seven and walked one.
The Guardians' other run came after an error by right fielder Eddy Alvarez.
Heaney missed slightly more than two months because of shoulder soreness.
Graterol eventually escaped the inning with the 2-2 score still intact by striking out Myles Straw with the bases loaded.
⚾ End of the sixth: Guardians 2, Dodgers 2
Dodgers take lead on Freddie Freeman home run
The Dodgers took their first lead of the day when Freddie Freeman led off the third with a homer to make it 2-1 Dodgers.
He sent Shane Bieber's second pitch of the inning 374 feet over the wall in left-center for his sixth home run of the year.
Playing for Atlanta in 2021, Freeman hit 31 homers, the third-best single-season total of his career.
After Will Smith followed with a single, the next three Dodgers hitters were retired in order.
⚾ End of the third: Dodgers 2, Guardians 1
Dodgers tie it up in the bottom of the second inning
The Dodgers pulled even (1-1) in the bottom of the second on a two-out, run-scoring double by Gavin Lux off Cleveland starter Shane Bieber.
The sharply hit ball brought home Chris Taylor, who led off the inning with a single and advanced to second on Justin Turner's one-out walk.
Entering Sunday, Lux was hitting .356 (16-for-45) with a .953 OPS in June.
Bieber limited the damage to just a single run by striking out Trea Turner to strand two runners in scoring position.
⚾ End of the second: Guardians 1, Dodgers 1
Eddy Alvarez mistakes helps Cleveland jump out to early lead
After Andrew Heaney's three-strikeout first inning, his defense — specifically Eddy Alvarez — failed him in the second.
Starting in right field place of the injured Mookie Betts, Alvarez dropped Oscar Mercado's routine fly ball for a two-base error to open the inning.
He then made a solid catch on a liner hit to right by Andres Gimenez.
But Alvarez misplayed a single by the next batter, Ernie Clement, when he broke back on a ball that landed in front of him. Alvarez then fired all the way home, allowing Clement to take second as Mercado stopped at third.
Austin Hedges followed with a sacrifice fly to give Cleveland a 1-0 lead entering the bottom of the second.
A scoreless first inning for Andrew Heaney
After a two-month absence, Andrew Heaney came out firing Sunday, striking out Cleveland's first two batters on nine pitches.
He then allowed a double to Owen Miller and hit Oscar Gonzalez before striking out Josh Naylor for a scoreless top of the first.
Heaney, signed to a one-year deal in November, is making only his third start of the season and first since April 17 because of left shoulder soreness.
In this first two starts, he gave up one unearned run in 10 1/3 innings, striking out 16 and allowing four hits. He received a no-decision April 12 at Minnesota and was the winner April 17 against Cincinnati.
Heaney made three rehabilitation appearances before being activated from the injured list before the game Sunday.
Dodgers hope Mookie Betts can return in couple weeks
The Dodgers' hope is that Mookie Betts won't miss more than a couple weeks because of the rib injury that landed him on the injured list Saturday night.
Betts was hurt Wednesday and then held out of games Friday and Saturday as tests revealed he had suffered a fracture.
Manager Dave Roberts said Betts won't participate in any baseball activity for a week to start his recovery.
"Then, after that, we'll know more," Roberts said. "But I think two weeks, something like that. That's what I think we're all hoping for. At that point, it will sort of be a day-to-day thing."
With Betts out, Trea Turner hit leadoff Sunday in the finale of a three-game series against Cleveland. Eddy Alvarez started in right field.
Betts was injured in a collision with centerfielder Cody Bellinger. Initial X-rays were negative, but an MRI later showed the damage.
"I thought it was just a bruise," Betts said. "So that's why I was going to stay in there and play. As I was preparing for the game [Saturday], it just got a little worse and a little worse, so that's when I knew I needed to go get it checked out."
The injury came on a first-inning play that was avoidable. Betts said he and Bellinger didn't hear one another as they were pursuing a first-inning fly ball hit by the Angels' Taylor Ward.
"It's something that shouldn't happen," Roberts said. "It was early in the game. So it's not like a crowd-noise situation. They've played together quite a bit. It's something that's certainly unfortunate but shouldn't happen, especially with those two guys."
Said Betts: "With the crowd and then both of us yelling, I just didn't hear him and he probably just didn't hear me. You don't really want to take your eye off and look at the guy. You do that early on but as the ball's coming down, you don't want to take your eye off the ball.
"It shouldn't have happened, but it's just one of those plays where both of us could have caught it. It would've been worse if nobody went to catch it and let that fall. We got an out there, but I ended up getting hurt."
The Dodgers recalled infielder/outfielder Zach McKinstry to replace Betts on the roster.
They also activated pitcher Andrew Heaney to start against the Guardians and optioned reliever Reyes Moronta to triple-A Oklahoma City.
Sandy Koufax statue unveiling ceremony a time of gratitude and inclusion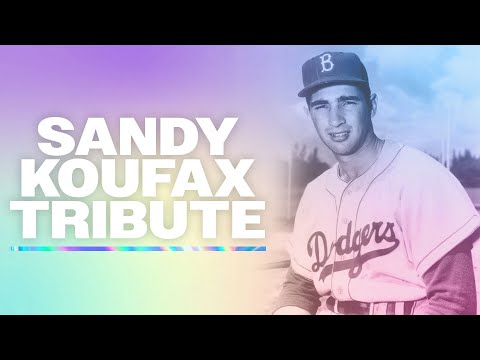 The video tribute the Dodgers showed before honoring Hall of Fame pitcher Sandy Koufax with a statue outside Dodger Stadium on Saturday.
He rolled up the sheets of paper that sat in front of him, tight, tight, tighter still.
Standing behind his newly unveiled statue in the center-field plaza Saturday morning, Sandy Koufax was winding up to grace Dodger Stadium with one last pitch.
It was, appropriately, a breathtaking curveball.
It was, stunningly, a 10-minute speech from a man who hasn't publicly spoken that much in 50 years.
It was, wondrously, the humanizing of Los Angeles' phantom legend, a rare public pulse from a pitcher whose greatness has mostly existed in Dodgers mythology.
It turns out, at age 86, he just wanted to say thank you.
Dodgers star Mookie Betts heading to injured list with a cracked rib
After two days of downplaying the injury Mookie Betts sustained when colliding with Cody Bellinger while chasing a fly ball Wednesday, the Dodgers said Saturday that their star right fielder will go on the injured list because of a cracked right rib.
X-rays Friday did not show a break, but an MRI exam a day later did.
Manager Dave Roberts mentioned Betts' diagnosis after a 7-1 victory over the Cleveland Guardians. Betts, who signed a 12-year, $365-million contract before the 2020 season, is tied for third in the majors with 53 runs scored and has 17 home runs, which leads the Dodgers.
The Dodgers are 29-7 when he scores a run. Trea Turner moved from No. 3 in the batting order to Betts' leadoff spot with Will Smith batting third. Turner has a 10-game hitting streak and homered Saturday, but Smith has struggled.
ICYMI: On day honoring Sandy Koufax, Julio Urías ends personal skid as Dodgers rout Guardians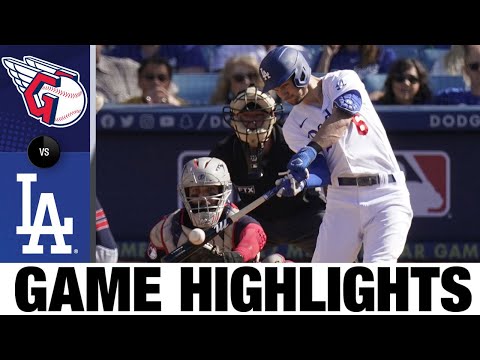 It might be expected that Sandy Koufax's presence would inspire a pitcher's duel. Instead, it triggered an overdue Dodgers offensive outburst in a 7-1 win Saturday over the Cleveland Guardians at Dodger Stadium.
Check that. Consider one pitcher sufficiently motivated by the fact that the man who threw four no-hitters and won three Cy Young and two World Series most-valuable-player awards in the 1960s sat next to the Dodgers dugout.
Julio Urías ended his three-game losing streak, giving up no earned runs and two hits in six innings. He is Exhibit A of why a pitcher's win-loss record can be a poor indicator of effectiveness. Last season, Urías was 20-3 with a 2.96 earned-run average. This season, his ERA is 2.56 but his record is 4-6.
"I don't think we have done a great job giving Julio run support this year," catcher Austin Barnes said. "It's easier to pitch with a four-run lead for sure. You can take some chances and not worry about one mistake beating you."