Jaime Jarrín to retire: 'It's a good time to put an end to my 64-year vacation'
The memory remains etched in Jaime Jarrín's mind more than six decades later. The roars. The people, all those people. He remembers there were 65,000 at Los Angeles Memorial Coliseum for a Dodgers game that day in 1958, the franchise's first year in California and three years after he immigrated from Ecuador. He was the sports director for radio station KWKW, but baseball remained foreign to him. He was just a fan that day, one of thousands.
Fernandomania @ 40
Join us for the in-person 'Fernandomania @ 40' Finale event
We invite you to the exclusive finale celebration of 'Fernandomania @ 40,' our multi-episode documentary series that examines Fernando Valenzuela's impact on the Dodgers, Major League Baseball and the Latino community in Los Angeles.

Join us Monday, Oct. 4 at the Montalbán Theater in Hollywood for screenings, and discussions with the stars of the documentary, including Ray Lara, Gloria Molina, Richard Montoya and Jaime Jarrín

Buy your tickets here.

ESPN Deportes is the sponsor for this event.

"I had never seen so many people in [one] place before," Jarrín said in Spanish on Tuesday morning. "I remember the yelling, the clamoring, the enthusiasm."
Jarrín went from the stands to the radio booth the next season. For the following 63 years, his soothing voice would connect the Dodgers to people who weren't attending those games, to people who weren't in the country yet, to people who have never even lived in the United States.
He was the link to Spanish-speaking immigrants, predominately Mexican, and their children and their children's children. With each despídala con un beso home run call, he became an icon in Southern California and beyond, crossing time zones and borders.
On Tuesday, Jarrín, the longest-tenured broadcaster in Major League Baseball, announced he will retire after the 2022 season, his 64th with the Dodgers. Jarrín said he will just call the Dodgers' 81 home games before moving on.
"I've been contemplating the decision for the last few months," Jarrín, 85, said. "I think it's a good time to put an end to my 64-year vacation because my job is a vacation because I like it so much."
Damian Soriano thought of his grandfather when he saw the news.
Soriano, 30, grew up with his Mexican grandparents in South Gate. The family, like so many Spanish-speaking households across the region, would mute the Dodgers' television broadcasts to listen to Jarrín call the games. The radio would never sync to the television — Jarrín narrated the plays before they appeared on the screen — but that didn't matter.
"I lost my grandfather last year in November due to COVID," Soriano said. "It's just a whirlwind of emotions. [Jarrín] was more than a voice. He was somebody that brought family together. Just no words to explain, man."
Jaime Jarrín, the Dodgers' Hall of Fame Spanish-language announcer, called the 2020 World Series from a darkened Dodger Stadium, yet he found it fulfilling.
Jarrín was born in Ecuador and moved to California in 1955 at age 20. He initially rebroadcast games in Spanish from Vin Scully's calls before the station sent him on the road.
He has called three perfect games, 22 no-hitters, 30 World Series and 30 All-Star games. He was on the call for the last All-Star game held at Dodger Stadium in 1980 — the Dodgers are slated to host the exhibition in 2022. The next year, he served as Fernando Valenzuela's interpreter and confidant during the rookie pitcher's whirlwind 1981 season.
"The popularity of Fernando and the Dodgers was something incredible," Jarrín said. "To the point that, in those years, the radio station ratings were usually 3.4. We were happy with 3.4. But at KTNQ we'd get a rating of 8.6. Never had a radio station done that before. It was because of Fernando, Fernandomania and the Dodgers."
Valenzuela is now one of Jarrín's broadcast partners on the Dodgers' Spanish-language KTNQ broadcasts, which are simulcast on television. The two share the booth with Pepe Yñiguez.
Jarrín had called games with his son Jorge for the last six seasons before Jorge retired in February. They were the first father-son broadcasting duo on Spanish-language radio in major league history.
Jarrín — and the Dodgers' other broadcast teams — haven't traveled since 2019, before the COVID-19 pandemic. Jarrín worked all 162 regular-season games — and five postseason games — in 2019 after his wife of 65 years, Blanca, died unexpectedly that February. He had planned on assuming a lesser role to spend time with her but changed his schedule to keep himself busy after her death.
"On one hand, 63, 64 years, they're just numbers," Jarrín said. "But then you think, 'Wow, that's so many years.' But I didn't feel the weight of those years because I was doing what I loved doing."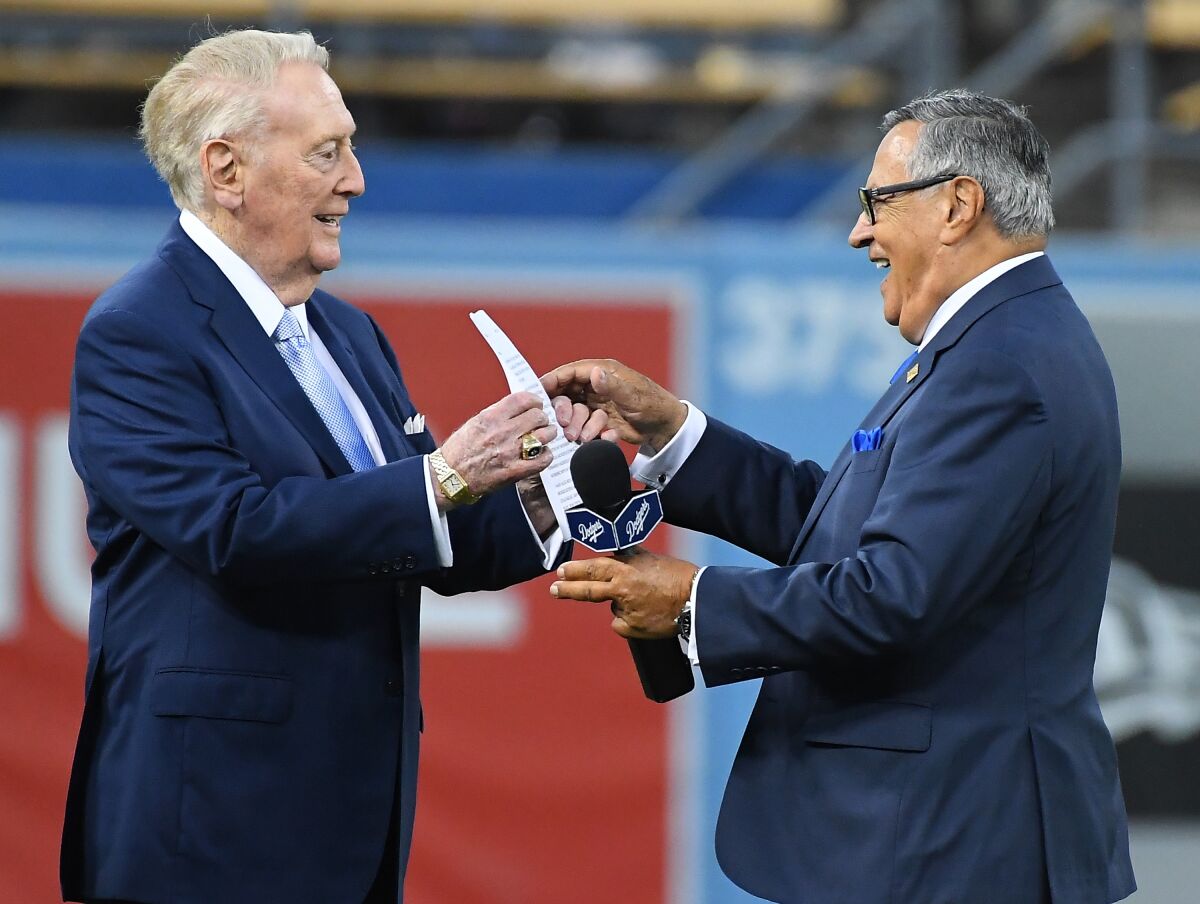 Fernandomania is the reason Juan Ramirez, 43, chose to root for the Dodgers over the Angels growing up in Orange County. He would listen to games with his father, Juan Sr., in Spanish and still listens to Jarrín when possible. Jarrín was more than a broadcaster to him. He was a teacher.
"Honestly, Jarrín is probably the reason why my Spanish got better," said Ramirez, who co-hosts the BleedLos Podcast. "My dad says my Spanish is horrible, but listening to Jarrín helped me improve my Spanish."
Alex Escalante, 37, was born and raised in the San Fernando Valley before moving to Pennsylvania 20 years ago. He remembers seeing Jarrín and legendary Dodgers scout Mike Brito at a restaurant with his father when he was 10 and Jarrín thanking them for listening.
"I didn't know who Vin Scully was until I was in probably junior high," Escalante said. "Growing up it was always Jaime."
Escalante still listens to Jarrín call games across the country through an app on his phone. He watched the Dodgers win their first World Series in 32 years last October on the Fox national television broadcast, but he logged onto YouTube when it was over for the familiar voice.
"As soon as it all calmed down, I'm like, 'I want to know what Jaime said when we won,' " Escalante said. "And that was one of the first things I did."
Perla Rodriguez grew up in Boyle Heights watching games on television with Scully while her Mexican mother, Marta, listened to Jarrín. Marta had her radio next to the blender in the kitchen. She would tune in to the game while preparing dinner and washing the dishes. Rodriguez said her mother died from complications of COVID on Jan. 31. She said listening to Jaime reminds her of her mother.
Rachele Villanueva remembers driving on the freeway one day in 2018 with her father in the passenger seat when she thought she recognized a man driving ahead of her. So, she sped forward to catch up and realized it was Jarrín.
Though he's known for announcing Dodger games in Spanish, Jaime Jarrín was honored for his coverage of the chaos of the Chicano Moratorium.
"My dad, who doesn't get excited over much, suddenly turned into an excited child who saw Santa Claus driving down the road," Villanueva, a Long Beach native, said. "I spent the next 10 minutes keeping pace with him just so my dad could stare at him in awe. I just kept yelling, '¡Se va! ¡Se va! ¡Se va!' "
For Rolando Guiterrez, who was raised in the San Gabriel Valley, Jarrín's voice, his sound, made him distinctive. For Richard Mejía, who grew up with Honduran parents in East Los Angeles, Jarrin's Los Defensores commercials on Univisión and Telemundo added to his legend. For Victor Corona, Jarrín made it so easy to pick up the game listening with his grandfather in Mexicali during summer vacations.
"I mention Vin Scully in the same sense as I do Jaime because both of them have meant everything to the Dodger organization for so many years," former Dodgers owner Peter O'Malley said Tuesday. "And Jaime deserves to be included when you talk about Vin."
For Polo Ascencio, the St. Louis Cardinals' Spanish-language play-by-play announcer, Jarrín was the role model in the booth. Without Jarrín's example and motivation, Ascencio said, he isn't calling games for a living. It was Jarrín who sent Ascencio, a Tijuana native, a text message in December 2014 praising his work in the Mexican Winter League. Ascencio was ready to quit the next day. He didn't.
On Tuesday, nearly seven years later, he found it difficult to succinctly summarize Jarrín's legacy. Ultimately, Ascencio said, Jarrín's voice united people, wherever they were, whoever they were.
"I am going to miss that voice," he said.
---
Get our Dodgers Dugout newsletter for insights, news and much more.
You may occasionally receive promotional content from the Los Angeles Times.