Column: Dodgers' preordained World Series trek hits bumbling snag in Game 1 loss to Braves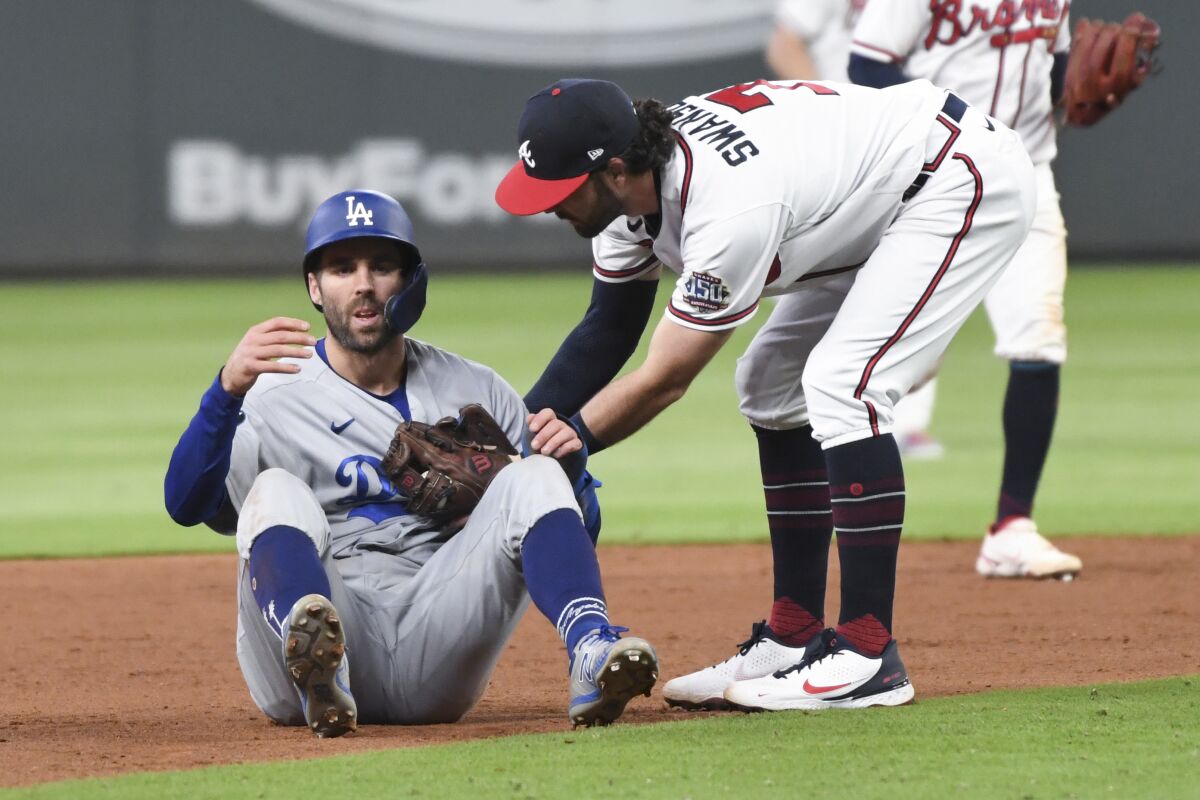 ATLANTA —
The image epitomized an opportunity fumbled, a chance lost, a game blown.
Chris Taylor, sitting on the dirt between second and third base, helmet in hand, head shaking, frozen in failure.
Yeah, folks, the Dodgers really messed this one up.
In what should have been yet another strong step in their seemingly preordained journey back to the World Series on Saturday, the Dodgers staggered, stumbled and ended up on their backs while staring up at somebody else's party.
The opener of the National League Championship Series featured a trademark Dodgers playoff game-winning hit, but this time the bat was swung by the Atlanta Braves' Austin Riley, who singled home Ozzie Albies from second base with one out in the ninth to give the Braves a 3-2 victory at Truist Park.
Chris Taylor made a late baserunning miscue, and the Dodgers' choice to pitch to Austin Riley backfired when he hit a walk-off single in Atlanta's 3-2 win.
This time, it was somebody else pointing to the sky, somebody else throwing off a helmet, somebody else running out of the dugout and dancing in an infield mosh pit.
This time, it was the Dodgers who disappeared into a night filled with more questions than answers.
Like, when your offense collects 10 hits, when your pitching staff records 14 strikeouts, when you whiff the great Freddie Freeman four times, when you mostly deaden a hostile crowd and have the potential winning run rounding second in the top of the ninth … how do you not win?
"Anybody can win on any given day, it doesn't matter what the odds say, what the numbers are, you've got to play the game," said the Dodgers' Trea Turner. "I'm a big believer that anything can happen."
But what happened usually does not happen to a veteran Dodgers team that has won three elimination games in the last two weeks and appeared headed directly to the final week of October after hurdling what appears to be a vastly inferior Braves team.
Um, not so fast.
Photos from Game 1 of the National League Championship Series between the Dodgers and Atlanta Braves at Truist Park in Atlanta on Saturday night, where the Braves won in the ninth with a walk-off single by Austin Riley.
But Taylor, way too fast!
Remember a couple of weeks ago when his walk-off homer beat the St. Louis Cardinals in the wild-card game? This was the opposite of that.
Sometimes the vagaries of this sport can really stink and, for Taylor, this was one of those times.
"It happens," said Dodgers manager Dave Roberts. "It's baseball."
The game dramatically changed in the ninth inning of a 2-all tie after Taylor drew a two-out walk against closer Will Smith.
Up stepped pinch-hitter Cody Bellinger, who, continuing his recent nifty October run, lined a single over a leaping Albies' head and into right field.
The hit should have moved Taylor safely to second base with the hot Mookie Betts coming up. But Taylor didn't stop at second. He rounded the base and kept running until he realized Joc Pederson had furiously charged the ball and was seemingly going to throw him out at third base.
At which point, Taylor froze. Between second and third base. The worst place in this stadium he could have frozen. It was especially bad since Pederson threw to second baseman Albies, which meant Taylor couldn't go back. After a brief rundown he was tagged out by shortstop Dansby Swanson, whose knee knocked Taylor in the head in the process. Taylor dropped to the ground and slammed his helmet and stared into nowhere.
His teammates were just as stunned. They were suddenly surrounded in frustration. They were quickly enveloped in that stinking racist tomahawk chop. This was bad, and it was about to get worse.
Dodgers manager Dave Roberts and second baseman Trea Turner talk about the team's 3-2 loss to the Atlanta Braves in Game 1 of the NLCS on Saturday.
The game wasn't over, but it felt over, and sure enough, moments later, in the bottom of the ninth against Blake Treinen, Albies hit a bloop single to center field, stole second, and scored on Riley's familiar game-winning hit.
Last year in the opener of the NLCS, Riley hit an eventual game-winning homer in the ninth inning for the Braves, who then streaked to a three-games-to-one lead. The Dodgers charged back to win that series, and they should still win this series, but this certainly throws a wrench in their plans.
"Tomorrow, we're going to be fine," said Taylor. "We've been here plenty of times before."
Agreed. And much respect to Taylor for holding himself accountable and meeting with the media when he could have hid in the closed clubhouse.
But seriously, what was he thinking?
"It was just a bad read," said Taylor. "I saw it barely got over Albies' head, and I thought I could get to third. I didn't realize Joc had it that quick and tried to stop. I should have kept going. As I was rounding second, I saw him get the ball sooner than I anticipated and thought twice about not trying to get thrown out at third. And then he just threw back behind me."
In the dugout, Roberts turned his head away from the carnage
"I think, by the book, he should have probably stayed," said Roberts. "It was hit softly… you just hold up with two outs and give Mookie a chance. Right there, he was caught in between, that's when you get in trouble."
In the other dugout, the Braves leaped in celebration.
"That's a huge, huge out in the game," said Braves manager Brian Snitker.
The other big out was the one the Dodgers didn't get when they blew it again in the ninth after Albies reached second with one out. With first base open and the powerful Riley at the plate — 33 homers, 107 RBIs — why not walk him and pitch to the wildly inconsistent Pederson?
"It was a thought," said Roberts. "The way that Blake has dominated right-handed hitters, you've got Joc on deck. If he was gonna get [Riley] out, I was thinking about walking Joc to get to [Adam] Duvall. I think in that spot right there, I didn't like the matchup with Joc on deck."
Yeah, folks, the Dodgers really let the Braves off the hook.
The good news for Dodgers fans is, because the opener was a bullpen game necessitated by the loss of Clayton Kershaw, ace Max Scherzer will be starting in Sunday's Game 2.
The bad news is, Scherzer will be working on two days' rest after throwing 13 pitches in relief in Thursday's division series clincher against the San Francisco Giants.
And he won't have much bullpen help, as the Dodgers used eight relievers on a Saturday night that was great until it wasn't.
Using pitchers as openers has strategic value but is it good for the game? Dodgers starter Max Scherzer doesn't think it's something fans like to see.
"We're just trying to navigate this as best as possible," said Scherzer.
Time for a course correction. And quick.

Get our Dodgers Dugout newsletter for insights, news and much more.
You may occasionally receive promotional content from the Los Angeles Times.