Longtime Kings broadcaster Bob Miller will have statue of him unveiled Saturday outside Staples Center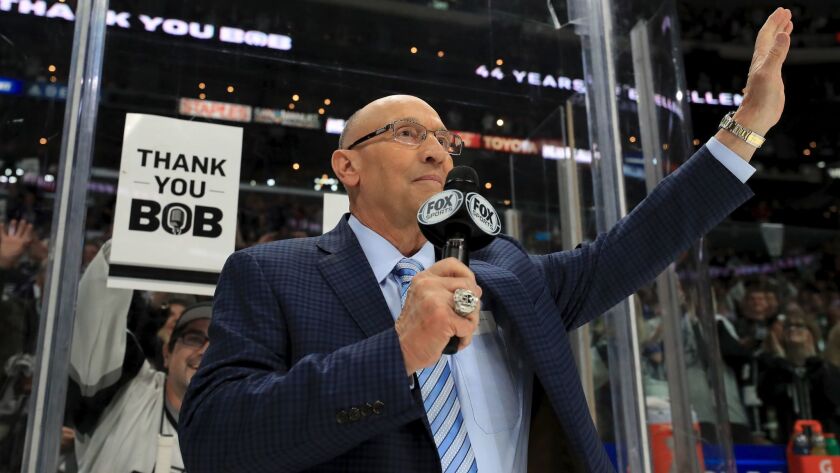 Bob Miller needed to catch a replay.
The announcer who called thousands of plays live, without missing a beat, missed the ending to the Kings' Oct. 28 game against the Boston Bruins. Sitting poolside in Hawaii, he monitored the game on his phone and television but stepped away and later saw a headline that said that the Kings won — in overtime, it turned out — on a faceoff play with 0.9 seconds left.
Even then, Miller couldn't believe it.
"I [thought], 'I think I got some bad information,' " Miller said.
It was a first on two fronts for Miller: The Kings won on a play he had never seen during his 44 years as Kings broadcaster, and he was on vacation in-season for the first time in as long as he could remember.
"That was kind of weird going somewhere in October and the team is playing and we're in Hawaii," Miller said.
Such is the adjustment for Miller, who has transitioned from a Hall of Fame career into retirement but remains in tune with the Kings. His legacy still casts a big shadow nearly a year after he stepped away from the microphone, and it will cast a literal shadow Saturday when a statue of him is unveiled outside Staples Center.
Since he called his final game last April, Miller, 79, finally has been able to travel to places that don't involve a cold hockey rink and a red-eye flight home. Miller and his wife, Judy, took a cruise out of Boston, up into Maine and to Rhode Island and Cape Cod, and the stately mansions of New England stood out to Miller. They went to a family wedding in Wisconsin, in addition to Hawaii.
In between, the accolades continued to pour in. Miller received the lifetime achievement award from the National Sports Media Assn. and was recently nominated by the Southern California Sports Broadcasters Assn. for Call of the Year for his final home broadcast. Kings president Luc Robitaille recently talked to Judy about their so-called retirement life.
"She said they're busier than they've ever been," Robitaille said. Robitaille then added, "It seems like he's at peace. He's been at it for so long."
Miller, who underwent heart bypass surgery two years ago, said he's doing OK, health-wise. He takes a two-mile walk every morning. He doesn't have a desire to dip back into broadcasting for, say, a one-off event such as the Winter Olympics or Stanley Cup Final. He doesn't miss the inordinate amount of preparation it takes to broadcast a game and enjoys simply watching.
"It's kind of nice," Miller said. "I can say things I can never say on TV."
Psychologically, Miller knows that the idleness of retirement will settle in.
"I think the adjustment is going to come for me after the month of February," Miller said. "Then it's going to really seem like it's retirement."
His involvement with the Kings as an ambassador smooths the transition. He emcees special events and has attended about 10 games this season, always greeting friends and fans with the same affable voice and personality that wrapped around fans like a warm blanket in their living rooms for decades.
His accessibility to fans was the inspiration for the statue's designers, Julie Rotblatt-Amrany and Omri Amrany. The Illinois-based sculptors said it was important to depict Miller as a welcoming figure to Staples Center, and it wasn't difficult, given Miller's features.
"He has a very friendly face," Rotblatt-Amrany said.
Fittingly, Miller's statue will be near that of Chick Hearn, who originally recommended Miller for the Kings' play-by-play job and also carried an iconic-yet-everyman role as broadcaster.
"When people come to the plaza, it's like Chick Hearn, they want someone to associate with," Amrany said.
Miller also will have a banner revealed inside the arena, next to the Kings' retired numbers. Four of those honorees — Robitaille, Rob Blake, Marcel Dionne and Rogie Vachon — are expected to attend the ceremony.
It was Robitaille and Mike Altieri, Kings senior vice president for communications and broadcasting, who first pulled aside Miller at a game and told him their plans for a statue. It was a foregone conclusion to everyone but Miller, still a man with humble Midwestern roots.
"I said I never thought anything about that," Miller said. "And then having a banner raised inside — those two things are something that never entered my mind. You get a job like this and you say, 'I hope I can just last for a while.'
"It's very gratifying to see that kind of response from [Kings owners] AEG and the Kings management. It's just amazing to have so many friends."
Anze Kopitar and Drew Doughty have played in three All-Star games, but both were still excited for their fourth, along with Jonathan Quick's third such game, on Jan. 28 in Tampa.
"It's very cool," Kopitar said. "It's a big honor to represent our logo. To have an experience with Quickie and Drew now, I think is going to be a lot of fun, because you go in there [as] the only team in the Western Conference with three guys — that's also pretty nice."
There's a strong chance all three will be on the ice at the same time because of the three-on-three format. They are on the Pacific Division squad with Edmonton's Connor McDavid, who won the Hart Trophy last season as the league's most valuable player.
Doughty didn't hesitate when asked whether there was one player he looked forward to playing with. "McDavid," he said.
VS. DUCKS
When: Saturday, 7:30 p.m.
On the air: TV: FS West, Prime; Radio: 790, 830.
Update: Kings defenseman Jake Muzzin (upper body) skated after practice and is day to day. Kevin Gravel was recalled. The Miller ceremony is scheduled to start at 7 p.m. outside Staples Center, and will be televised on delay, in the arena shortly after. The game is expected to start at 7:56 p.m.
Twitter: @curtiszupke
---
Get the latest on L.A.'s teams in the daily Sports Report newsletter.
You may occasionally receive promotional content from the Los Angeles Times.