Corey Perry begins next phase of NHL career with Dallas Stars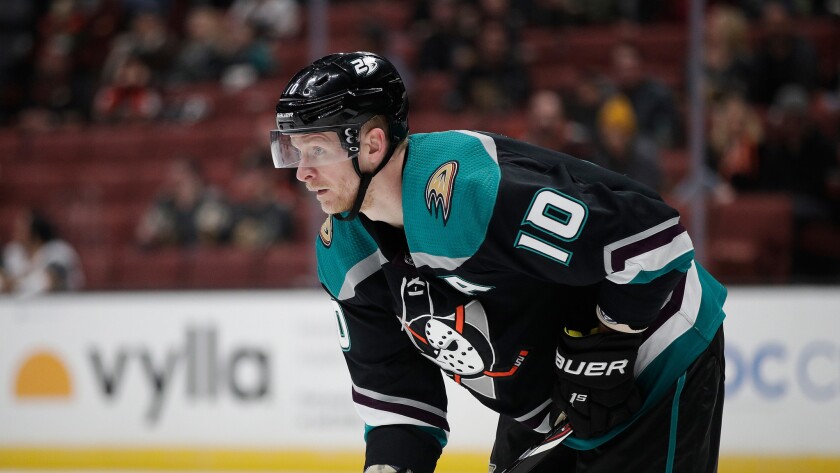 It just so happened that two of Corey Perry's closest Ducks teammates were with him when he broke the news.
Perry spent his 14-year Ducks career beside Ryan Getzlaf, and the last decade with Cam Fowler. They've been through great success and rock bottom, and the three were gathered together when Perry told them he was being bought out by the organization.
"They were upset I was leaving," Perry said. "It's not going to be easy leaving [this] place. We built a lot of friendships and great memories, but they're happy for me. I talked to them today already. They're excited to see me moving on, and being in a spot where I want to go, and [to] a team that's receptive to getting me."
Perry on Monday signed a one-year, $1-million contract with the Dallas Stars that includes $1.75 million in bonuses, according to the team. This will be in addition to the $2 million that the Ducks will pay him in the first season of his buyout.
The Ducks cut ties with Perry, 34, a franchise cornerstone winger who doesn't fit into their rebuilding plans. But he is an ideal low-risk acquisition for a team like Dallas, which got to Game 7 of the Western Conference semifinals last season. The Stars also added Joe Pavelski on the first day of free agency.
"They were definitely high on my radar," Perry said. "Obviously you talk to a lot of teams. It's a process and you're narrowing it down, but Dallas has always been a place where I love to play and I think, like I said, you look at that lineup they have, and being one shot away from a conference final, it's definitely promising and I'm looking forward to adding to it."
Perry was reportedly sought by several teams, including the Toronto Maple Leafs, according to TSN. That shows he still has value as a former 50-goal scorer who's hard to budge around the net. Perry said his surgically repaired knee "feels 100%" and "it's definitely going to be, hopefully, a great year for me, a bounce-back year for me. I'm ready to prove people wrong."
Perry's legacy with the Ducks is no doubt highlighted by the 2007 Stanley Cup and his 2011 Hart Trophy prize. In an ironic twist, Perry will play his 1,000th game on Oct. 24 against the Ducks in Dallas. He would make his return to Honda Center on Jan. 9.
"They've done everything for me, from the fans to the ownership to the management, they gave me the chance to play in the NHL," Perry said. "That is everybody's dream, is to play in the NHL. They gave that to me, and I'm very thankful for that.
Sign up for our daily sports newsletter »
"To bring the first Stanley Cup to California, just starting there, that was the start of my career … I played for a team that really wanted me. It was exciting. It's always going to be home in my heart. I have no bad things to say about the organization at all."
Perry and Pavelski will join forces after so many years against each other in the Ducks-Sharks rivalry. The two chatted Sunday night when it appeared that they would be teammates.
"It's funny because we're in a very similar boat, from leaving our teams that we've been with for a long time," Pavelski said. "I'm excited for it. There's some good pieces that have been added. It's a fun day … I'm excited to be in the locker room, practice with him, play games. He's always been so competitive. He plays his game around the net, just kind of a tough game around the net. Good around the net. I'll think he'll bring a good element, for sure."
Kings sign two
The Kings signed defenseman Joakim Ryan and right wing Martin Frk to one-year contracts.
Ryan played in all 20 playoff games for San Jose last season. His one-way contract is worth $725,000. Frk, a second-round pick by the Detroit Red Wings in 2012, scored 11 goals in 68 games two seasons ago. He has a two-way deal worth $700,000 in the NHL.
Former Kings coach John Stevens was hired as an assistant coach by Dallas. Stevens is reunited with Stars coach Jim Montgomery. The two were teammates in the Philadelphia Flyers organization in the late 1990s. Stevens was fired 13 games into last season, after nine years with the Kings.
Twitter: @curtiszupke
---
Get the latest on L.A.'s teams in the daily Sports Report newsletter.
You may occasionally receive promotional content from the Los Angeles Times.