No subterfuge this time: John Gibson to start for Ducks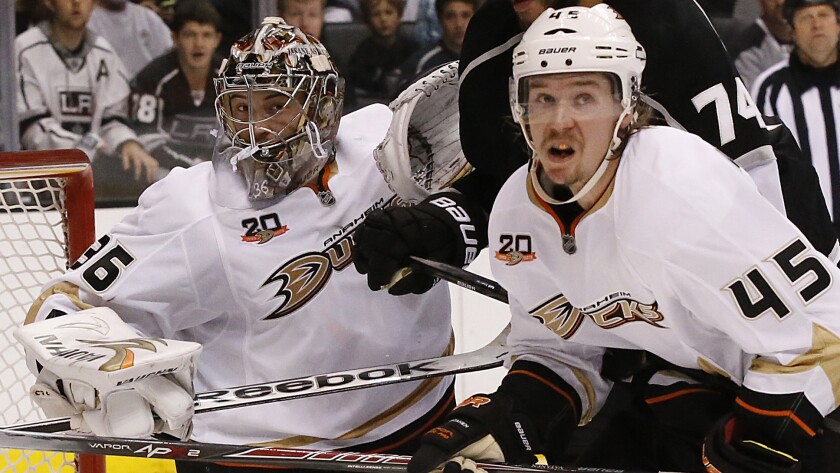 There'll be no hand-wringing or morning-skate shenanigans this time.
That 28-save shutout by 20-year-old rookie John Gibson to tie the Western Conference semifinal playoff series against the Kings at two games apiece has earned the Ducks goaltender a Game 5 start Monday night at Honda Center, Coach Bruce Boudreau said Sunday.
"Not a difficult decision, not going to try to play that game," Boudreau said. "He came in, played great, and he's going to play again."
Earlier in this series Boudreau kept his goalie decisions quiet until game time, even going as far as deceptively having Jonas Hiller leave the ice first at the morning skate, only to start Frederik Andersen in Game 3 and Gibson in Saturday's 2-0 Ducks victory in Game 4 at Staples Center.
Gibson was summoned Friday from minor league Norfolk (Va.) after Andersen suffered a lower-body injury in the Ducks' 3-2 win in Game 3 that will keep him sidelined through at least Game 5.
After going 3-0 in the regular season, Gibson, ranked earlier this year by the Hockey News as the NHL's No. 2 prospect, was superb in blanking the Kings on Saturday, denying the best shots of center Anze Kopitar, forward Marian Gaborik and defenseman Drew Doughty. He's now faced 215 NHL shots and stopped 211 with two shutouts.
"He did what we heard he does — stopped everything," Ducks defenseman Ben Lovejoy said. "The Kings made a push and we never once turned to each other on the bench and said, 'That was a lucky save.' So poised, confident . . . it made us feel so good knowing John Gibson was back there."
The low-key Gibson, who was raised in Pittsburgh, was matter-of-fact in assessing his playoff debut: "The guys did a good job. I just try to play my game, try not to do anything different.
"[Boudreau] told me I was playing, and that was that. They play hard for me, I try to play hard for them."
Boudreau said he was swayed to choose Gibson over Hiller by a multitude of experiences, including the coach's decision in 2009, when he was with Washington, to rely on then-20-year-old Semyon Varlamov to eliminate the New York Rangers in a first-round playoff series.
Gibson's pushing him to play in the preseason a game after a disappointing effort against the Kings has also remained in Boudreau's mind.
"He went out there and defied people to score upon him," Boudreau said. ". . . It gives you confidence — 'I'm going to put this guy in there and see what he's got.'
"[He's] pretty special . . . big, sound, pretty cool. Nothing seems to bother him."
Only the 1938 Chicago Blackhawks have started three goalies in the playoffs and won a Stanley Cup, Elias Sports Bureau reported.
As for Hiller . . .
After winning 29 regular-season games and starting Games 1 and 2 against the Kings, Hiller, who will be an unrestricted free agent after the season, said he found out Gibson was playing Saturday by seeing a board with the rookie's name written on it.
"I wasn't happy about that," Hiller, 32, told The Times on Sunday. "I talked to Bruce about it personally. . . . Definitely wasn't pleased by that. I told him I don't think it's right with what I've done for the team and the organization to find out that way. He agreed, and said it won't happen again."
Hiller, who closed the regular season on a three-game losing streak and lost his starting position to Andersen when the playoffs began, replaced an ineffective Andersen in Game 6 of the first-round series against Dallas and stopped all 12 shots as the Ducks rallied to win in overtime.
Now, he said he isn't sure he'll get in for another second of action for the only NHL team he's played for.
"For the last few weeks, there's been so much going on here, I've stopped thinking about what's going on," Hiller said.
Boudreau said he's sympathetic.
"It's tough, I know," Boudreau said. "You have to be a true professional and be ready for your day."
Said Hiller: "I want to play . . . every night. You have to find a way to accept it, deal with it and make the best out of that."
Injury update
Center Mathieu Perreault resumed skating at Sunday's practice after missing Game 4 because of a lower-body injury and said he hopes to play Monday. Forward Matt Beleskey (lower-body injury) was ruled out for Game 5. And forward Tim Jackman, who broke his hand April 4, was shooting during practice and said he has a doctor's appointment Monday. He said he's "getting close."
---
Get the latest on L.A.'s teams in the daily Sports Report newsletter.
You may occasionally receive promotional content from the Los Angeles Times.