What we learned from the Ducks' 4-2 win over New Jersey
The Ducks scored a third consecutive victory with a 4-2 defeat of the New Jersey Devils on Sunday. The Devils' roster is comprised of five former Ducks skaters, and three of them scored points (Patrick Maroon, Kyle Palmieri and Sami Vatanen), but the Ducks managed to hold them to just 17 shots. Here's what we learned.
Ryan Getzlaf and Rickard Rakell remained hot, and they show no signs of slowing down. If the Ducks captain hadn't missed two months with a fractured cheekbone, he might be in the Hart Trophy conversation. Getzlaf has produced 53 points in 48 games and 18 points in his last 11 contests.
He was also a force on the opposite end Sunday, and once again, his vision was incredible. Like on his behind-the-net feed to Brandon Montour on the power-play goal. Time after time, he's able to find openings where there doesn't appear to be one, and it leads to an easy goal for his teammate.
Rakell, too, must be accounted for each game. He's proven himself as one of the game's elite forwards, with 30-plus goals in consecutive seasons. The Swede has registered 14 points in his last 10 contests. As long as he and Getzlaf both stay healthy, the Ducks have a great shot at postseason contention.
Marcus Pettersson stepped up his game on both ends of the ice. The rookie blueliner fired up the Ducks with a crushing open-ice hit on Blake Coleman in the third period that led to a fracas, sending both Getzlaf and Maroon to the penalty box.
Pettersson also produced his first career NHL assist on Rakell's goal that ended the Devils' comeback. He's played just 13 games in the NHL, but with Kevin Bieksa now sidelined at least two weeks, Pettersson will be relied upon.
The Swede is playing on the squad's secondary power-play unit, and if Josh Manson's upper-body injury causes him to miss any games, Pettersson's role is likely to increase.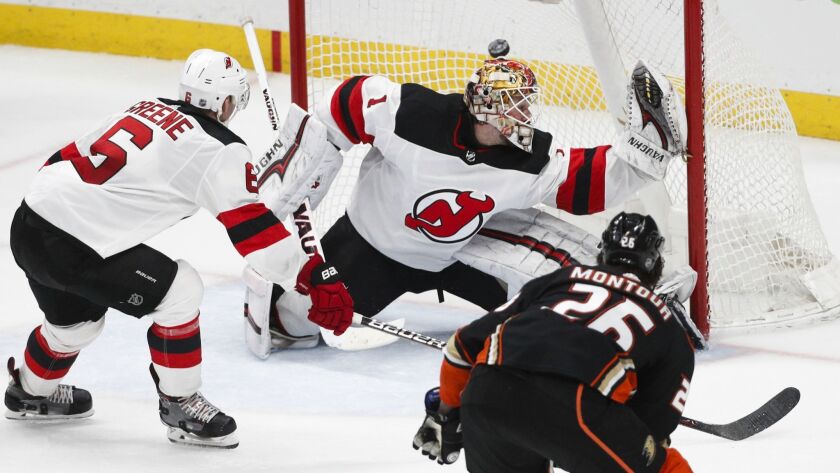 The Ducks put together one of their most complete games in a while. They were aggressive on the forecheck, able to chip the puck deep and then lay bodies on the Devils. The Ducks also clogged up the neutral zone after they grabbed the early leads and were able to impede the fast-skating Devils from creating many odd-man rushes.
It also was one of their most physical games, with plenty of crushing checks delivered. The team is playing with more of an edge now, and they aren't allowing opposing forwards to set up shop in front of the net.
When Palmieri tried to set a screen in front of John Gibson, Hampus Lindholm met his former teammate with several shoves and jabs to the back.
"That was definitely a better effort throughout the whole game," Getzlaf said. "We made a couple mistakes, but overall we played pretty solid throughout the whole game and didn't allow them a whole lot."
"Any time you can play that complete game, it allows you to look back on different times and understand what it takes to play in the moment and do those sort of things."
---
Get the latest on L.A.'s teams in the daily Sports Report newsletter.
You may occasionally receive promotional content from the Los Angeles Times.