Column: Bob Murray tried small fixes to keep the Ducks afloat — until the bottom fell out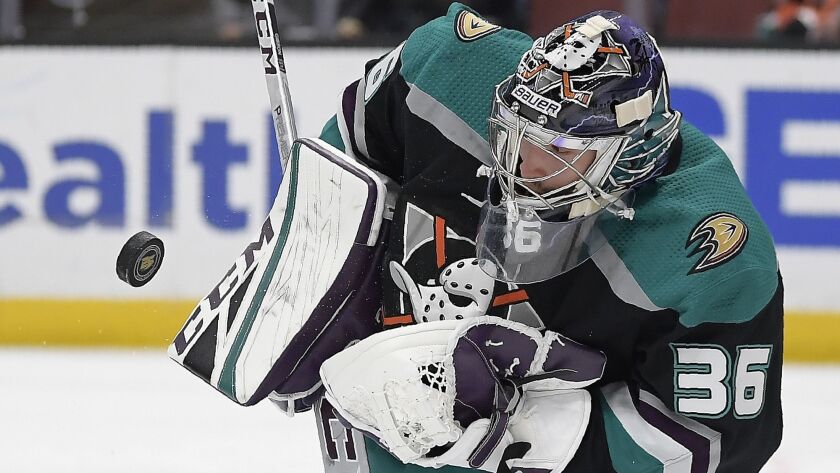 The Ducks' 2017-18 season had ended badly. They were swept out of the playoffs by the San Jose Sharks while being outscored 16-4, but general manager Bob Murray wasn't ready to dismiss coach Randy Carlyle. Murray wanted to give him a chance to adjust to the NHL's swing toward up-tempo play, so Murray told him last summer he'd have to abandon the team's trademark heavy game.
For a while John Gibson's excellence in goal created the illusion all was, if not great, good enough for them to be competitive.
That didn't last, and the Ducks stumbled through a seven-game winless streak. But they had a lot of injuries, so Murray wasn't ready to shake up the coaching staff. "I've got to give them a little bit of time here to figure some things out with our group," he said on Dec. 8, after he had signed an extension through 2021-22. "They tried but some things just didn't work with our group. But that's not always the coach's responsibility when things don't work."
Looking for speed and creativity, Murray nibbled at the edges of their scoring woes by making minor deals and waited for the team to become healthy before doing more. The Ducks, still led by Gibson, put together an 11-2 surge. They were falling behind often but rallying. They'd done that in previous seasons, too. Murray had said they weren't Stanley Cup contenders, but it appeared they'd get in the playoffs and who knew what could happen then? A come-from-behind 4-2 victory at Pittsburgh on Dec. 17 lifted their record to 19-11-5. They were second in the Pacific Division and fourth in the Western Conference and Murray's concerns didn't seem so urgent.
And then the bottom fell out.
Gibson, physically and mentally worn down, couldn't carry the team anymore. His teammates didn't repay him for keeping them in so many games and instead abandoned him to face an unconscionable number of high-percentage scoring chances. Their own scoring, such as it was, dried up. Deficits they had once pushed back to erase became too much of a bother for them to tackle. Everyone seemed to look to someone else to take charge. Nobody did. And they all tuned out Carlyle.
And still, Murray stuck with his coach until consecutive embarrassments under the Canadian spotlight in Winnipeg, Montreal, Toronto and Ottawa made it puck-in-your-face clear Carlyle couldn't make things better. He was fired Sunday, a day after a 6-2 loss at Philadelphia stretched the Ducks' collapse to 19 losses in 21 games — more than a quarter of the season. Murray stepped in as coach with his team last in the West, the better to closely analyze who and what he has as the Feb. 25 trading deadline approaches. "I had to go downstairs and live it with this group," he said. "We've got a problem here and it's got to be fixed."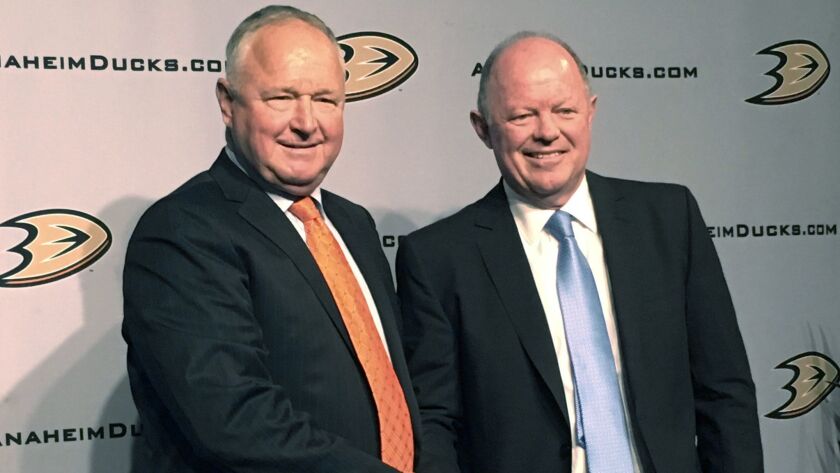 In a season full of mistakes Murray did one thing right: He kept his best prospects in San Diego of the American Hockey League, away from the sour atmosphere that hovers over the Ducks like the scent of a hundred stinky hockey gloves. Top talents Max Jones and Troy Terry might be promoted "if we can get them in a positive environment," Murray said, but for now he's likely to keep them in San Diego so they can sustain the success they're having and, he hopes, bring expectations of winning to Anaheim next season.
There is a lot wrong with this roster. But as Murray said during a conference call with reporters on Sunday, he won't have to take this down to the studs and launch a four- or five-year rebuild. Gibson, Jones, Terry, Sam Steel and Hampus Lindholm represent a solid core for the future, and Murray's staff does an outstanding job at scouting and development. He is hamstrung by the long, lucrative contracts and no-move clauses he gave forwards Ryan Getzlaf, Corey Perry, and Ryan Kesler, and he said he will ponder whether he will ask one or more of that 30-something trio to waive those no-move clauses should their names come up in trade discussions. "I have no fear of going and doing that myself," Murray said.
Whether another team will want and can afford to take on those contracts is doubtful. Perry's salary cap hit is $8.625 million for two more seasons, Getzlaf's is $8.25 million for two more seasons, and the physically limited Kesler's hit is $6.875 million for three more seasons. Getzlaf, soon 34, is a viable play-making center and has the most trade value. He also probably has the least incentive to accept a trade because his wife Paige is a Southern California native.
It's interesting, if coincidental, that the coaching change came shortly after the Ducks sent renewal notices to their season-ticket holders. A club spokesman said the average price increase for all seats is 4.6%, but it's 6.8% when calculated to include an upgrade in status to premium seats in some locations. The increase for 400 level seats ranges from nothing to $2 per seat per game. Fans had every reason to be angry at being asked to pay more while management ignored their objections to players' lack of passion and the team's lack of success. They wanted hope for the future, and they got it when Murray fired Carlyle.
It shouldn't have taken this long but at least it's done. There's hope, if Murray makes the right decisions in the trade market, free agency, and in hiring his next coach.
Sign up for our daily sports newsletter »
Follow Helene Elliott on Twitter @helenenothelen
---
Get the latest on L.A.'s teams in the daily Sports Report newsletter.
You may occasionally receive promotional content from the Los Angeles Times.