Ducks fire coach Randy Carlyle, appoint GM Bob Murray interim coach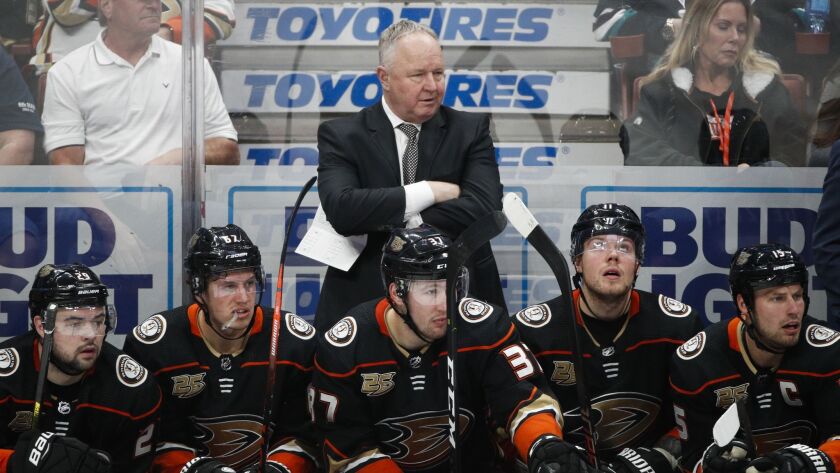 Ducks general manager Bob Murray knew his team was in a bad way. That much was obvious during a franchise-record 12-game losing streak.
The struggles became even more apparent in a 5-1 defeat to the St. Louis Blues in their final game before the All-Star break. Murray wasn't ready to make a drastic move yet, even though he was alarmed by the Ducks' inability to compete.
He's seen his team tread water before, only to storm back down the stretch. Murray chalked up some of the struggles to injuries, so he wanted to be patient and give longtime coach Randy Carlyle every chance to prove he could right the ship.
Then came another losing streak; blowout loss after blowout loss. Following a fifth consecutive defeat, 4-1 to the Montreal Canadiens on Tuesday, Murray said he called team owners Henry and Susan Samueli and told them he needed to make a move.
The Ducks lost two more games, pushing the skid to seven, before Carlyle finally was fired Sunday morning. By that point, the Ducks (21-26-9) were last in the Western Conference, mired in a 2-15-4 skid.
Murray will assume interim coach duties for the remainder of the season and get an up-close perspective as he determines which players are part of the solution.
"When players are losing you learn a lot about them," Murray said during a conference call. "The cream has to rise to the top when it gets ugly, which is what it is. I'm going to be right there with them and see who takes that step forward and who doesn't. In order to win you need people who aren't afraid of adversity."
More than anything, Murray said he was unnerved by "the lack of emotion, the lack of passion" his players displayed. He knew then a change was necessary. So for the second time, he fired Carlyle.
Murray also relieved the winningest coach in franchise history of his duties in November 2011 when Carlyle was in the midst of his seventh season in Anaheim. Carlyle, who won the team's only Stanley Cup title in 2007, returned to the helm in 2016.
A former Norris Trophy-winning defenseman, Carlyle led the Ducks to the Western Conference finals for the third time in his first season back. The Ducks again qualified for the playoffs last season but were swept by the San Jose Sharks.
Murray expressed the need for a more uptempo attack last April, but that's not the style Carlyle is accustomed to teaching. He always preferred a physical brand of hockey predicated on puck possession, and the strategy produced a championship in his second season behind the bench. But in an ever-evolving NHL, it's an approach that's proved outdated.
"We've always pushed back," Murray said. "We've never accepted, and they were accepting and that is unacceptable. We gotta change that."
Murray is confident he's not looking at a "four-, five-year rebuild," but the Ducks' issues are many. The toothless offense has generated an NHL-worst 2.21 goals per game. Jakob Silfverberg leads the club with just 12 goals and he's an unrestricted free agent at season's end. Determining whether to lock up the two-way winger or deal him for assets at the deadline is Murray's first order of business.
"We do have good players; I told the players that today ... We're just not a good team right now," Murray acknowledged. "We have to change some things and if opportunities arise where we can be younger and faster, then I need to look long and hard at it ... A few good moves and we can be back to being a great organization."
Finding the right person to restore greatness — to a team hamstrung with several albatross contracts tied to aging veterans — could be Murray's sternest challenge yet.
---
Get the latest on L.A.'s teams in the daily Sports Report newsletter.
You may occasionally receive promotional content from the Los Angeles Times.