Ducks will look to youth to bolster defense with loss of Cam Fowler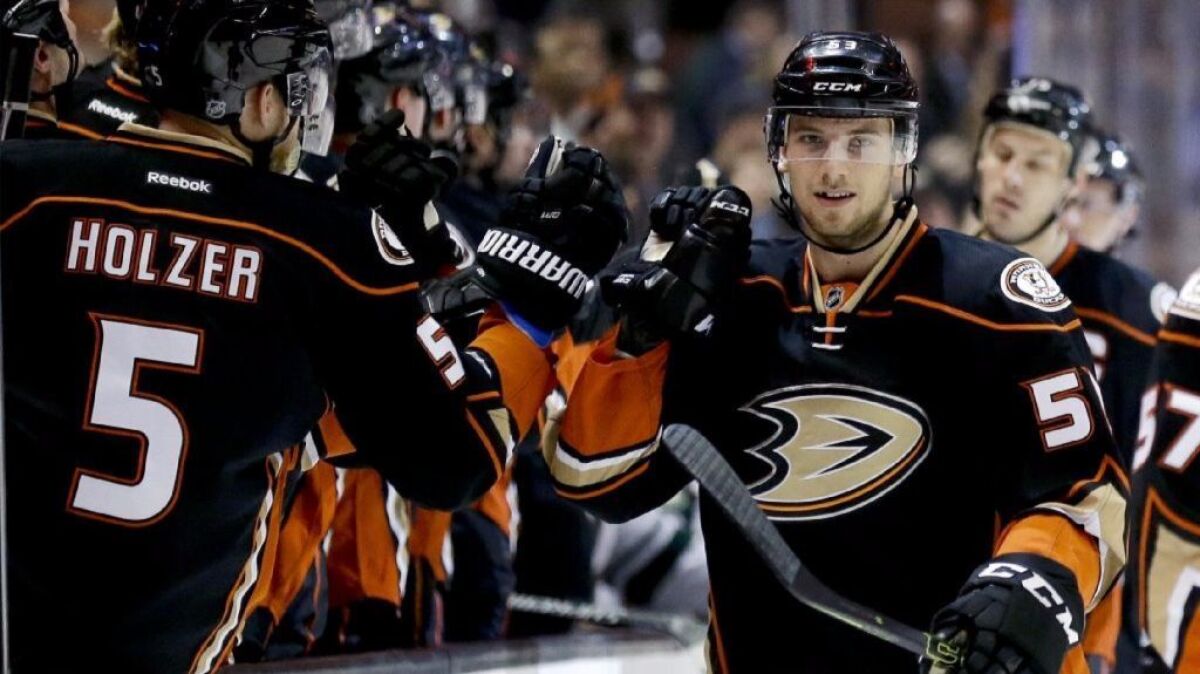 About 2,600 miles separate where Shea Theodore and Brandon Montour grew up, on opposite ends of Canada.
Theodore hails from Aldergrove, about an hour from Vancouver, while Montour is from Oshweken, near Toronto.
They both became offense-minded defensemen and, eventually, teammates with the San Diego Gulls to start this season. Hockey journeys have a funny way of meandering, and it's through their precocious talent that they've landed in an important place with the Ducks.
They be will looked at, among other young defensemen, to help make up for the loss of the injured Cam Fowler in a best-of-seven first-round playoff series against the Calgary Flames that starts Thursday at Honda Center.
"He's a good kid," Montour said of Theodore. "Obviously we've got him and a couple of others as well. It's good to share the experience with them.
"Coming up here and doing well and having a chance to be in the lineup and being a part of this team is pretty crazy, so I'm excited."
The Ducks will first lean on Hampus Lindholm and Sami Vatanen, as well as veteran Kevin Bieksa, to replace Fowler, a top-pair defenseman, power-play quarterback and thoughtful leader.
But from there, the experience drops. Montour, Theodore and Josh Manson have played a combined seven playoff games. The next postseason games for Montour and Korbinian Holzer will be their first.
Ducks coach Randy Carlyle asked his older players to reach out to the younger ones to prep them for the high-intensity atmosphere of the playoffs, where one turnover could be on an endless loop on highlight shows.
"You just want to make sure you manage their mind-set, make sure their mind-set's in the right place," Bieksa said. "You don't want them getting too jittery. Obviously they understand the importance of the Stanley Cup playoffs and how everything's magnified. You almost want to do a better job of calming them down and instilling confidence in them. Let them go out there and play their game."
It's a do-over for Theodore and Manson. Theodore, 21, was thrust into the playoffs last season after playing in only 19 regular-season games. His game has grown in fits and spurts and he's been usurped some by Montour, 23.
But he's progressed. Theodore practiced on the first power-play unit this week and Montour on the second unit.
"It's kind of an up-and-down season, but to get the call late down the stretch, that's something you want," Theodore said. "Going into playoffs, [I've been] kind of showing them how I can play. They can trust you in all situations. I feel like the last couple of games leading into the playoffs, I was playing more minutes than I have previously, and that definitely adds to my confidence."
Manson formed a partnership with Lindholm this season as Carlyle has used them against physically big lines, but they were broken up after Fowler injured his right knee last week. Manson's postseason was cut short by a shoulder injury in Game 1 last year, and he's ready for a retry.
"I've been looking forward to it all year, hoping if we get back in I'd get a second chance at it," he said.
Lindholm welcomes the added workload and doesn't feel the pressure has changed. He believes the Ducks are equipped to withstand the loss of Fowler. They beat Calgary last week without Lindholm and Vatanen.
"Over the years here, both me and Cam have been injured, in and out, and other guys too," Lindholm said. "You sometimes have to get some more responsibility. Some other days someone else might step it up for you. I don't think things change that way. Of course we want Cam back as soon as possible, but we've got a good group here."
Carlyle reinforced that opinion. A defenseman in his playing career, Carlyle said it takes about 300 games to get a true read on a defenseman. Theodore, Montour, Manson and Holzer aren't there yet, but they're on their way.
"This isn't climbing Mt. Everest," Carlyle said. "This is going out and playing and doing what you do. You're here as a hockey player. Just go out and play the game that you're capable of playing. Yeah, it's going to be tougher. But these kids have all risen to the occasion, or they wouldn't be in the NHL."
THREE KEYS TO THE SERIES
Keys to the first-round best-of-seven playoff series between the Ducks and the Calgary Flames:
1. DISCIPLINE: The Flames and Ducks are the two most penalized teams in the NHL, and the Ducks can't get rattled by Calgary or the officiating. "We've had [a] penalty parade," Ducks coach Randy Carlyle said. "Those are things that really worry us as a coaching staff. They have to be curtailed."
2. COLLECTIVE DEFENSE: Without injured Cam Fowler, the responsibility must be spread throughout the defensive unit. That means more minutes for Hampus Lindholm and Sami Vatanen, among others, against Calgary's up-tempo offense.
3. GET TO BRIAN ELLIOTT: Calgary needs its goalie to steal some games, and the Ducks need to remove the belief that he can. The numbers are on the Ducks' side as Elliott is 1-7-3 with a 3.20 goals-against average lifetime against the Ducks.
---
Get the latest on L.A.'s teams in the daily Sports Report newsletter.
You may occasionally receive promotional content from the Los Angeles Times.