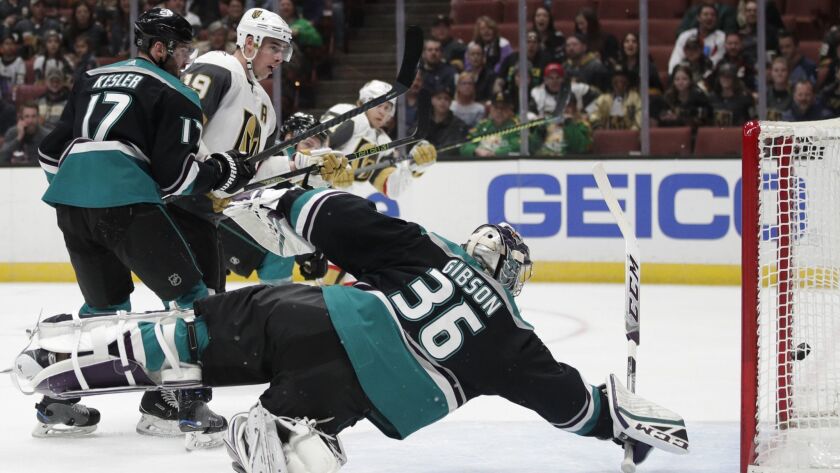 Even the return of the Ducks' most valuable player wasn't enough to halt the latest losing skid.
John Gibson acknowledged earlier in the week that it was nice to take his mind off the trying campaign, one in which he was often the lone bright spot. His return offered no reprieve.
The Ducks' slide hit five after a 3-0 loss to the Vegas Golden Knights on Friday at Honda Center. Gibson, back in goal for the first time since Feb. 7, delivered a strong performance with 32 saves on 34 shots.
He missed the past nine games as he dealt with ailments concerning his head, neck and back.
His counterpart, Marc-Andre Fleury, made 34 saves for his NHL-best seventh shutout of the season.
The defending Western Conference champions completed the season sweep with their win in a game that showed the different paths each club is on as the season winds down.
"We got a proud group in here," Ducks winger Nick Ritchie said. "We're trying to win and we're working hard and getting those chances and driving the net and it's just not going right now. I think if we keep going, we'll break out of this."
There isn't much time left to do so. Only 17 games remain, and the Ducks have no realistic hope at the postseason. It's about pride at this juncture.
The Golden Knights find themselves on a different trajectory.
In their second season in existence, the Golden Knights are well positioned for another run at the Stanley Cup. Their marquee trade deadline acquisition, Mark Stone, found William Karlsson back-door on the power play with an open net to open the scoring at 14:49 of the first period.
With less than two minutes remaining in the second period, Jonathan Marchessault found Alex Tuch on a stretch pass. The third-line winger won a race to the net and finished five-hole for the Golden Knights' second goal.
The Ducks created plenty of chances but they failed to score. Corey Perry hit a post and they threatened several times in the second period. But the worst offense in the NHL remained toothless, a step slower at creating space.
"It's a tough league to score goals in," said Perry, who once scored 50 in a season, but at 33, isn't the formidable scoring threat he was years ago. "You may get one or two a game but that's it."
Perry missed most of the season after undergoing knee surgery before the season. He returned in January and finds himself in an unfamiliar position: playing for pride.
For the past six seasons, Perry's Ducks have qualified for the postseason. At this point, they're battling for pingpong balls ahead of June's NHL draft and a shot at wunderkind and projected top pick Jack Hughes.
Miller honored
Before the game, Ryan Miller was recognized for becoming the U.S.-born leader in goaltender victories in NHL history with 375. The 38-year-old passed John Vanbiesbrouck with a win over the Washington Capitals last month.
Miller was presented with a gold, engraved goalie stick by owner Henry Sam-ueli on the ice. With Gibson back in net, Miller returned to his backup role
Getzlaf still out
The Ducks' Ryan Getzlaf was once again scratched as he deals with an upper-body injury. He has missed five consecutive games.
---