Ducks dominate Predators in 6-1 rout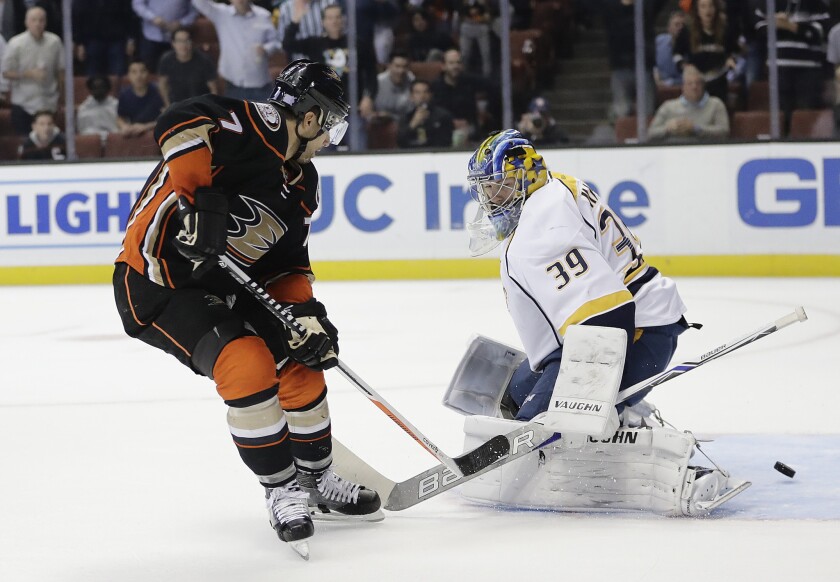 Reporting from ANAHEIM —
If the Ducks' roster had any more moving parts it might qualify as a Rube Goldberg contraption. The Jakob Silfverberg machine is working just fine in its place.
It hummed Wednesday with some key pieces missing and another one tantalizingly close to returning. Silfverberg's two goals started a five-goal barrage in the second period of a 6-1 win against Nashville at Honda Center.
The Ducks put on a special teams clinic that chased Predators goalie Pekka Rinne from the net and practically ran the ghosts from their Game 7 playoff loss to Nashville out of the building.
Silfverberg scored shorthanded and on the power play. He buried Shea Theodore's pass on a two-on-one with Korbinian Holzer serving a high sticking penalty. During a Nashville unsportsmanlike conduct penalty, Silfverberg sent a wrist shot that made it through traffic.
"It's nice to get that first one out of the way," Silfverberg said. "I've been struggling a little bit. I've not quite been getting the scoring chances I wanted in games. … It's just a bonus. It's good for the confidence, and hopefully I can score even more."
His two goals are a notable start. Silfverberg was a 20-goal scorer last season but didn't get his second goal until Nov. 30.
The rest of the game was cathartic for the Ducks.
Corey Perry got the puck in transition and beat Rinne against the grain for an unassisted goal that made it 4-0 and forced Nashville to remove the goalie who beat Anaheim in the first round last season.
Andrew Cogliano scored on a shorthanded breakaway, and Ryan Kesler tipped Cam Fowler's slap shot for another power-play goal and a 6-0 lead.
"It's good for this hockey club," Kesler said of the win. "We've been keeping a lot of teams to one goal, two goals, and we haven't been getting the goals. But tonight they came."
All this came without center Ryan Getzlaf and goalie Jonathan Bernier because of upper-body injuries from Tuesday. Ducks Coach Randy Carlyle in the morning called Getzlaf a game-time decision, but Getzlaf, struck on the forearm by the puck against San Jose, was scratched. Bernier, who was replaced in the goal by John Gibson, is day-to-day.
The players available recorded three power-play goals and two shorthanded goals for the first time in franchise history. Nick Ritchie started the spree with a power-play goal nearly three minutes into the game.
Dustin Tokarski was recalled to back up Gibson. Forward Emerson Etem was placed on waivers but played on the third line.
Rakell returns
Forward Rickard Rakell secured his work visa the same day he flew in from Sweden on Monday and took part in the morning optional skate. There were only a few other players on the ice, but he was grateful to be around the team. He greeted the media with a fresh haircut and a smile.
"I'm very happy," Rakell said.
Rakell has yet to take a full practice at NHL speed and physicality and said he'll gauge where he's at when that happens.
"I want to be as close to 100% as possible before I step into a physical game," he said. "I can't say [the return] time right now, but I wish I could come back as quick as possible."
Rakell wasn't resigned until Oct.14 and was stuck in Sweden without a team to practice with, other than his cousin's junior squad of 14-year-olds who were quietly in awe of the 20-goal scorer.
"They were all so super excited and shy, so they didn't say much," Rakell said. "I think I was more scared of them."
---
Get the latest on L.A.'s teams in the daily Sports Report newsletter.
You may occasionally receive promotional content from the Los Angeles Times.