Column: Ducks still 'work in progress' despite impressive road win over Sharks
Reporting from San Jose —
The site of the finale of the Ducks' embarrassing playoff exit last spring was the appropriate setting for their first step toward catching a wave of youth and speed.
It was after being swept out of the playoffs by the San Jose Sharks that the Ducks realized relying on brawn and a plodding pace wouldn't get them far in the playoffs anymore. The seeds were planted for a transition toward building around young legs and an uptempo game, a plan that accelerated when injuries to established forwards piled up during training camp.
Five rookies suited up for the Ducks on Wednesday at SAP Center, and they helped generate a pace that was noticeably snappy for parts of the game but was uneven for other stretches. The Ducks' 5-2 victory over the talented Sharks was a good start — but only that, a start. "We did a good job and there's things we can get better at, but it's a really big building block for our team," said goaltender John Gibson, who was pelted by 15 shots in the second period and made 31 saves overall.
Nineteen-year-old Max Comtois, a second-round pick by the Ducks in 2017, led the kiddie corps Wednesday by scoring on a wrist shot 49 seconds into the game. Neatly set up by second-line center Adam Henrique, it was the fastest goal to start an NHL career since Alexander Mogilny scored for Buffalo 20 seconds into his first game on Oct. 5, 1989. Comtois' goal, scored four seconds into his first shift, was the sixth-fastest goal to open an NHL career in the modern era, which is considered to be from 1943-44 and onward. The record is held by Toronto's Gus Bodnar, who scored 15 seconds into his first game on Oct. 30, 1943.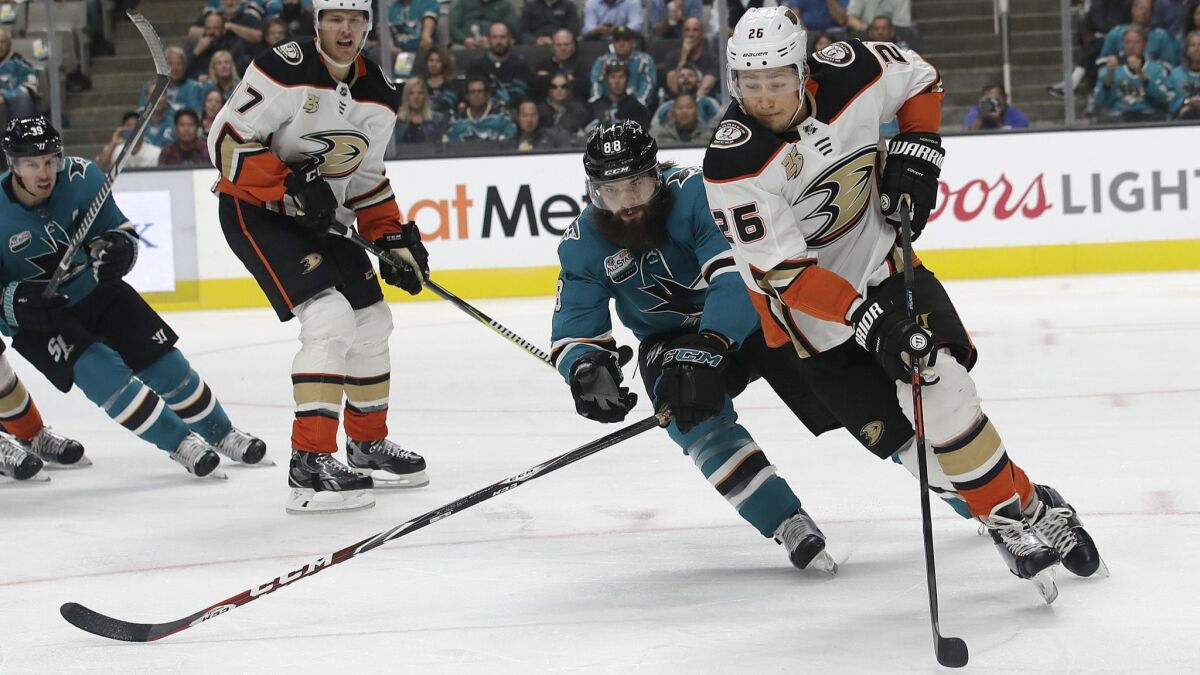 "I wouldn't believe it if you would say that to me before the game," Comtois said of his quick goal. "I was just trying to put it in. I didn't want to shoot it off the pad or miss that chance. It was a great play overall and I'm really happy to get this one out of the way. It's good for the confidence."
The experienced defense pair of Cam Fowler and Josh Manson struggled more than their less-experienced teammates, but three-point performances from Rickard Rakell (one goal, two assists) and Jakob Silfverberg (three assists) carried the Ducks. Rookie forward Kiefer Sherwood recorded his first NHL point on the Ducks' final goal, an empty netter by Carter Rowney. "We were a lot faster, and I think they contributed a lot to that," Gibson said of the Ducks' young players.
After Comtois launched the Ducks to a good start, San Jose pulled even at 7:51 of the first period, when Evander Kane deftly faked Manson along the left-wing boards and scored on a wrist shot from the left circle. The Sharks took a 2-1 lead with a shorthanded goal at 17:14 of the second period, on a spectacular individual effort by Tomas Hertl that turned Fowler inside out. But the Ducks pulled even 46 seconds later, on the power play, when Rakell tapped in a backdoor pass from Silfverberg. Gibson made a clutch stop on a breakaway by Kane 5:15 into the third period with Fowler and Manson on the ice for the Ducks. "Any time you play here it's going to be about weathering the storm," Gibson said.
The Ducks took a 3-2 lead at 8:02 of the third period, when defenseman Brandon Montour backhanded the puck at Martin Jones and it fluttered past the goalie on the short side. Henrique padded the margin to 4-2 during a power play at 10:22 of the third period, finishing a sequence of quick puck movement with a one-timer. "In the third, we started to skate," coach Randy Carlyle said, "and that's more of the game that we have. When we skate we can be effective but it didn't look very effective in the first two periods."
Comtois joined fellow rookie forwards Sherwood, Sam Steel and Troy Terry and defenseman Marcus Pettersson in Carlyle's lineup against the Sharks, who got considerably stronger over the summer with the acquisition of defenseman Erik Karlsson.
Carlyle probably wouldn't have deployed so many kids but he had little choice because of injuries that have sidelined Corey Perry (knee surgery), Ryan Kesler (arthritic hip), Ondrej Kase (concussion) and Patrick Eaves (shoulder surgery). In addition, rugged winger Nick Ritchie, a restricted free agent, isn't under contract. Rookie forward Isac Lundestrom, the Ducks' first-round draft pick this year, was scratched from the lineup. "I think the young guys played terrific and they came in with a lot of energy," Silfverberg said. "They play very mature, and they're here for a reason."
That reason is to give the Ducks energy and speed and enough assets to avoid a repeat of the slow burn they endured here last spring. "We're only one game into it," Carlyle said, "so we're not proclaiming we're anything but a lot of work in progress."
Follow Helene Elliott on Twitter @helenenothelen
---
Get the latest on L.A.'s teams in the daily Sports Report newsletter.
You may occasionally receive promotional content from the Los Angeles Times.