Ducks defenseman Shea Theodore emerges as scoring threat
Cam Theodore might have to upgrade the data plan on his cellphone if his son keeps this up.
Cam works as a millwright at a sawmill about 45 minutes from the family's home near Vancouver, Canada. It's an old-school, lunch-pail job that requires his alarm clock to ring at 3 a.m. So he can't stay up late to watch Shea Theodore, a budding defenseman for the Ducks, even for the biggest game of his career. He had two goals in Game 3 of the first-round playoff series against the Calgary Flames.
Cam's vibrating phone let him know something was up.
"He checked [the messages] the next day," Shea said. "At work, he got a TV and put the game on. It was pretty crazy, actually."
If he doesn't have it already, an unlimited text-message plan for Cam might come in handy in the near future. Theodore, 21, has assumed an early role of playoff performer, particularly during the absence of injured Ducks defenseman Cam Fowler and Sami Vatanen.
With five points, Theodore entered Saturday tied with Erik Karlsson of the Ottawa Senators for leading defenseman scorer in the playoffs.
Told that statistic, Theodore practically shook his head.
"I mean, I'm not going to say I got lucky, but I was kind of throwing stuff at the net," Theodore said Saturday before the Ducks resume practice Sunday in preparation for a second-round series against the San Jose Sharks or Edmonton Oilers.
"You get good bounces every once in a while, and it was kind of cool."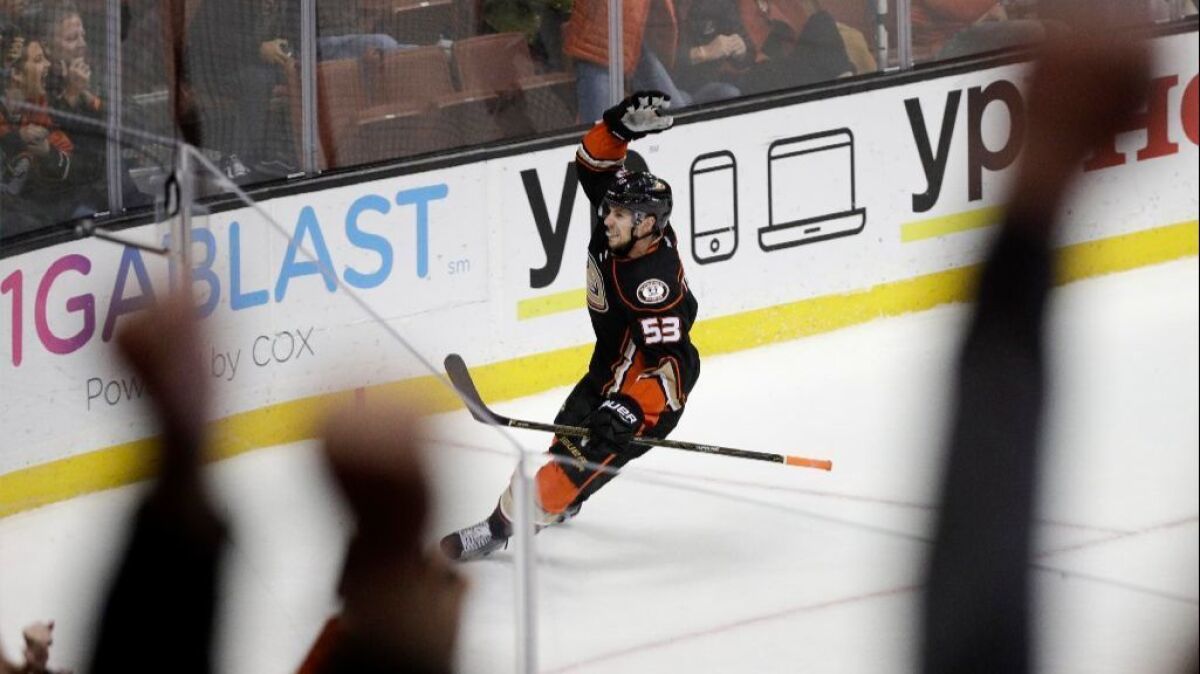 Theodore has shown that he's ready for the big stage, though, with only six games of playoff experience prior to this season. He's averaged more than 20 minutes per game in the postseason, about three minutes more than his regular season workload, with an effective shot and ability to pass the puck quickly.
Ducks Coach Randy Carlyle first glimpsed those skills from the Honda Center press box, where he scouted players in between coaching gigs prior to his return to Anaheim.
"You're able to get a book on some players when you're up there, and he caught my eye because he was out on the power play a lot," Carlyle said. "I saw his ability to get the puck through to the net. He walked the line with the puck and he could find people. He has a sneaky wrist shot that he displayed the other night when he scored the two goals.
"That was the first thing about him that got my attention. He was getting pucks through, and that's not an easy thing to do in today's game."
Theodore's route to this point had to go through some tricky spaces. He did not make the Ducks out of training camp and was beaten out of a spot by Jacob Larsson, who subsequently returned to Sweden.
It was a surprise because Theodore seemed poised to build off last season in his transition to being an NHL regular.
But "he looked nervous and tentative," Carlyle said.
Theodore shuttled frequently from minor league San Diego. But each call-up brought a dose of optimism.
"It took me a little while to get comfortable, but now's the time when it really matters," Theodore said.
Recalled early this month, Theodore played the final four games of the regular season and scored the overtime goal on a breakaway against the Kings in the finale. Theodore also scored on a shootout attempt earlier this season.
"Obviously, you can see where his offensive upside is," defenseman Brandon Montour said. "He's got the confidence and he's a heck of a player and we've been playing with each other for a while now, and it's good to have him here with me."
Theodore and Montour are friends and have essentially traded off for title of top Ducks defensemen prospect. Both are a part of a 15-0-3 tear for the Ducks, who feature six defensemen 25 or younger.
It's customary for upstart Ducks players, usually forwards, to switch to a lower jersey number once they become established. But Theodore doesn't have much interest in changing his No. 53. Last summer his father turned 53 and thought it was a lucky number going into this season.
Shea could always change it, but his answer implied he didn't want to mess with a good thing.
"Maybe," he said. "Maybe not."
Jones joins Gulls
Max Jones, 19, the Ducks' top draft pick last year, was assigned to San Diego. The Gulls are playing the Ontario Reign, the Kings' affiliate, in the Calder Cup playoffs.
Times staff writer Helene Elliott contributed to this report.
---
Get the latest on L.A.'s teams in the daily Sports Report newsletter.
You may occasionally receive promotional content from the Los Angeles Times.