Ducks rookie Troy Terry still working toward his big break in NHL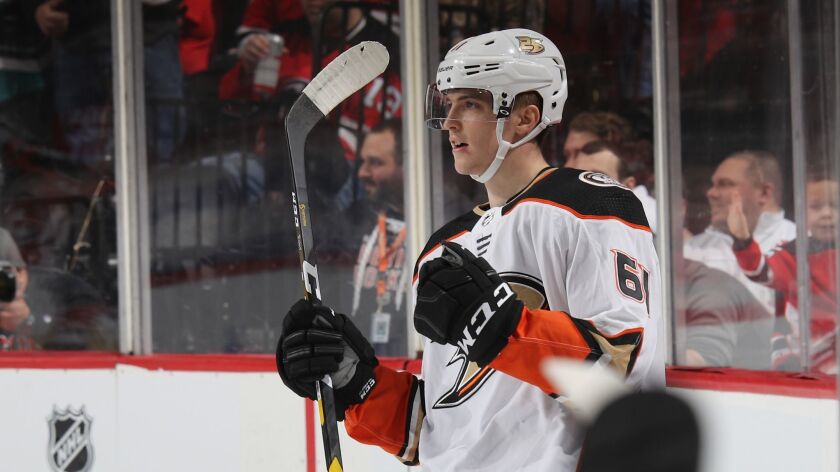 Troy Terry doesn't remember exactly where he was on Interstate 5 when he hit rock bottom last October.
Possibly just past San Clemente. Or perhaps closer to Oceanside. The Ducks rookie wasn't really paying attention. Two weeks earlier, Terry had made the organization's NHL roster coming out of training camp, but after failing to register a point in his first six games, he was sent down to the team's minor-league affiliate, the San Diego Gulls. His confidence had disappeared.
"It was a learning curve for sure," Terry said. "I was pretty down."
As daylight disappeared beyond the horizon, and Southern California beach towns flew past the window of his BMW, Terry's mind was elsewhere. He was on the phone with his father, trying to reconcile his disappointing stint with the Ducks as he drove south. Then, about 45 minutes outside of San Diego, it hit him.
He had left all his gear in Anaheim.
"I forgot to grab my hockey bag," Terry said with a shake of his head this week, still in disbelief almost a year later.
Looking back now, the long-and-lean 21-year-old with short blond hair and wide-set hazel eyes can laugh at himself. "I had to drive back [to Anaheim], get the hockey bag, drive back down to San Diego," he said with a self-deprecating chuckle. "It was an eventful night."
In the moment, realizing that the longest night of his budding career was about to become a couple hours longer as he turned his car around, his mind crept toward dark places. He couldn't help but wonder how everything had gone so wrong.
Terry insisted, "I was trying to keep a good mind-set about it." That was easier said than done.
After backtracking to Anaheim, he didn't pull into San Diego until about midnight. At the Gulls' pregame skate the next morning, coach Dallas Eakins could immediately tell that Terry was off. Shoulder pads and shin guards weren't the only things weighing the young forward down.
"He had lost his confidence," said Eakins, who was promoted to the Ducks' head coaching position this offseason after four years behind the bench in San Diego. "I think he was questioning his game. So the first thing to do was to talk about it."
Before practice started, Eakins pulled Terry aside near the visitors' bench.
"He said, 'You can turn the puck over three times in your first shift, I'm still going to play you the whole game,'" Terry recalled. "I think he knew that I needed someone to have confidence in me, that wanted me to go out and be creative and make plays."
The message resonated. That night, Terry scored two goals and had an assist.
"You could see this weight come off him," Eakins said. "Like, 'OK, everything is going to be all right.'"
By January, Terry was back with the Ducks and tallied 13 points in his final 26 games before sustaining a season-ending broken leg in late March. Healthy again now — he's a full participant in the Ducks' prospect development camp this week — Terry is targeting a permanent spot on the franchise's NHL roster. That night of driving up and down the coast was put in the rearview mirror long ago. His upward trajectory since then suggests he could be ready for that next step.
"His greatest development wasn't the points he put up," Eakins said. "His greatest development was his play without the puck. Understanding when it's time to take a chance, and when it's time just to play safe. It will be interesting to see where he goes in camp this year."
Terry has made such leaps before.
A native of Denver, he flourished as a prospect despite his slender 6-foot frame. In 2014-15, he had 44 points in 66 games with the U.S. national 18-and-under team, committed to Denver University, and was selected by the Ducks in the fifth round of the 2015 draft.
"He was never the biggest kid," said Denver University coach David Carle, who was an assistant during Terry's college career and first met the forward when he was 12. "But his stick skills and his vision and his brain, all that stuff was always off the charts."
After enrolling at Denver at 17, making him a year or two younger than most of his fellow freshman teammates, Terry had to adjust — both on and off the ice. Pioneers' director of sports performance Matt Shaw remembers Terry being late to three meetings during his first week on campus. Carle said Terry learned the hard way that in college he had to give up the pucks sometimes, that he wouldn't be able to stickhandle wherever he wanted.
Terry had only 22 points in his freshman campaign, but his game evolved during his sophomore and junior seasons. He built his strength in the weight room, especially in his lower body, and retooled his game to dominate at the college level. Over his final two seasons, he had 93 points, earned a spot on the 2018 U.S. Winter Olympics team and was nominated for the 2018 Hobey Baker Award, college hockey's version of the Heisman.
"The speed at which he learns to adapt into an environment is actually pretty high," Shaw said. "It takes a level of self-awareness, and also external awareness, into the environment. What he needs to figure out was, in a lot of ways, just his confidence and where that fit into the environment."
Shaw thinks Terry experienced a similar transition in the pros last year. At first, he was lost. But by the end of the year, he had found his place. Though the Ducks missed the playoffs, Eakins' Gulls made a postseason run in the American Hockey League. Still eligible to play for San Diego, Terry pushed himself in rehab trying to recover from his broken leg.
During one of the early rounds of the playoffs, he made Eakins a promise.
"He walked into my office," Eakins remembered, "and said 'I'm going to play in the final.'"
The Gulls didn't make it that far, getting eliminated before Terry was healed. Now, with Eakins entering his first season as the Ducks coach, Terry has set a new goal to meet.
"I want to make the team, I want to be an impact player," Terry said. "I was lucky that I was able to find some success in the NHL last year at the end, but it's hard to do it for 82 games. I know that I'm not entitled. I still got to go earn a spot."
---
Get the latest on L.A.'s teams in the daily Sports Report newsletter.
You may occasionally receive promotional content from the Los Angeles Times.