What we learned from the Ducks' 3-1 loss to the Buffalo Sabres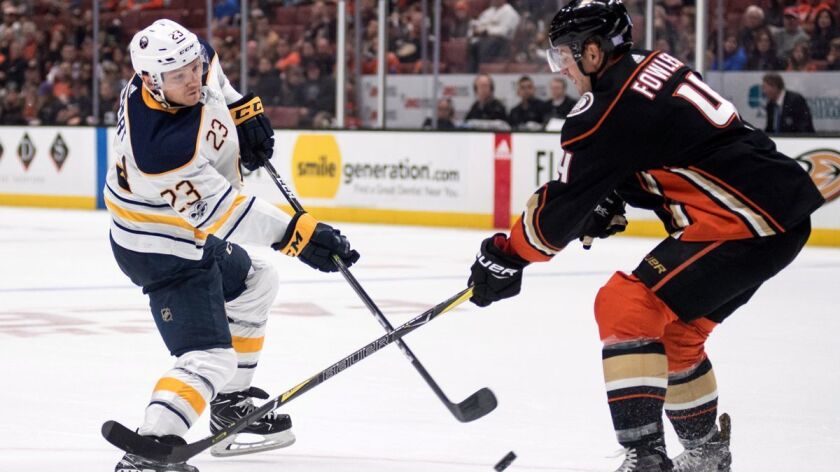 Even though the winless Buffalo Sabres were the ones playing consecutive nights on the road, the Ducks were the the team that, once again, came out flat, falling 3-1 Sunday. There are a lot of issues plaguing the team right now, and few answers. Here's what we learned:
Generous Ducks: The Ducks turned the puck over 11 times (the Sabres did so just three times) and two of those giveaways contributed directly to goals. Center Chris Wagner said he believes that the Ducks are simply "squeezing our sticks a little too tight" because they're frequently playing from behind. They were slow out of the gate and were never able to recover after they fell behind early.
Offensive ingenuity: The Ducks created few chances offensively. They had trouble keeping the puck in the zone after gaining entrance, and they couldn't keep it deep. When they did move the puck a bit, there weren't enough bodies in front to screen Sabres goalie Chad Johnson. Will these issues disappear once they're healthy? Maybe, but right now they need to find a way to weather the storm without their best players.
Injuries pile up: It appears that the Ducks may slowly regaining health, but even as two-thirds of their top line, Ryan Getzlaf and Patrick Eaves, returned last week, they both aggravated their lower-body injuries and are once again unavailable. Getzlaf has played two games this season, and Eaves just one. The No. 1 line of Getzlaf, Eaves and Corey Perry was together for just one contest, Wednesday's 3-2 loss to the New York Islanders. With four days of rest before Friday's contest against the Montreal Canadiens, perhaps the two will be back on the ice and joined by some fellow injured players, such as No. 2 goalie Ryan Miller.
Heavy workload for Gibson: John Gibson, the Ducks' No. 1 netminder, was back in the crease after he suffered an upper-body injury in warmups Friday. He still started that contest and played one period before he gave way to Reto Berra. With Miller sidelined, Gibson has started all six of the team's contests, and he's played strong hockey, with a number of scrambling saves Sunday to keep the Ducks in it. "If we're not scoring, we have to be better defensively. I have to be better," he said. "When it's not going good, that's the way the bounces are. You saw that on the second goal. A shot that's not going, really going toward the net. That's the way it is."
---
Get the latest on L.A.'s teams in the daily Sports Report newsletter.
You may occasionally receive promotional content from the Los Angeles Times.