The time has arrived for Kings forward Adrian Kempe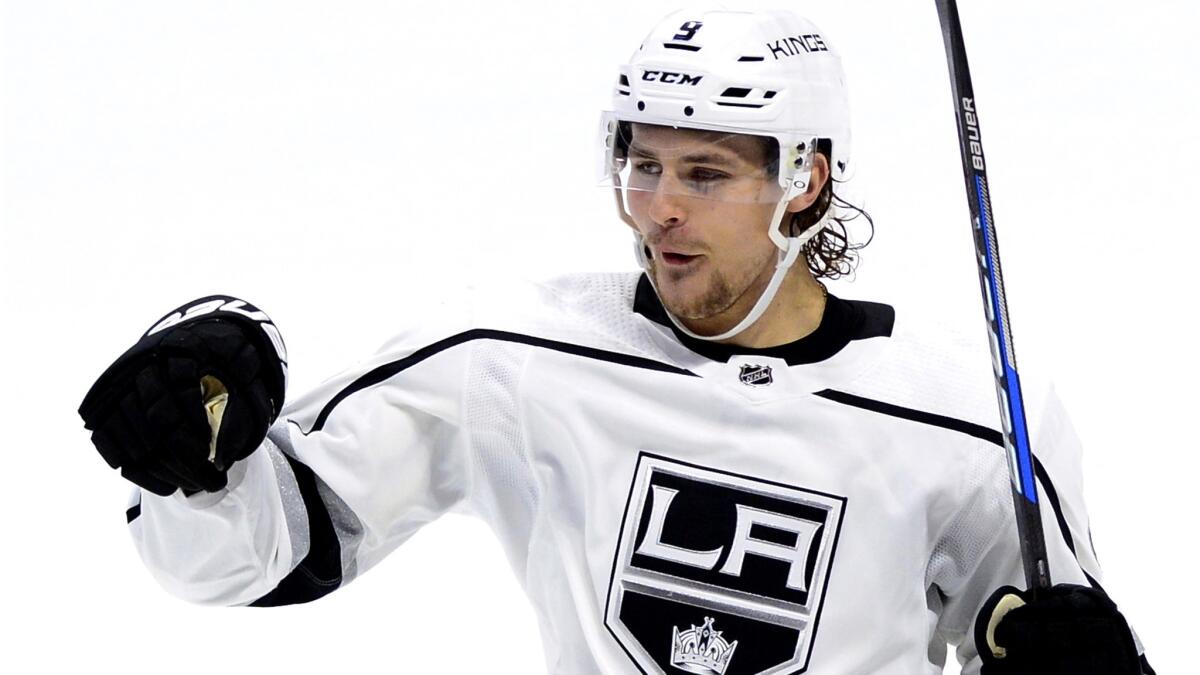 The clock was ticking on Adrian Kempe from the moment the Kings took him in the first round of the 2014 draft.
First-round selections are saddled with high expectations in the right-now world of hockey, where teenagers are sometimes rushed into the NHL too soon. But the Kings weren't counting every second of that time, even as other teenage European members of that draft class such as Leon Draisaitl of the Edmonton Oilers and David Pastrnak of the Boston Bruins blossomed into scorers.
"I don't think that was the case with Adrian," Kings general manager Rob Blake said. Blake and the Kings instead exercised patience while Kempe learned the North American game in the minors and during a brief call-up last season. He's since been the biggest breakout player on the Kings in the first quarter of the season, with seven goals in 16 games.
Kempe said he didn't hear that clock ticking, either, although he understood what it represented.
"I like that pressure on my shoulders," Kempe said. "It shows that you're a guy that's supposed to do it. I know I'm capable."
The confidence Kempe exudes is by far the biggest difference to him and those around him. At 21, he's grabbed the No. 2 center role since Jeff Carter got injured and made forechecking and skillful play his identity. His first goals this season were his first career hat trick Oct. 18, and his goal off a steal against the Ottawa Senators a week later confirmed his arrival.
"He has the trust of the coaches, but we're starting to see, to be honest with you, I can start to see some plays that we haven't even seen," Kings assistant general manager Mike Futa said. "It's a testimony to how hard he's working. … If we can start to mix in some North American muddy goals with that, that's when your stats start to look different."
Pronounced "Ah-drian" in Sweden, Kempe has induced a lot of "aahs" with his aggressiveness, speed and hands. His first six goals were on 17 shots for an impressive 35% mark that has since "dipped" to 30.4%.
"I think there was a question whether he could finish or not," Kings coach John Stevens said. "I think he's proven that he can."
If Kempe's talent was always there, he needed it to continually prove himself. He played against older players growing up in Sweden, and it wasn't until his last year in the junior world championships that the Kings saw him compete against players his own age, Futa said.
One of those older players was Kings defenseman Oscar Fantenberg, 26, who sees the jump his countryman made in a short span, if only from defending him in practice.
"Even if he's a couple steps behind, he can forecheck," Fantenberg said. "He's got some good speed. I don't like playing against him."
Kempe showed signs of his two-way game during a call-up last season but the situation just wasn't right. The Kings were clinging to playoff aspirations and Kempe said he was just trying not to make any mistakes.
The question about his transition to the NHL still hung in the air before this season. He overcame a rough start and was taken off the power play. Then his minutes increased with Carter's absence. He was allowed to switch from jersey No. 39 to No. 9 — in honor of his favorite soccer player, Fernando Torres — which signified he's established.
Futa said that confidence can be elusive, "but when you get it, it's special. He's got it and he's riding with it. It's good for us and good for the people around him."
Kempe was only 17 when he was drafted and is now light years ahead in development of most his age. He is still a work in progress on faceoffs, but his biggest challenge is to maintain his level of play.
"I know what I can do out there," Kempe said. "I don't think as much before coming to the game. I just know that I'm capable of doing it. You always want to play with confidence, but it's more natural now for me to play like that, because I know I can do it."
UP NEXT
VS. VANCOUVER
When: 7:30 p.m. Tuesday.
On the air: TV: FS West; Radio: 790.
Update: Brock Boeser, 20, leads Vancouver with 14 points in 14 games in his first full season out of North Dakota. Defenseman Christopher Tanev is out because of an upper-body injury. The Canucks have lost four of six games this month under first-year coach Travis Green.
Twitter: @curtiszupke
Get the latest on L.A.'s teams in the daily Sports Report newsletter.
You may occasionally receive promotional content from the Los Angeles Times.