Toffoli and Pearson aren't just kids anymore for Kings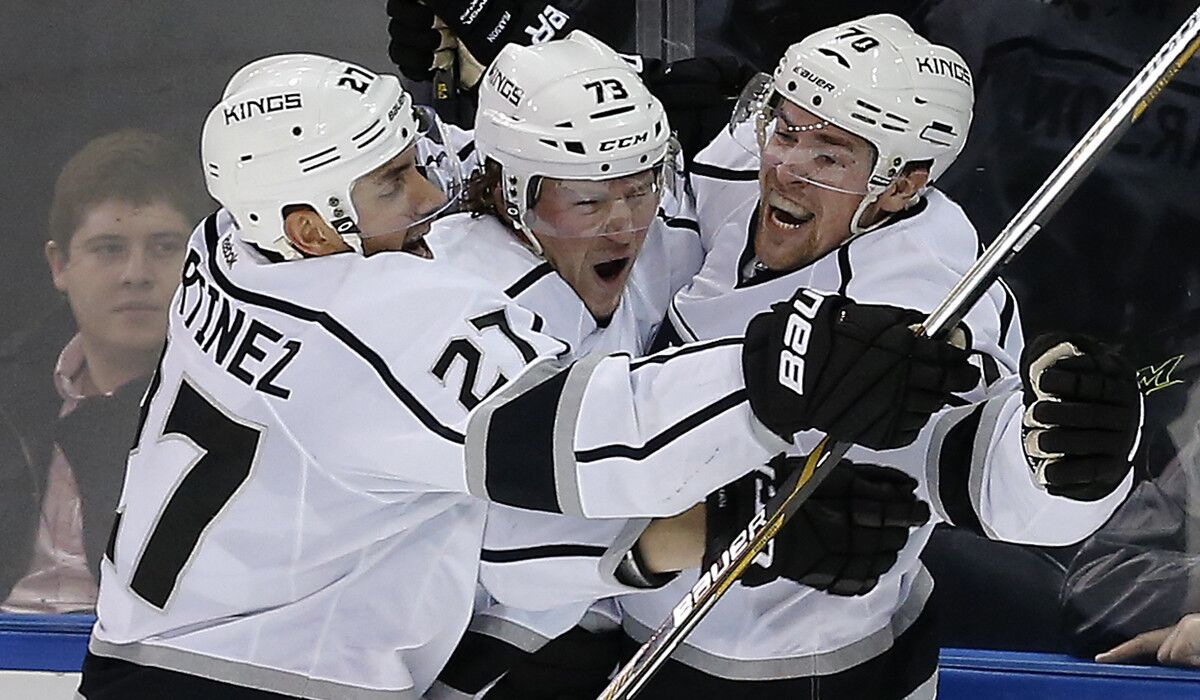 When the Kings were on their way to their first Stanley Cup win early in 2012, Tanner Pearson and Tyler Toffoli weren't the best of friends.
Pearson was the leading scorer for the Barrie Colts, and Toffoli the leader of the Ottawa 67's. To hear Pearson tell it, there were some one-on-one confrontations in those Ontario Hockey League days.
"There was definitely a few," Pearson said. "I, obviously, was on the upper hand."
Pearson can laugh about it because of how their careers have played out. They were drafted by the Kings, became teammates with the minor league Manchester Monarchs and then valuable members of the Kings' 2014 Cup team.
"It was funny when we both went to [Manchester]," Pearson said. "We were really good buddies. Our friendship just builds and grows every year. There's not too many things we do without each other, just hanging around here or on the road. It's actually nice because we've played so much with each other in [Manchester], and we build that chemistry and just carry it over here."
The linemates were each given contract extensions over the summer, Pearson for four years at $3.75 million per season and Toffoli for three years at $4.6 million annually. It was a reaffirmation that the two represent the Kings' future, and that chapter begins Thursday night as the Kings open the season against the Philadelphia Flyers at Staples Center.
"We want that and we've wanted it," Toffoli said. "Definitely being extended for three-four more years is exciting for us, and we've got to prove that we're the guys that can handle it."
Toffoli proved it two seasons ago with a career-high 31 goals. He's one of their better forwards along the wall and releases the puck well off his stick. Pearson poured in a career-high 24 goals last season, using his strong skating and puck-chasing ability.
Kings coach John Stevens met with both in the offseason and said that the time is here for both to assume the go-to guy roles as the Kings try to get back to the postseason.
"The conversations we've had with both those young players is that they're not just young players on our team anymore," Stevens said. "They're part of our secondary core that's critical to the leadership of your hockey team.
"We want them to perform and be leaders, not just good young players."
Pearson and Toffoli are centered by All-Star Jeff Carter, and the trio looks forward to a quicker game implemented by Stevens and his staff. One of the twists is a new four-forward power play unit in which Toffoli is one of the points, beside Drew Doughty, but the overall concept intends to create more of the transition game that suits the line so well.
"It's going to be fun playing a little fast," Toffoli said.
Toffoli will put behind him an injury-shortened season that held him to 63 games. He scored 16 goals and needed a minor knee procedure after the season.
It was an unfortunate postscript to last season, but it speaks to the Carter line that they still produced and have been a fixture in recent years despite the Kings' absences from the playoffs.
That's one aspect the former junior hockey nemeses can tackle together.
"It wasn't a good year for the team, but it's a new season and a new start for everybody," Toffoli said.
Philly fondness
Stevens said there's no lingering awkwardness in facing the Flyers. He coached them for four seasons prior to joining the Kings.
"It's been a long time," he said.
Stevens still has a home in Philadelphia, and retains a fondness for the city where his sons, John and Nolan, were raised.
"That always feels like home to me in terms of where I raised my family," Stevens said. "But we've been through so many battles with so many rivalries in the West Coast and a lot's happened since then. It really is just another opponent [and] we're going to try and get off to a good start again."
Laich's situation
Brooks Laich acknowledged that it's "a little bit of foreign territory for me" to practice with the Kings without a contract, but he has maintained a professional outlook.
"Be grateful for the opportunity, show up as a good pro and show up as a good teammate," he said. "I'm going to focus on those things, and I believe that good things happen to good people, and if you do things right that over the long term, you're going to win out, eventually.
"So maybe it's not today, maybe it's not tomorrow, but I hope at some point my opportunity will come with this organization."
NEXT UP
VS. PHILADELPHIA
When: 7 p.m. Thursday.
On the air: TV: NBCSN; Radio: 790
Update: The Nolan Patrick era began Wednesday night for the Flyers against San Jose. Patrick was the second pick in this year's draft and slots as their second-line center at 19. Philadelphia acquired goalie Brian Elliott in free agency and he will share time with Michal Neuvirth. Former Kings forward Jordan Weal scored eight goals in 23 games last season.
Twitter: @curtiszupke
Get the latest on L.A.'s teams in the daily Sports Report newsletter.
You may occasionally receive promotional content from the Los Angeles Times.