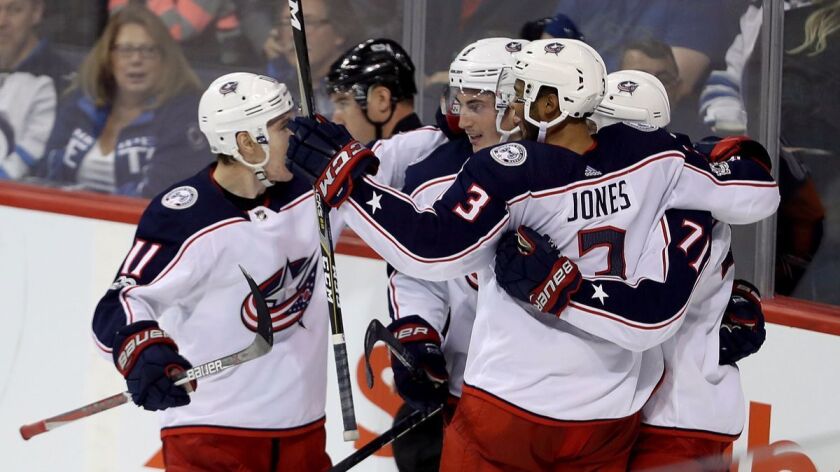 Drama, good and bad, marked the first segment of the Kings season.
They lost Alec Martinez at the start, then Kyle Clifford. Jeff Carter joined the injury pileup, which will have bigger long-term implications. Throughout all that, though, the Kings became one of the better stories in the NHL, the only team without a regulation loss on its record.
So what's next?
It figures to get more difficult from here, with a six-game trip that begins Saturday. The Kings' first three opponents — the Columbus Blue Jackets, the Toronto Maple Leafs and Ottawa Senators — are a combined 14-4-3.
"Arguably three of the best teams in the East in the first part of the year," Kings coach John Stevens said. "Really deep teams. Teams that play hard, well coached, lots of depth, offensively gifted. It's a big challenge for us … We look at this whole road trip as kind of the next phase of our season. So it's an important trip."
Stevens routinely breaks down the season into five-game segments, which means the current one began with a successful response to the loss of Carter in a 5-1 win against the Montreal Canadiens.
"If that's any kind of preview to what's going to continue, hopefully we'll be in good shape here coming up. He's a tough role to fill," defenseman Jake Muzzin said of Carter. "He plays a lot — power play, penalty kill, five-on-five; he's a big player for us. It's going to be a collective group [effort] to pick up his minutes and his role."
How the Kings respond will be telling, as Nick Shore likely moves up the center ladder, with Tanner Pearson and Tyler Toffoli.
"I've been around them enough to know their game," Shore said. "So it helps to know where guys are and certain spots they like to be. For myself, you don't really want to play any differently."
It's defense that has concerned Stevens, as it was when he was associate head coach. He hasn't liked the chances allowed. The Kings also have given up the first goal in three of their six games.
Jonathan Quick has had a stellar start to mask those shortcomings with a 1.59 goals against average. He could have a top-tier matchup with Columbus' Sergei Bobrovsky. Stevens knows it could go south quickly if they don't make it easier on themselves in their end.
"There's some real good honest work in terms of what we're trying to do there," Stevens said. "But I think we cannot be kidding ourselves, either. We've gotten some really solid goaltending. Our penalty killing's been excellent, but we'd like to see those chances against come down a little bit. It's been a little bit up and down."
Muzzin did see some red flags against Montreal. They allowed opportunities early in the game, sometimes from "just being too slow," he said.
"It's an area that we need to get better at, and as D-men and goalies, [we need] our handoffs [to be] quicker below the goal line," Muzzin said.
KINGS NEXT UP
AT COLUMBUS
When: 4 p.m. PDT Saturday.
On the air: TV: FSW; Radio: 790
Update: The Blue Jackets won five of their first six games for the second time in franchise history, but on Thursday took a 2-0 loss in which their power play fell to 1-for-19 on the season. Forward addition Artemi Panarin has eight points in seven games.
Twitter: @curtiszupke
---