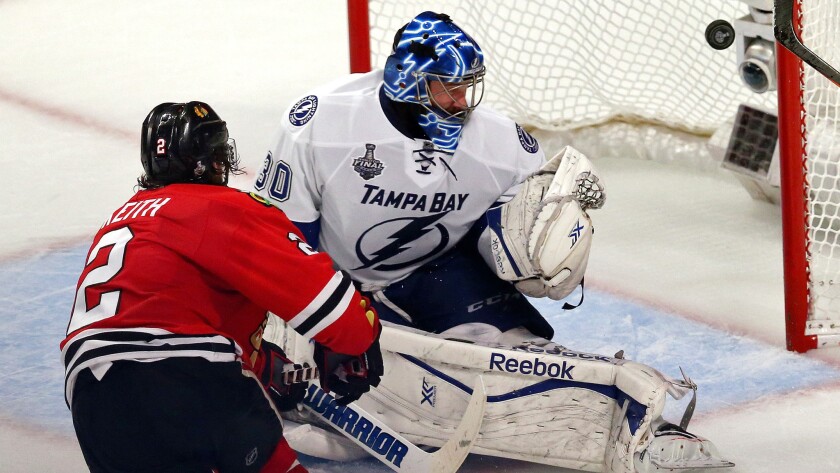 From hand to hand, the Chicago Blackhawks passed the Stanley Cup to one another Monday night with practiced ease, their grins splitting the playoff beards they'd cultivated through two months and four playoff series that challenged them in different ways. For most of them it was like greeting an old friend again, their third time claiming the Cup in six seasons, a triumph that confirms they're as close to a dynasty as the salary-capped NHL is likely to produce.
"I keep saying I don't really know what a dynasty is," right wing Patrick Kane said, though he can find the definition by looking at a team picture.
Ever improving, the Blackhawks mustered one of their most complete efforts of the playoffs Monday at the United Center to record a 2-0 win over the Tampa Bay Lightning and win the Cup in six games. The run-up to their first home-ice win in their ongoing run — and first for the franchise since 1938 — reflected who they are: skillful and swift, gritty but creative. It surely was their most rewarding, said many among the seven core players who became three-time champions Monday.
"It's unreal," forward Marian Hossa said amid the happy chaos on the ice. "I was hoping to get one, coming to Chicago, and now I've got three. What a feeling and what a great group of guys.
"To win at home, that's what we wanted. We had a big challenge in front of us before this game and we definitely wanted to do it at home, in front of our fans. It was huge."
This Final series was so close that not until Patrick Kane finished off a three-on-two rush at 14 minutes 46 seconds of the third period did either team lead by more than one goal. Before that, defenseman Duncan Keith's rebound of his own shot at 17:13 of the second period was the only security between the Blackhawks and overtime or, perhaps, a return to Tampa for a seventh game. Keith was deservedly voted the Conn Smythe Trophy as the most valuable player in the playoffs, capping a stunning display of endurance, excellence and smart hockey.
Never did he complain about his workload of an average of 31 minutes 6 seconds' ice time per game. If there were another game, he would have logged 30-plus minutes again.
He didn't have to because Chicago goaltender Corey Crawford, relegated to backup status three times in the first round against Nashville, stopped all 25 shots he faced. And the calm Blackhawks capitalized on their experience to hold off the swift, young Lightning.
"It's a lot of feelings of happiness," Keith said, "but there's some relief we got the job done. We can take a breath now."
They couldn't exhale until the final minutes Monday. Tampa Bay's Steven Stamkos hit the crossbar early in the first period and was stopped by Crawford on a breakaway early in the second period; Lightning goalie Ben Bishop, who acknowledged he suffered a torn groin muscle in Game 2 and would have taken two weeks to heal if it had happened during the season, continued his courageous play by making 30 saves.
Stamkos was held without a goal in the Cup Final, a credit to the Blackhawks' relentless defensive effort. He and his teammates can learn from Chicago's steadiness and constant improvement.
"I think I've seen that interview done a thousand times by the coach whose team didn't win and never did I ever think I'd be the coach doing that interview," Lightning Coach Jon Cooper said. "A couple things come to my mind. First of all, we've got a group of young men in there, but they're kids at heart, and they're crushed. It was really hard to look at them and see how crushed they truly are."
They will be back in the Final some day. This is the Blackhawks' time, an era that should continue through the changes they will have to make this summer due to salary-cap considerations.
Still, it was the end of a distinguished career for 40-year-old defenseman Kimmo Timonen, whom the Blackhawks acquired just before the trade deadline. He was diagnosed with blood clots in his leg and lungs last summer and hadn't played before he joined the Blackhawks; when he did play he often looked slow. But he worked his way back into the lineup to earn his first-ever championship, crying on the bench when Kane's goal clinched it and overjoyed when captain Jonathan Toews handed him the Cup after receiving it from NHL Commissioner Gary Bettman.
"I'm ready to go," Timonen said, "and I leave this game a Stanley Cup champion. And I can't ask for any more than that."
There might be more championships in the Blackhawks' future. "It feels so great. You want to keep being a part of these things," Keith said. "You don't get these awards without being on great teams with great players and I'm just proud to be a part of this group of guys who cares so much and do whatever it takes."
Twitter: @helenenothelen
---