Column: NHL All-Stars would prefer to be Olympians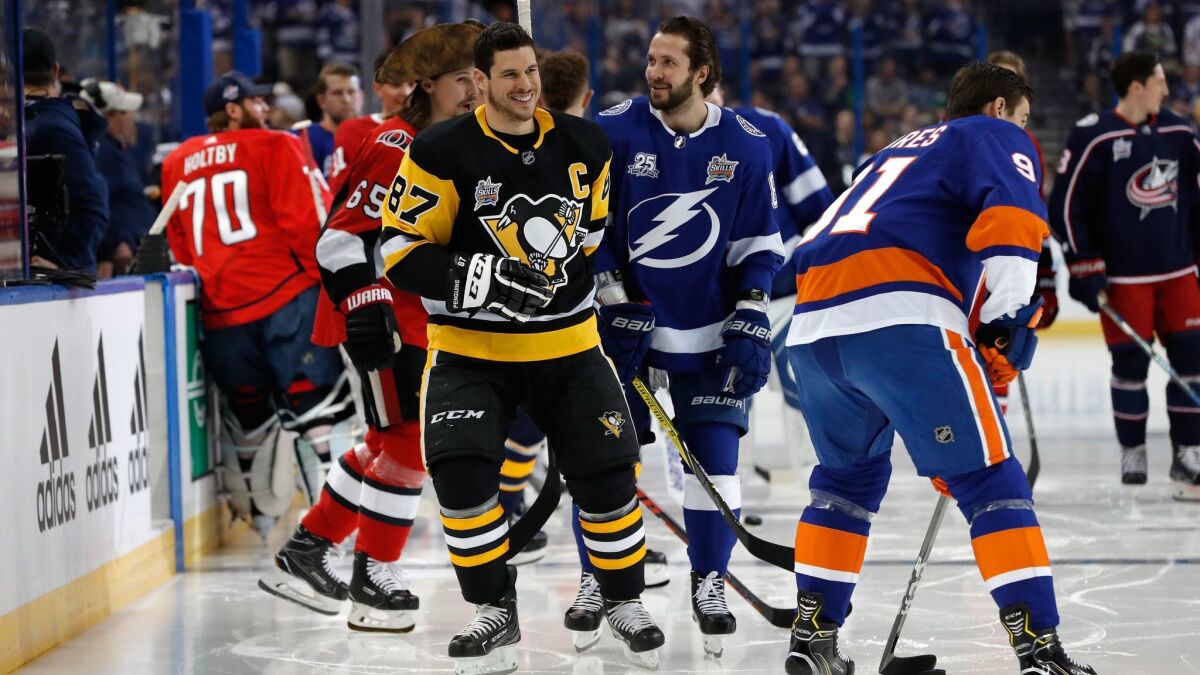 Reporting from tampa, fla. —
NHL players are faster and more skillful than ever, and recent draft classes have produced a captivating infusion of youth, speed and star power. The NHL was lucky when generational talent Connor McDavid landed with the Edmonton Oilers in 2015, and its fortune continued with the arrival of dynamic youngsters such as Finland's Patrik Laine, Americans Jack Eichel and Auston Matthews, and this season's top rookie of the year candidate, Minnesota-born Brock Boeser of the Vancouver Canucks.
Driven by the increase in skill and rule tweaks that have generated more scoring, the NHL has never been more marketable. And never, other than Commissioner Gary Bettman's cancellation of the 2004-05 season because of a labor dispute, has the league made a more short-sighted decision than it did in not allowing players to represent their homelands in the Pyeongchang Olympics.
Instead of preparing for an Olympic tournament that had the potential to eclipse the five previous competitions that involved NHL stars, the league's top players are in Tampa this weekend for All-Star festivities. The skills competitions are appealing and the three-on-three mini-tournament to be played Sunday at Amalie Arena will elicit some gasps, but the NHL chose short-term gimmickry over long-term growth and ignored players' deep desire to play for their countries.
"This is fun. but Olympics are Olympics and I wish I could have been a part of it," said Kings center Anze Kopitar, who helped his native Slovenia earn a berth in Pyeongchang. "It's one of those things for us that Team Slovenia, we don't know if we're going to qualify again or not, so it's a little bittersweet."
Montreal Canadiens goaltender Carey Price, a member of Canada's 2014 Olympic champions, was emphatic when asked if he wished he were preparing for the Olympics instead of All-Star events. "Sure. Of course I do," he said. "That was one of my best experiences of my life, to win a gold medal for my country. I'm very grateful for that opportunity."
It's a chance McDavid, Matthews, Eichel and many other players should have had this year. And while Bettman salivates over the untapped hockey market in China, there's no agreement for NHL players to participate in the 2022 Beijing Games. He undoubtedly will use Beijing as a bargaining chip in the next labor talks; the league and the players' association can each opt out of the current agreement in September 2019.
"I think the game is at a very good point with the number of new faces that are coming in the league, as well as the guys that have been around a while," McDavid said, almost wistfully. "Partly, that's why I think the Olympics would have been so interesting this year."
Among the reasons Bettman has cited for skipping these Games are the time difference between Pyeongchang and North America and the lack of financial benefits to the league. "Our clubs have found, owners have found, the Olympics are very disruptive to our season," he said Saturday. The International Ice Hockey Federation agreed to cover players' travel and insurance bills, but the International Olympic Committee wouldn't split its marketing rights. Instead of worrying about what it won't gain financially, the NHL should have given greater weight to losing an enormous promotional opportunity.
Kings defenseman Drew Doughty, a key member of Canada's last two gold-medal teams, found it strange to be here when the Olympics are coming up. The NHL hasn't staged All-Star activities before the last three Winter Games. "I'm still kind of sad that we're not going to be in the Olympics, no doubt about it. It's not going to be the same when you're watching the gold medal game wanting to be there, playing in it," Doughty said.
Chicago Blackhawks winger Patrick Kane, who won a silver medal with the U.S. in 2010 and played on the fourth-place U.S team in 2014, tried to put a happier face on the situation. "All of us that had the chance to play in the Olympics kind of wish we were going there," he said. "But All-Star weekend is a fun weekend. I think the NHL does a great job of putting on a good show."
As Doughty noted, it's easier to fly from Los Angeles to Tampa than to Korea. And Barry Trotz, coach of the Washington Capitals and the Metropolitan Division team here, said skipping the Olympics will help players later this season. "A lot of those top players get a little bit worn out," he said. "You can say what you want. Everybody has only so much gas in the tank for a complete season."
Peter Laviolette, coach of the Nashville Predators and the Central Division team here, is a two-time U.S. Olympian. He admitted to having mixed feelings about the NHL's skipping Pyeongchang. "The Olympics are a pretty special event, the best players in the country representing their country. The NHL has the best players in the world, so to not go, I think you're removing that," he said. "It does provide a little bit more stability [to the season]. It reduces the risk of injury. It reduces the travel on the players and the physical tax on the players that can happen by going over to the Olympics. And the next breath, whenever I watch it on TV or I'm fortunate enough to be working it, it's the best players in the world and it's pretty awesome."
There will be many human interest stories coming out of Pyeongchang about players who never dreamed they'd play on an Olympic stage. But once you've experienced the quality of play the NHL players brought to the tournament, anything else is a comedown. "It's the best tournament and you get maybe two, three chances to go and they take one chance away," said defenseman Oliver Ekman-Larsson of the Arizona Coyotes and a 2014 Sochi silver medalist for Sweden. "It's a little bit sour, but you can't do anything about it right now."
Something can and should be done for 2022, through players insisting that participation be part of the next labor agreement. "I hope so," Kopitar said. "It's a good way to grow the game, in my opinion. I think everybody watches the Olympics, right? If we want to grow the game I do think we should be a part of it again."
Follow Helene Elliott on Twitter @helenenothelen
Get the latest on L.A.'s teams in the daily Sports Report newsletter.
You may occasionally receive promotional content from the Los Angeles Times.