Column: Auston Matthews is first of 12 Americans chosen in NHL first round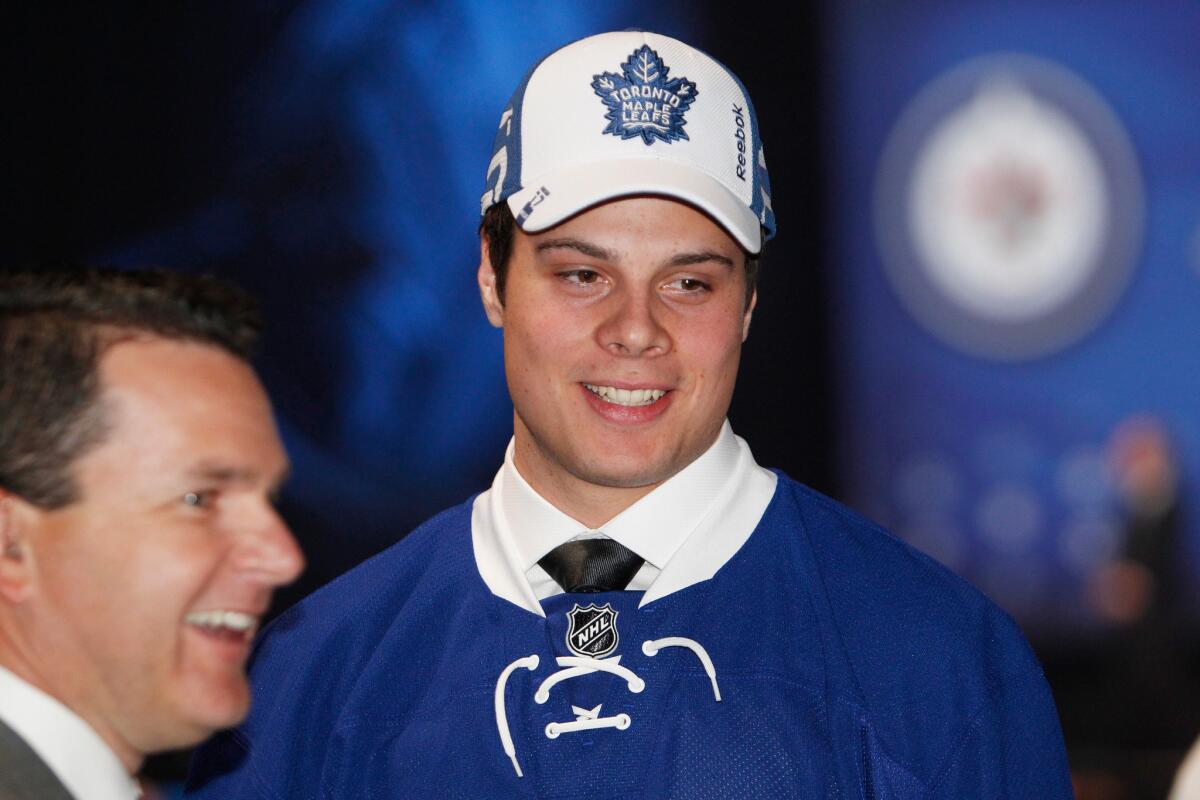 The Ducks reached back to their identity as a bruising team when they chose left wing Max Jones Friday as the 24th pick in the NHL draft. But the physicality they prize has its downside: Jones was suspended 12 games last season for a blindside hit he delivered while playing for London of the Ontario Hockey League, probably leaving enough questions about his character to ensure he was available when the Ducks' turn came up at First Niagara Center in Buffalo, N.Y.
"He's got to grow up a little bit. I think if you saw him after that he was much better," Ducks General Manager Bob Murray said by phone. "At the Memorial Cup he was very good, very under control. I'd rather have to tame a guy down than to try to prop a guy up. I know there's a certain point of ethics and they're not right…. We're proud of how we develop, so we'll attempt to teach him the right way to do things."
Jones, a 6-foot-3, 203-pound native of Rochester, Mich., was among a record 12 Americans chosen in the first round Friday. Five were from the St. Louis area. Americans outnumbered Canadians, 12-11, starting with No. 1 choice Auston Matthews of Scottsdale, Ariz., who was claimed by the long-downtrodden Toronto Maple Leafs.
Matthews, impressive last season playing in Switzerland against older opponents, was only the seventh American chosen No. 1 in the draft and the first since Chicago chose Patrick Kane in 2007. He was immediately hailed as a savior for a team whose Stanley Cup drought will hit 50 years next spring but tried to quash that by saying he embraces hockey's team-first ethic.
"I want to be an impact player," he said. "I'd really like to be a franchise centerman, a No. 1 centerman in the NHL."
As expected, Finnish winger Patrik Laine went No. 2, to Winnipeg, but Columbus sprang a small surprise by choosing forward Pierre-Luc Dubois at No. 3. That left talented Finnish forward Jesse Puljujarvi for Edmonton at No. 4. Finnish defenseman Olli Juolevi was chosen fifth, by Vancouver.
The draft will continue Saturday with rounds 2 through 7. The Kings didn't have a first-round pick, for the second straight season.
The Ducks also had the 30th pick, acquired when they traded Frederik Andersen to Toronto, and they used it on center Sam Steel of the Regina Pats of the Western Hockey League. Considered smart and responsible defensively, Steel had 23 goals and 70 points in 72 games last season. However, he's small by NHL standards at 5-11 and 176 pounds.
"I can't work on my height, so got to make it up in other parts of my game," he said, citing his tenacity. "You've gotta work with what you got."
Jones credited his father, former King and NHL player Brad Jones, for his hockey skills and praised his mother, former aspiring Olympic diver Mary Fischbach Bailey, for honing his competitive instincts. But he knows he sometimes goes overboard, which detracts from his skating skills and scoring ability.
He has been compared to Ducks right wing Corey Perry, a London alum and often abrasive player.
"I play on the edge and I've got to harness it and sometimes it gets the best of me," Jones said. "I think it's a better thing than it is worse. I think I win hockey games playing on the edge like that and I score goals and it just kind of breaks the team down and I think that's just kind of how I play."
Jones also was among a large group of players whose fathers have NHL connections. Among them were forward Matthew Tkachuk, son of Keith, chosen sixth by Calgary; forward Alexander Nylander, son of Michael and brother of Toronto prospect William, chosen eighth by Buffalo; and defenseman Jakob Chychrun, son of Jeff, chosen 16th by Arizona.
As usual, trade rumors outnumbered actual transactions. The two biggest deals were the salary cap-strapped Chicago Blackhawks trading restricted free-agent forward Andrew Shaw to Montreal for two second-round picks, and the Calgary Flames addressing a big need for goaltending by acquiring Brian Elliott from St. Louis for a second-round pick and a conditional third-round pick.
In an odd deal dictated by salary-cap considerations, the Detroit Red Wings traded the contract of Pavel Datsyuk — who plans to leave the NHL and return home to Russia—and a pick to the Arizona Coyotes for a player and two picks. The Coyotes won't have to pay his salary but will be responsible for his $7.5-million cap hit, which will help them meet the salary floor of $54 million next season.
helene.elliott@latimes.com
Twitter: @helenenothelen
Get the latest on L.A.'s teams in the daily Sports Report newsletter.
You may occasionally receive promotional content from the Los Angeles Times.