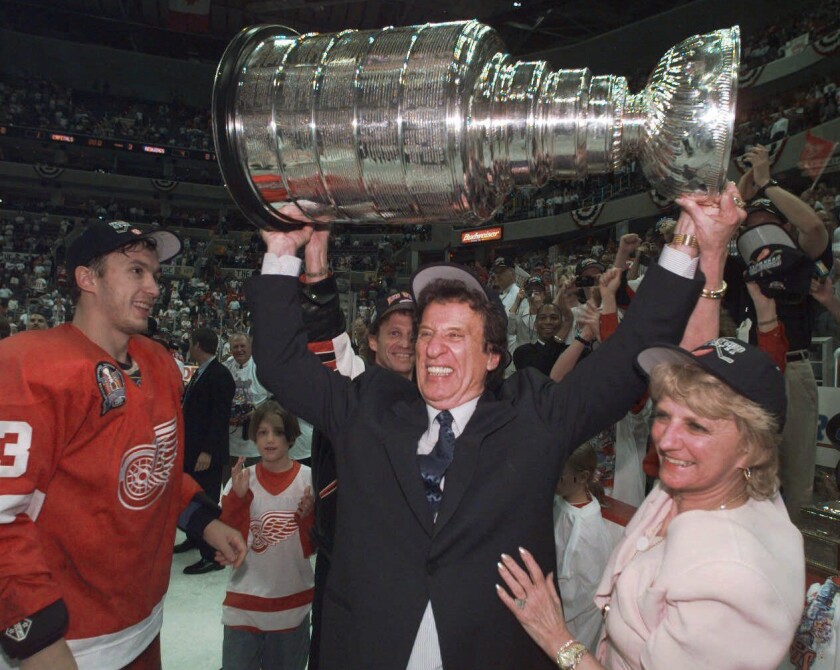 What we learned from the last week of play in the NHL:
►The league and Detroit will miss Mike Ilitch.
The death last week of Red Wings owner Mike Ilitch was a great loss to the NHL. The son of Macedonian immigrants, Ilitch built a small pizza business into a sports empire and was in the forefront of reviving downtown Detroit. He bought the Red Wings during perhaps their darkest hour — when they were known as the Dead Things — and built them into a dynasty while also supporting local youth hockey programs. He was smart enough to hire good people such as Scotty Bowman, Ken Holland and Jimmy Devellano, and let them do their jobs without intruding. Among his rewards were four Stanley Cup championships, a 25-season playoff streak and the rebirth of the Red Wings. He didn't have the same success as owner of the Detroit Tigers but he never forgot how it felt to be a fan. Sadly, he won't see the opening next season of Little Caesars Arena, which the Red Wings will share with the NBA Pistons.
►Home is where the wins are.
In a low-scoring era dominated by choking defensive systems, the Washington Capitals' offensive feats are an exciting exception. The league-leading Capitals have scored five or more goals in each of their last 11 home games, matching a standard set by the 1970-71 Boston Bruins. They've won their last 12 home games, including five shutouts. Is this finally their year? It's too early to say, but there aren't many teams that can match their depth and balance.
►A milestone can become a millstone.
Pittsburgh Penguins center Sidney Crosby still leads the NHL with 30 goals but his scoring has slowed a bit as he approaches 1,000 career points.
Crosby remains at 998 after being blanked in his last two games, the first time this season he has gone two games without a point. His next chance to reach 1,000 will come Tuesday, when the Penguins play host to the Vancouver Canucks.
►So much for the kinder, gentler John Tortorella.
Broadcasters Elliotte Friedman and Nick Kypreos of Canada's Sportsnet reported Saturday that Columbus Blue Jackets players requested a meeting with Coach John Tortorella to ask him to be more constructive with his criticism of the team, which had lost 10 of 18 games before it faced the New York Rangers on Monday. Tortorella is known for his caustic manner and hard-driving tactics but had promised he would let up, and the Blue Jackets reeled off a 16-game winning streak earlier this season. Nick Foligno told the Columbus Dispatch the report was "blown out of proportion," and added: "We talked about a lot of things in the meeting. Meetings happen all the time and I'm not sure why this one was turned into something way more than it was." But was it?
► A change will do you good.
Teams that have fired their coaches this season have generally had success after making those moves. The Boston Bruins improved to 3-0-0 under Bruce Cassidy, the St. Louis Blues improved to 5-1 under Mike Yeo, the New York Islanders are 8-2-2 under Doug Weight, and the Florida Panthers are 13-11-9 under Tom Rowe.
Follow Helene Elliott on Twitter @helenenothelen
---