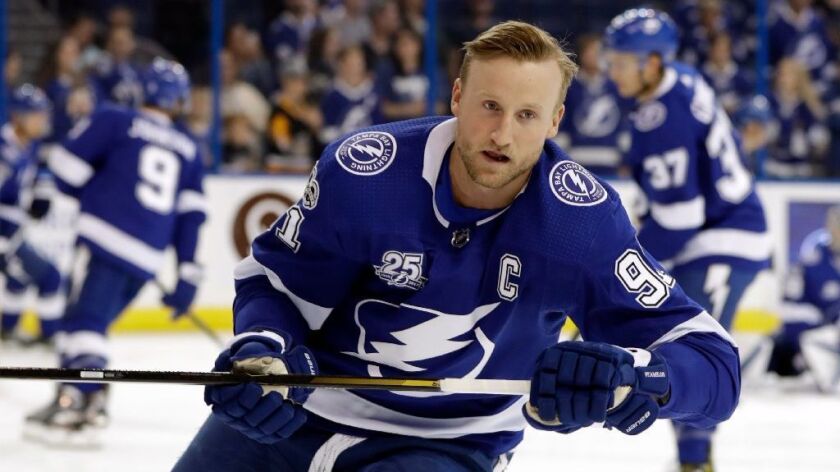 What we learned from the last week of play in the NHL:
Steven Stamkos is bringing the thunder: The Tampa Bay Lightning narrowly missed the playoffs last season largely because center Steven Stamkos played only 17 games before he suffered a knee injury that required surgery. He's back in fine form, and so is his team. Stamkos matched his career-best mark with four points against Pittsburgh on Saturday to pad his league-leading total to 18 points in nine games. Tampa Bay, which leads the East at 7-1-1, is 5-0-0 at home and has a solid plus-12 goal differential.
Help is on the way for the Red Wings: Detroit general manager Ken Holland ended a stalemate with forward Andreas Athanasiou when they reached agreement on a one-year, $1.378-million contract. To make the numbers work Holland had to trade Riley Sheahan ($2.075-million salary cap hit) to Pittsburgh — where he could become their much-needed third-line center — for Scott Wilson ($625,000 cap hit). Athanasiou, who had 18 goals and 29 points in 64 games last season, must get a work visa and build up his fitness before he makes his season debut. That can't happen quickly enough for the Red Wings, who are 0-3-1 in their last four and 4-4-1 overall.
Canadiens were California rolled: After being outscored 16-5 in losing to the San Jose Sharks, the Kings and the Ducks, the Montreal Canadiens came home with the NHL's worst goals-for average (1.5 per game) and one of the league's worst goals-against averages (4.13). Goaltender Carey Price is getting little defensive help but he hasn't looked consistently sharp in compiling a 3.95 goals-against average and woeful .881 save percentage. General Manager Marc Bergevin's seat is getting hotter as it becomes apparent the Canadiens (1-6-1) are a mess defensively and weak up the middle.
Being a goalie was hazardous to their health: The Vegas Golden Knights, already down a goalie because of Marc-Andre Fleury's concussion, lost backup Malcolm Subban for four weeks after he stretched to make a save Saturday and incurred a lower-body injury. Oscar Dansk will start for the expansion Golden Knights, who will be tested as they try to sustain the success that has led them to a 6-1-0 start. Boston's Tuukka Rask suffered a concussion in a collision with a teammate during practice last week but was expected to return to practice Tuesday. He might play Saturday when the Bruins play host to the Kings. And Florida's Roberto Luongo hurt his right hand Friday and was placed on injured reserve. James Reimer, who filled in last season when Luongo had a hip injury, will start.
Some things are bigger than a game: The best news of the week was the health victories registered by broadcaster Eddie Olczyk and forward Brian Boyle. Olczyk, a former NHL standout who has had a fine career as a hockey and horse racing analyst, is undergoing chemotherapy for colon cancer but was able to work for a couple of games. Boyle, diagnosed with chronic myeloid leukemia during the New Jersey Devils' training camp, practiced on Sunday for the first time since his diagnosis.
Follow Helene Elliott on Twitter @helenenothelen
---