What we learned in the NHL last week: The Ducks are hurting in more ways than one
What we learned from the last week of play in the NHL:
Same old, same old for the Ducks
Injuries forced the Ducks to play four rookie defensemen Sunday against Colorado and the outcome was inevitable. The explosive Avalanche capitalized on the Ducks' defensive disarray, erasing a 3-1 deficit to win on an overtime power-play goal by NHL scoring leader Mikko Rantanen. The Ducks are 3-8-4 in their last 15 games. "Every time the trainer walks in the room you're saying, 'No, please not today' again," Ducks coach Randy Carlyle said of the injury parade. "You can't control it. The only thing you can control is what you do. When those things happen to you, you have to be the Rock of Gibraltar and say, 'Hey, we can take that.' It hurts, but somebody else is going to get an opportunity to fill that responsibility." Carlyle's job is safe for now because there's no reason to change coaches when so many injuries have thrust inexperienced players into roles that are beyond their abilities. General manager Bob Murray is actively seeking trade partners to shake things up, but he's got a lot of problems to solve. The Ducks have talent and don't need a total rebuild — they need strong leadership, confidence, and speed on defense. If they don't turn things around when injured players return, Carlyle and Murray will have to pay the price.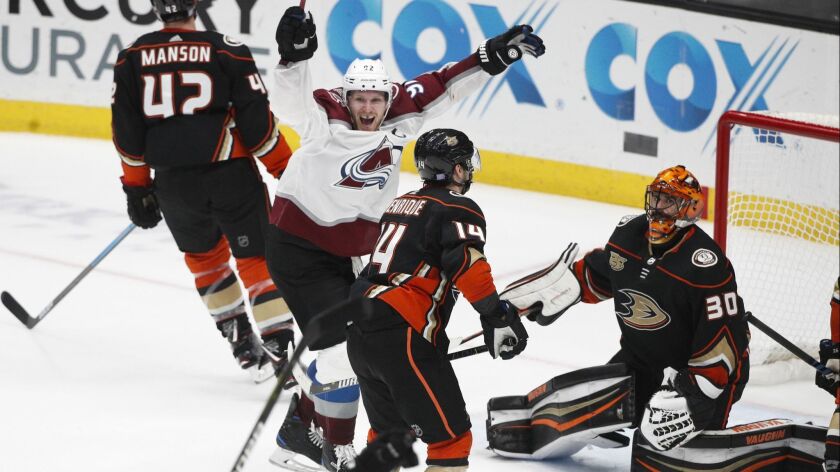 End of another dynasty?
The end of dominance of the Kings (Cup winners in 2012 and 2014) and Chicago Blackhawks (2010, 2013, 2015) was predictable because of the hard salary-cap system. Success drives up salaries and results in long contracts that become burdens as stars age, forcing general managers to trade good secondary players. The Pittsburgh Penguins (2009, 2016, 2017) appear to be having some of the same problems. They have lost nine of 10 games after blowing a 4-1 lead Monday night against Buffalo and have been unable to find a good mix to complement Sidney Crosby, Evgeni Malkin and Kris Letang. Their efforts have been hurt by Matt Murray's goaltending woes: He was pulled after allowing three goals on 10 shots against Ottawa on Saturday, which raised his goals-against average to 4.08 and reduced his save percentage to .877. GM Jim Rutherford, who acquired left wing Tanner Pearson from the Kings last week, likely isn't finished dealing.
Erik Karlsson is beginning to have an impact in San Jose
The Sharks became a popular pick to win the Pacific Division when they acquired offense-oriented defenseman Erik Karlsson from Ottawa in September, but he has needed time to adjust to his new team and new conference. The two-time Norris Trophy winner had been getting good scoring chances but couldn't put one away until Saturday, when he scored his first goal as a Shark in a 4-0 victory over St. Louis. "Imagine that, he is going to score this year," coach Peter DeBoer jokingly told reporters. "We know it's going to be there and the numbers are going to be there at the end of the year." Karlsson, whose average ice time of 25 minutes and four seconds per game is 1:40 less than he played last season in Ottawa, isn't worried about his production. "I'm not here to play an individual game," he told reporters after his goal. "It's nice to finally get one in the back of the net. But at the end of the day, this is a great win."
The Oilers remain baffling
Edmonton's talent still hasn't translated into wins. The Oilers ended a four-game losing streak by beating much-improved Montreal last week but absorbed weekend losses to archrival Calgary and struggling Vegas. They collapsed against the Golden Knights on Sunday when Cody Eakin's short-handed goal triggered a three-goal spree on four shots in 2:12. "We just have to be mentally stronger," Connor McDavid told the team's website. "If something goes wrong, we have to be able to brush it off and move on." It didn't help that goaltender Cam Talbot gave up six goals on 30 shots and is winless in his last five. His .888 save percentage isn't cutting it. Nor is their stodgy defense. Rarely has a general manager done less with plentiful resources than Oilers GM Peter Chiarelli.
California dreamin'
Remember when Eastern and Midwestern teams dreaded traveling to California to face the Kings, Ducks and Sharks? Not so much anymore. Toronto, minus injured Auston Matthews and unsigned William Nylander, swept the three California teams by a cumulative 12-5 and improved its league-best road record to 9-1. Matthews, who had 10 goals and 16 points in his first 11 games, is slightly more than three weeks into a projected four-week recovery. He participated in a no-contact practice Sunday but didn't pinpoint a date for his return.
---
Get the latest on L.A.'s teams in the daily Sports Report newsletter.
You may occasionally receive promotional content from the Los Angeles Times.